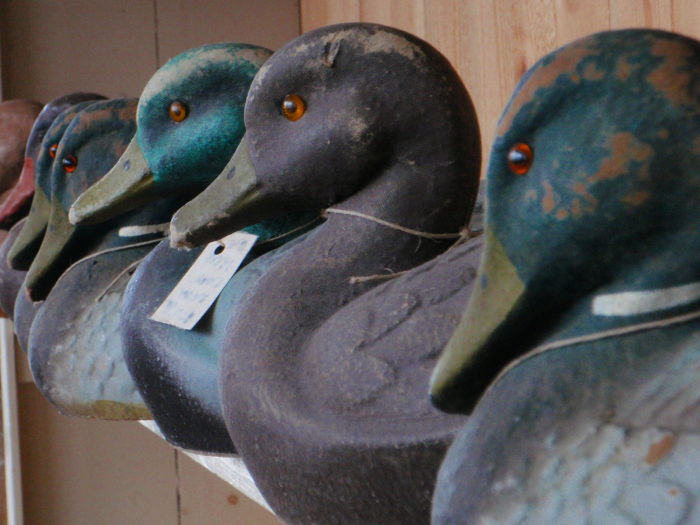 The other day as I drove back a long farm lane, I spotted a gaggle of snow geese in the field to my left (gaggle is truly the word for a group of geese–I looked it up to be sure!) Oddly enough, there were a few Canadian geese hanging out with them. As I got closer, I realized that these weren't geese at all but were actually carefully crafted decoys. To the one side of all the fake geese sat a large rectangular mound of something which was where the hunters could hide while waiting for the innocent snow goose to be drawn in by the decoys.
Afterwards, my husband informed me that there are very few "realistic-looking" geese decoys. But these–at least from far away–did a pretty decent job. If I was a goose flying in the sky, I think they'd look real. At what point does a goose flying towards a field of fake geese recognize that he has made a deadly mistake? Does he even recognize it? Does any animal have the ability to reason cognitively? I don't think they actually do. Animals are trained and conditioned (ever hear of Pavlov's dog?) but they don't reason.
We know from the Bible that God designed humanity in a different way (contrary to what atheists and evolutionists would say). He designed us to be able to think and to communicate and to reason and… to spot decoys.
We have no excuse not to notice false teaching or heresies. We have the cognitive ability to spot them. If we can read, we can discern. We do not need to have the "gift of discernment" in order to spot decoys.
The idea of a decoy is to look real. If they don't look real they will not attract anything. The same holds true for false teachers and heretical doctrines. They have to contain truth if they are to going to attract any believers at all. They must look real. It is only after careful examination and testing of the spirits, comparing them to what the Bible says (which takes work) that we can spot decoys. Thankfully, we are not left in the dark as to what to look for.
Jesus gives this description of Satan's decoys in Matthew 7, verses 15-19–
"Beware of false prophets, who come to you in sheep's clothing, but inwardly they are ravenous wolves. 16 You will know them by their fruits. Do men gather grapes from thornbushes or figs from thistles? 17 Even so, every good tree bears good fruit, but a bad tree bears bad fruit. 18 A good tree cannot bear bad fruit, nor can a bad tree bear good fruit. 19 Every tree that does not bear good fruit is cut down and thrown into the fire. 20 Therefore by their fruits you will know them."
Paul (2 Corinthians 11:12-14; I Timothy 6:3-5); Peter (2 Peter 2:1-3); John (I John 4:1-6); and Jude (Jude 1:3-4) give us further descriptions and details about false teachers. And guess what? This list isn't exhaustive. There are more verses. More writers. False teachers and errant doctrine must have posed a great danger to the church if God has given us so many warnings in His Word. And, according to Jesus in Matthew 24, this threat is not going to diminish but will, instead, increase dramatically as we approach the last days.
And yet, there continues to be people–godly Christians–who would tell us not to worry about the decoys. To focus only on love and on the positive. This goes against scripture and the examples set for us by Jesus, by Paul, and by others in the scriptures. So why is it considered so evil to mention or even talk about anything negative or false in the church? I confess I have no idea and I am utterly puzzled.
If I was a snow goose and I saw one of my friends flying towards a decoy and to their peril, I would shout out a warning. Wouldn't you? What kind of friend would we be if we didn't? Of course, no snow goose has the capability of doing such a thing so it's a silly thing to write.
But, of course, I am sure you can see where I am going with this: We do have that capability as reasoning and thinking human beings. However, when a believer sees a decoy and offers a warning, they are generally crushed, ignored, and/or ostracized. It's an interesting and puzzling scenario, to say the least. To compare this to my earlier example, our snow goose friend just keeps flying towards the decoys while making fun of their friend for warning them of the fakes. This is what is happening in abundance within the true church.
As I mentioned above, we know for sure from scripture that decoys (i.e. false teachers) will abound in the last days. This should not surprise us. We can't make others see the danger but we can carefully protect our own minds, as well as the minds of our children. And we can study and know the Bible and be aware of what is going on so that if someone does have a question about a certain teacher, we can help them by pointing them to the Word.
This is not the time to bury our heads in the sand like an ostrich and be blissfully unaware.
While that would be so much easier, we will do so much more for God's Kingdom when we pull our heads out of the sand, shake them off, and look around.
There are many, many Christians who have been taken in by false teachers. Most don't want to know the truth, but there are some that do. There are some who are searching. Are you able to help them? Are you able to point them in the right direction? Most don't want to take this on. It is a very unpopular and rather difficult job. But it is so necessary as we approach these last days. Someone needs to point out the decoys. God will use soldiers like this for His glory and to further His Kingdom. Soldiers who are willing to stand up for what is biblical and right, bravely facing the firing squad of popular opinion. Will you be one of them?