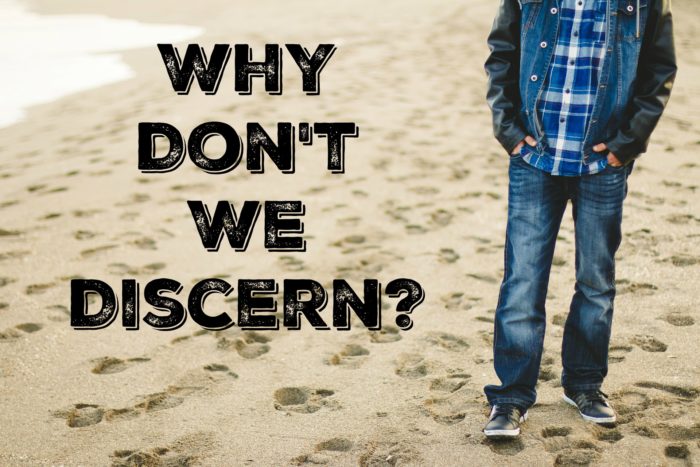 I already know that my title will keep most people from reading this post. People who do discern will figure they don't need this post and people who don't discern will ignore it. But I feel compelled to write it, anyway. Because perhaps the Lord will use it to wake someone up. You never know, now, do you?
From the time I was a teenager, I recognized a complete rejection by most modern Christians of discernment. Whether it was regarding entertainment or the preacher they listened to on Sunday mornings, most people did not practice discernment. And this tendency to ignore this command from scripture has grown considerably worse in the recent years.
Why? Why is this command in scripture so soundly ignored by so many solid believers? What is the deal?
First, what does discern mean? According to dictionary.com it is–
to distinguish mentally; recognize as distinct or different; discriminate
In a practical sense, discernment means that we can distinguish between good and evil in our minds. We are willing to take a hard look at every single thing that we allow to enter our minds and consume our thoughts–from the book we read on the beach to the podcast we have downloaded to our favorite TV show to the preacher we listen to on Sunday–with the heart of a Berean (Acts 17:11), viewing all of it through the lens of scripture. It means that we are willing to reject anything that doesn't line up with what we read in God's Word.
Second, let's take a quick look at what the Bible has to say about this (btw, this is just scratching the surface. There are many more verses and passages dedicated to this)–
Folly is joy to him who is destitute of discernment, But a man of understanding walks uprightly. Proverbs 15:21
And this I pray, that your love may abound still more and more in knowledge and all discernment, Philippians 1:9
But solid food belongs to those who are of full age, that is, those who by reason of use have their senses exercised to discern both good and evil. Hebrews 5:14
Beloved, do not believe every spirit, but test the spirits, whether they are of God; because many false prophets have gone out into the world.  I John 4:1
Prove all things; hold fast that which is good. I Thessalonians 5:21
Okay. Now that we know that we are to discern between good and evil and only hold fast what is good after that process, let's talk about why so few people are actually doing this. Why are so few Christians unconcerned about their entertainment choices? Why the big disconnect between their Christianity and their entertainment? Why are so few uninterested in discerning the times? Why do so few Christians care so little about what is really going on in the world around us, according to scripture?
I think there are some very good–albeit inexcusable–reasons–
1. Pure Selfishness (and a tad of rebellion). Many just want to watch what they want to watch when they want to watch it and nobody is going to tell them they can't. They are going to listen to whatever radio station they want and no one had better judge them for it. No one. Because that would be judgmental and we know that is the worst sin ever (says the world, by the way–not scripture). They say they aren't convicted, but we know if there is no conviction, then there is something wrong spiritually.
2. We want to be popular. Peer pressure is a powerful thing and to admit we haven't seen the latest movie or don't watch the trendiest show of the day is really, really hard for some of us. We want to be cool and hip (are those even the right words anymore? I am definitely getting old) and so we are willing to make compromises.
3. We hate change. We just want everything to remain the same and so we will stay at a church that is no longer preaching the gospel or has followed after the worldly, modern day church model just because change is so painful (and that is true–change is painful). Or we will keep watching the show that gets continually worse because it's what we do on Tuesday nights or whenever. We hate change. Did I mention that already??
4. We don't want to know or think about it. Some just don't want to think about the hard stuff of life. They want to take everything at face value. If someone says they are a Christian then they surely must be one. If a book is found in a Christian bookstore, then it must belong there. If a show doesn't have swearing or sex or violence, well, then it must be a good show, right? (wrong–philosophy can be just as dangerous as the other stuff). But it takes work to think. And we, as a culture, have been trained to only want to play.
5. Some aren't saved at all. J.C. Ryle puts it this way on his expository comments on Matthew 25–
At present, we must all be aware, the vast majority of professing Christians care nothing at all about it. They have no sense of sin. They have no love towards Christ. They know nothing of being born again. Repentance, and faith, and grace, and holiness, are mere words and names to them. They are subjects which they either dislike, or about which they feel no concern. But all this state of things shall one day come to an end. Knowledge, conviction, the value of the soul, the need of a Savior, shall all burst on men's minds one day like a flash of lightning. But alas! it will be too late. It will be too late to be buying oil, when the Lord returns. The mistakes that are not found out until that day are irretrievable. Are we ever mocked and persecuted and thought foolish because of our religion? Let us bear it patiently, and pray for those who persecute us. They know not what they are doing. They will certainly alter their minds one day. We may yet hear them confessing, that we were wise and they were foolish. The whole world shall one day acknowledge, that the saints of God made a wise choice.*
Do you find yourself not discerning because of one of the reasons above? Most everyone who chooses not to discern falls into one of these categories. Look–this is not a blanket judgment on anyone. I recognize that — just as some Christians struggle with anger or lying and fight it all their lives– so do some Christians struggle in this area of discernment. But recognizing that not practicing it is not only sin but also a big detriment to our spiritual walks should push us to change this. Being aware is always the first step to making a change. Let me finish this post by giving five wonderful benefits that come when we choose to discern–
1. Our hearts don't become hardened to sin, but instead we stay softened and sensitive to the will of God in our big life decisions, as well as in small, everyday decisions.
2. We love what God loves and hates what He hates, which leads us into a deeper walk with our loving heavenly Father.
3. Our hunger for scripture grows as we turn away from sin and false teachers.
4. We experience true peace and joy that results from a life of obedience, instead of the fake stuff conjured up by the "angel of light" (2 Corinthians 11:14)
5. We remove ourselves from the slippery slope that leads into deep and abiding sin.
I hope this has encouraged at least one of you to turn off the TV or to switch the radio station or to starting thinking about leaving your worldly church. If even one of you changes something, I will know that God has used it for His purposes and His glory.
Search the scriptures for yourself. Get in the Word and be changed. For it is there–and only there–that true change is wrought. Turn away from your personal experiences and turn to the Word of God. I will leave you with Hebrews 4:11-13–
Let us therefore be diligent to enter that rest, lest anyone fall according to the same example of disobedience. 12 For the word of God is living and powerful, and sharper than any two-edged sword, piercing even to the division of soul and spirit, and of joints and marrow, and is a discerner of the thoughts and intents of the heart. 13 And there is no creature hidden from His sight, but all things are naked and open to the eyes of Him to whom we must give account.
*Ryle, J.C. . Expository Thoughts on the Gospels: The Four Volume Set. Kindle Edition.