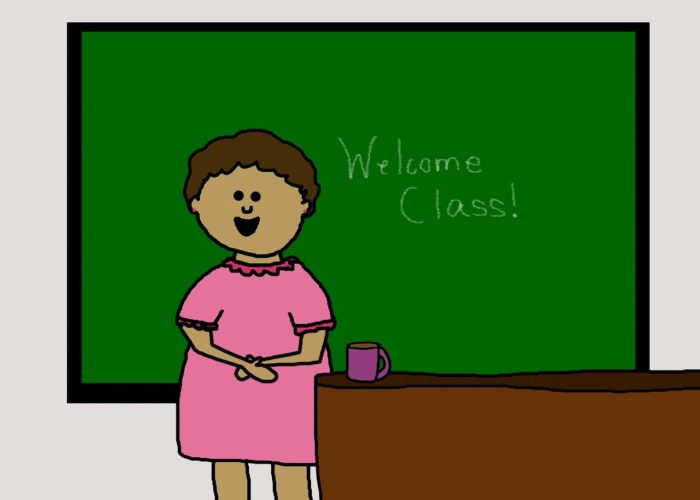 Think back a moment to your school days. Do you have a few teachers that stand out? I sure do. My third grade teacher was an older woman named Mrs. Ulrich who loved anything Navajo. She would wear beautiful jewelry of shiny turquoise in its setting of sparkly silver every day. She had a reputation for being strict, but I loved her. And she loved her students. And then there was Mr. Nolt. He had to be one of the best teachers ever! He made learning so much fun for rambunctious and confused sixth graders. We forgot we needed to be "cool" when we were in his class. Over the years, I had others who really made an impact on me through the avenue of teaching.
But then there were those who had the opposite effect. I had some really terrible teachers. I won't name them (you know…just in case) but they were either so boring I would fall asleep; or they were so mean, you never knew if you were going to do something wrong; or they were so liberal, they couldn't teach one class without promoting their agenda. Actually, I remember a few debates with those teachers and I honestly believe it helped to grow me in my knowledge of the Word quite a bit!
All of us have had teachers. School teachers, music instrument teachers, Sunday School teachers, coaches. Even as adults, many of us still continue to learn under the guidance of a teacher.
As I was reading in 2 Timothy 2:2, I was reminded how important it is to teach the truth of the Word to others. Paul is specifically talking to Timothy in this letter, but–as with the rest of the letter–we know that what he says is for all of us.
This is what that verse says–
And the things that you have heard from me among many witnesses, commit these to faithful men who will be able to teach others also.
He is talking specifically about teaching sound doctrine to faithful men, who can then teach it to others, who will teach it to others–like the stone thrown in the pond creates ripples that move outward.
But, as I was thinking about this verse, I was also reminded of Deuteronomy 6:6-7–
And these words which I command you today shall be in your heart. You shall teach them diligently to your children, and shall talk of them when you sit in your house, when you walk by the way, when you lie down, and when you rise up.
As believers, we are responsible for teaching the truth to the next generation, as well as to others.
Now, I know that many of you would not view yourselves as teachers. But, while it is clear in scripture that some receive a special gift of teaching, it is also clear that all of us end up in some capacity of teacher throughout our lives.
So how do we do our best in passing on the truth to the next generation and to others around us–even if we don't have the gift of teaching? As I think back over my own experience with teachers (and with my parents and grandparents), I have ten suggestions that–if put into place– would make all of us good teachers in any situation, but particularly in teaching others about God's Word–
1. Don't have an agenda. We need to teach what we are supposed to teach without any hidden agenda. How often have you had a teacher that has been so consumed by a certain topic, that many days' lectures led right back to that pet topic? I remember one teacher (and he wasn't teaching philosophy) that just kept coming back to how all religions lead to the top of the same mountain. We would debate this over and over again. This was something he felt he needed to teach, even though it was completely outside the scope of what he had been hired to teach.
But let's apply this to biblical teaching for a moment. How important that we teach the unadulterated truth of the Bible without the interference of our own personal agenda or preferences. Not doing so leads to all kinds of problems. For example, if you only desire to teach on the love of God, you miss a chunk of the Gospel by not teaching about His hatred of sin. If we only want to teach about the good things in the Bible and never on how to discern false doctrine and false teachers, we put our students at great spiritual risk. Or if we have the agenda to be well-liked, we may only want to focus on the pleasant passages of comfort and peace. But then we miss the part about how we need to grow in holiness and purity. Of course, some teachers go the other direction and only focus on sin or God's wrath or discernment. This all leads to very unbalanced teaching. People with personal agendas never make good teachers.
2. We must care so deeply about our subject that we can't help but teach with confidence and courage. No matter what subject, no matter what the response of the students, we must approach our subject with boldness and passion in order to be a good teacher. This is especially challenging when it comes to teaching the Bible as it is not really the most popular thing to do these days and it requires a great amount of courage. But, in thinking back to my Christian college experience, I realize that the professors who made the most difference in my life were the ones who brought personal interest to their subject and who proclaimed truth with confidence and without apology. Those who mumbled or read from a text book during class or who didn't care about their subject all that much made little–if any–impact in my life.
3. Don't be afraid to admit you are wrong. Good teachers (and good parents) apologize. No one wants to be taught (or parented) by someone so arrogant they can never admit to any wrongdoing. Enough said.
4. Provide a safe place for them to ask questions and to share concerns. If a student feels like they are going to receive judgment from us every time they ask a question, we will create an atmosphere of fear. We must allow questions and concerns to flow freely, always directing them back to the authority of the Bible. What does the Bible teach about this? Helping our students to run all through the grid of the scriptures will be the first step in helping them to be healthy spiritually. Of course, school teachers don't often have this option but it is still important that you create a safe place to ask questions, so that perhaps they may come to you later, outside of school, to look for answers to life's biggest questions.
5. Make learning interesting. Oh, how important this is. I have to be honest– I never had a good history teacher and so, during all of my school years, I thought history was the most boring subject ever. And then I started teaching it to my children and everything changed. History is a fascinating subject but it was never presented to me in a very interesting manner. On the other hand, I had a wonderful professor named Prof Gordon for my business classes. I didn't even really like the subject of business all that much, but he made it interesting.
Sitting at a desk listen to someone drone on and on about dates or methods or systems is one of the quickest way to kill the desire to learn in any student. What a responsibility we have to show that our subject is interesting and worth learning! When we teach the scriptures–which we all should do in some capacity–how important it is to communicate Hebrews 4:12–
For the word of God is living and powerful, and sharper than any two-edged sword, piercing even to the division of soul and spirit, and of joints and marrow, and is a discerner of the thoughts and intents of the heart.
It is not some dry, old book that doesn't matter to us today. It is the powerful and life-changing Word of God! We must teach it with this in mind!
6. Be approachable. Oh, the power of a smile and kind words. Think back in your own experience a moment. What do you remember about the faces of your favorite teachers? What about their actions? I am sure that most of you will remember a kind and warm-hearted man or woman who smiled a lot. Someone who said positive words just as often–or perhaps more–than they said critical words.
7. Teach them to apply what they are learning in their own lives and how to teach what they are learning to others. The student of a good teacher doesn't generally leave the classroom (or home) unchanged. They are filled with a zeal to apply what they have learned and to teach others.
8. Love your students. This probably should have been number one. Again, think back to your own experience–whether it be in the home, in church, or in school. Which teachers had the most impact? If we felt loved, we were open to be taught. If we felt like a bother or the teacher was constantly irritable, we became distracted wondering why and then speculating if we were the problem…
Feeling unloved and in the way completely changes the atmosphere for teaching.
9. Share yourself with them. Sometimes it is good to step outside what is just for class or Bible Study and share how your subject has made a difference in your life. This is especially crucial in teaching the Word. When we can show how we personally had to run a decision through the grid of the Bible or how we had to submit to the authority of God's Word in a specific area of our life, we become more "human" in the eyes of our students. We show them that we are just like them–perhaps only a few steps ahead in the journey.
10. Set a good example. And, last– but certainly not least–is that we must live out what we are teaching. We can't effectively teach what we don't live. Kids and adults can spot a hypocrite in a second. And that is a sure fire way to destroy any biblical teaching ministry.
I hope I have given all of you some food for thought. While this post was geared to teachers of all subjects, my heart mostly lies with those of us–which should be all of us–who teach the Word of God. Whether we are a parent, grandparent, Sunday School teacher, Bible Study teacher, pastor, blogger, or teach the scriptures in any other capacity, may we put these things into practice so that we can have an effective teaching ministry and create a godly legacy that will live on for years and years after we are called to glory.
(By the way, I would love to hear about your experiences–either as a teacher or as a student. Comment below and let me know what I missed in encouraging us to be the best teachers we can be!)