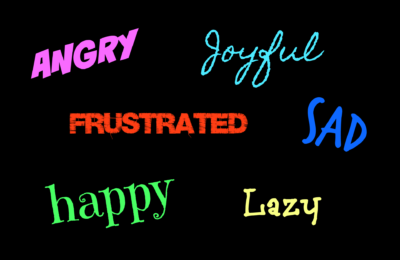 Hypocrisy is such an ugly word, isn't it? It is defined as: Behavior that contradicts what one claims to believe or feel. (from Merriam-Webster.com)
All of us, at one time or another, have probably played the part of a hypocrite. We have claimed to believe one thing when we are with one group of friends but our actions contradict our claims when we are with another group of friends. Some are worse at this than others.
And the basic consensus of all human beings since the beginning of time is that hypocrisy is bad. And it is! It is never good to pretend you are something you are not. Or to say you believe something with your mouth but then deny that belief with your actions.
But there is one time that being a hypocrite is not only good but also very helpful.
Curious, yet?
I have struggled my whole life with being a slave to my feelings. If I didn't feel like reading the Bible, I didn't. If I felt like eating a sugary snack, I ate it. Thankfully, I have grown and continue to grow in this area, but it continues to be a struggle, particularly when change happens in my life. This is always the time that my feelings rise up and scream to be heard–and when I am most tempted to listen.
But the other day, I heard someone say this: Be a hypocrite to your feelings.
Yes!
A million times yes!!
So often we hear people say things like this–
I can't act like I love my husband if I don't feel like I love him. That would be hypocritical.
I don't want to read the Bible if I don't feel like reading the Bible. That would seem hypocritical.
But feelings are the one thing we can and should play the hypocrite to. In fact, we must act differently than our feelings on most occasions. While feelings can help us process and determine certain things about ourselves, they should most certainly never dictate our behavior.
As I have watched our world go from objective, absolute truth to subjective, you-decide-what's-true-for-you truth, I have seen the dictatorship of feelings take over the souls of many people–even Christians. It is often the reason for sporadic church attendance. It is the reason for family quarrels and fights. It is the reason for the dearth of Christians who pray and study their Bibles. Feelings are dictating behavior.
The interesting and wonderful thing about feelings is that they are very…convertible. Strange word to use, I know, but I couldn't think of a better one. When we do the right thing– in spite of our feelings– our feelings pretty quickly get with the program and usually convert into the proper ones we should be having.
For example, when I feel irritated with my husband but I choose to treat him in a kind and loving way, I will start feeling like I love him again.
Or when I feel lazy and I don't want to read my Bible and pray but I do it, anyway, I will often feel motivated afterwards.
Of course, this is not some magic solution and sometimes our feelings are sluggish to follow. And perhaps for some they never change. It doesn't matter. We do what is right because it is right. We should never let feelings be our guide.
And this leads us to one other thing closely related to this: The frequent statements Christians often make regarding God's input in their feelings. How often have you heard someone say something like this–"I feel like God…" or "God impressed upon me…"? I even catch myself sometimes saying things like "Well, I feel like God is wanting me to do this or that". But if our feelings are so unreliable, how could we know if it is God or just some whim of our own? Oh, how much better off we are with a rational faith based solely on the Word of God than on our own ambiguous and fluctuating feelings!
So be a hypocrite to your feelings! Tell yourself that no matter what you feel, you are going to ignore it and do what is right anyway. And be thankful for the times your feelings do match your actions. They are marvelous times of blessing that motivate us to continue on the path of godliness.