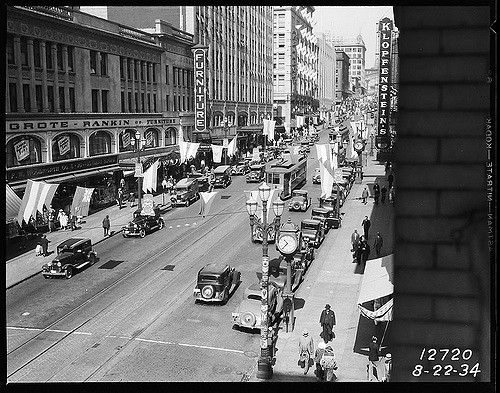 A few weeks ago I went to my daughter's cello orchestra concert. As I listened to the music, I stared at the old-fashioned screen–a very interesting relic of the past–that was behind the orchestra. It was from the 1930s and had a beautiful, pastoral scene in the middle with advertisements for local businesses around the outside edge. My eyes went from one advertisement square to the next, where I read names that were completely unfamiliar to me. Two of the local businesses advertised had been in their final years when we had moved to the area in the early 90s and so I recognized the names. Only those two–out of the eighteen advertisements–were even slightly familiar to me.
Wow. This really reminded me of just how temporal this life is. We have a small business (as many of you already know) and sometimes we can get caught up in all of the problems and trials that come along with this particular lot in life. Business owners face issues that most people never even think about and it can be quite the challenge. My husband daily faces most of them, as he is in the day-to-day organization of the field work, while I support him and work with him to process some solutions and plans for the dilemmas and situations that come along. We have been doing it this way for thirty years now. And we have weathered a lot. But I have to admit that this year has brought some challenges that were not only unforeseen, but have also reminded us that we can't rely on our strength alone.
These challenges can potentially be overwhelming if we forget that this is just a temporal calling.
Not only is this business just a temporary thing, but we also need to remember that our hope does not lie in any business! Only God is our hope. It should never be placed in anything else. For us, we can easily place our hope in our business if we aren't careful. But for some of you, it may be in your family or in the government or some other thing. It is so incredibly tempting to place our hope in things other than God.
When things go wrong, this is when we find out just where our hope lies. If we are assailed by anxiety and fear, we are probably putting our hope in temporal things. Things that won't last for eternity.
And so–as always–God has used these trials to gently draw us back to a proper perspective. And for that, we are thankful. While the trials are hard and frustrating, it is a good thing to be reminded that this world is not our home and that our affections shouldn't be rooted too deeply here. It is good to remember that everything is temporal–except for the souls of men.
I don't think it was an accident that I saw that screen on that day. And while I still experience moments of deep frustration and fear and even sadness at all of the cultural changes going on, I know that God has not deserted us. God has been so faithful to us through the years, answering so many prayers. We know He will continue to walk with us–just as He has for over thirty years now–as we strive to operate a business with integrity. The challenges may be more abundant than we'd prefer, but we were never told anywhere in scripture that life would be easy. So why do we expect it will be?
And, I know this will seem like a bit of a rabbit trail, but I guess I just have to add one more thing regarding this. I believe that the expectation that life will always be easy–that somehow it is greener on the other side of the fence if we can only get there–is part of why there are so many divorces, failed businesses, and church-hoppers. Years ago, we were taught to live by this sentiment: "When the going gets tough, the tough get going" but now that sentiment could be replaced with something like this: "When the going gets tough–or unpleasant–or we just don't like it– it is time to walk away."
How thankful I am to be married to one of those rare guys who doesn't walk away from trials and challenges but, instead, rises up to meet them. Oh, how we need more men (and women) like this!
To tie it all together–you knew I could do it :) — not being surprised by trials and challenges (and then sticking around to see them through) and having an eternal perspective by placing our hope in the Lord (and not in temporal things) both go a very long way in keeping us at peace. When we can accept God's sovereignty in our life, always trusting that He knows best, we can experience the joy and peace that is promised us in scripture. We may not always know why. We may not always understand. But we can courageously face our trials, knowing that He will always be faithful.
The trials of this life shall soon be past. Only what's done for Christ shall last.
May we face the battles of life bravely while keeping an eternal perspective. May we remember that there are lessons for us to learn and people, desperately lost in their sins, who need to see us live out our Christian lives in the tough times. And may we remember that all of this life's trials pale in comparison to the glory that awaits us in heaven!
A few verses that came to mind while writing this post–
2 Corinthians 4:16-18 So we do not lose heart. Though our outer self[d] is wasting away, our inner self is being renewed day by day. 17 For this light momentary affliction is preparing for us an eternal weight of glory beyond all comparison, 18 as we look not to the things that are seen but to the things that are unseen. For the things that are seen are transient, but the things that are unseen are eternal.
I Peter 1:20-21 He was foreknown before the foundation of the world but was made manifest in the last times for the sake of you 21 who through him are believers in God, who raised him from the dead and gave him glory, so that your faith and hope are in God.
James 1:10-11 and the rich in his humiliation, because like a flower of the grass[c] he will pass away. 11 For the sun rises with its scorching heat and withers the grass; its flower falls, and its beauty perishes. So also will the rich man fade away in the midst of his pursuits.
Isaiah 40:7-8 The grass withers, the flower fades
    when the breath of the Lord blows on it;
    surely the people are grass.
8 The grass withers, the flower fades,
    but the word of our God will stand forever.