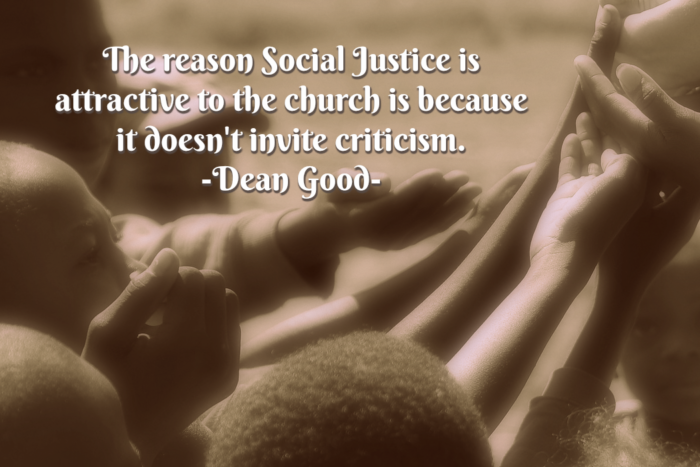 "The reason Social Justice is attractive to the church is because it doesn't invite criticism." My brother (Pastor Dean) said these words as we talked on the phone yesterday. I immediately realized just how profound his words were.
Perhaps they are words each and every one of us should reflect upon.
There are many good things the church does that all people love. It matters not if they are Christian or not Christian. Nothing matters as we work hard with our fellow man to make the world a better place. This includes things like–
Feeding the hungry ♥ Adopting orphans ♥ Caring for the homeless ♥ Providing fresh water for third world villages ♥ Providing food, clothing, and shelter to needy families ♥ Giving money to charities

Who in their right mind is going to oppose such things?
And, just to be clear, I am not opposed to these things. And neither should any of us be. The Bible is clear: We are told to care for orphans (James 1:27); we are to help our fellow man– and particularly our Christians brothers and sisters– who are in need (Ephesians 4:28; Hebrews 6:10). These are good things to do.
But these aren't the only things Christians are to be doing. Doing good for others is just a part of what it means to live a godly, righteous life.
There's so much more. But the "more" doesn't often draw the praise of man.
As soon as we go out into the world and preach the Gospel–the clear, unadulterated Gospel as the scripture teaches it–we immediately invite the antagonism, the scorn, and the hatred of the world.
And as soon as we try to teach and live out the Christian life that is clearly mandated in scripture among the murky and muddy waters that is the mainstream church we invite the antagonism, the scorn, and the hatred of that church.
When we bring a message the world doesn't want to hear, such as you cannot be reconciled to God without believing in Jesus Christ (John 14:6), we will be criticized, mocked, and labeled. We may even be persecuted. By both the world and those claiming to belong to the church.
When we bring a message the mainstream church doesn't want to hear, such as encouraging believers to practice discernment (Hebrews 5:14), be separate from the world (James 1:27), and strive for holiness (I Peter 1:15-16), criticism and animosity will often rain down upon our head from within the church doors.
This is why so many of us choose to do the Christian things that invite the praise and laud of people. And it's also why we avoid doing the Christian things that invite criticism.
How much do you care what people think about you? Does this change what you stand for or stand against?
I have to be honest and let you know right up front that this has been–by far–my biggest battle in this ministry.
It is natural for people to want to be liked and I am no exception. I don't want to be labeled divisive, negative, unloving, arrogant, and whatever other words I have been called.
And yet, over and over again, God continues to remind me that my job is to please Him, first and foremost. As believers, our priority is to do all to the glory and pleasure of our Lord, irrespective of the opinions of man.
The opinions of those around us are, in essence, irrelevant.
Now reflect on that truth for just a few seconds. Why do we do what we do? How do we feel if we do something good and it goes unnoticed? How do we respond when we are faced with a choice to speak out against something we know God hates or a false teacher that is leading someone we love astray? Do we have the courage to share the Gospel unapologetically with the lost all around us? Are we truly living like no one's opinion matters but God's?
Inside each of us, a battle rages between the flesh and our new man. And the flesh wants to be pleasing to our fellow man. It is just how we are. But when we are saved, we have a new purpose. We seek first God and His Kingdom (Matthew 6:33). We are new creatures (2 Corinthians 5:17). Everything is changed.
In theory, that is.
In real life, it doesn't just happen. It is a daily struggle.
However, as new creatures, we must fight this fight. For if we let the flesh win, it is not without deadly consequences. Think of how many children in Christian homes have grown up and gone out to live ungodly lives in the world because parents didn't want to be unpopular? Think of how many inroads Satan has made into the lives of believers because they want to be cool to their friends? How many have followed false teachers because their Christian friends are afraid to speak up? Think of the light that has gone out in the church because of the desire to win the praise of the world?
If we aren't willing to be different than the world and if we are driven by a passion to please the world (or the compromised, mainstream church), we will be rendered ineffective for the cause of Christ.
Sure, we can do all sorts of nice things for others and make this temporal world a better place to live in, but if we aren't sharing the Gospel and pointing people to biblical Christian living, what eternal good are we even accomplishing?
Are we more likely to do the things that draw the praise of man? Do we shy away from the righteous and good things that draw criticism?
Pastor Dean's words really made me think. And, once again, I was reminded: My priority is to please God.
Am I living to please God or are my daily life choices based on pleasing those around me? It is an important question that we should probably all give some thought to.