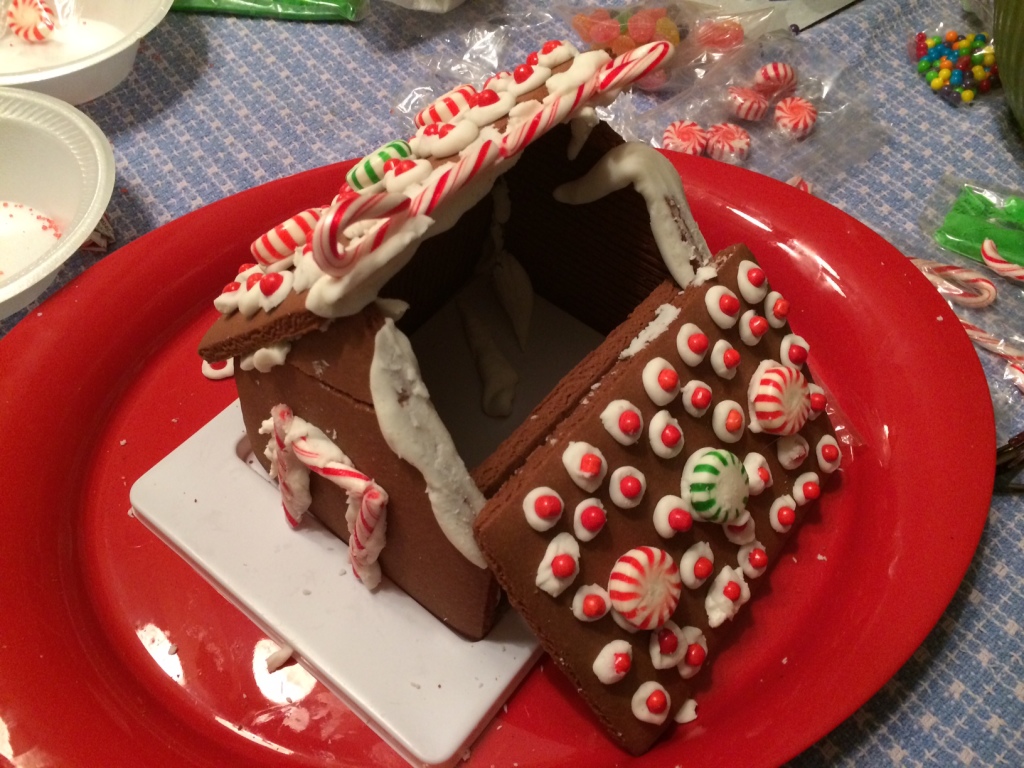 Yesterday was a lazy day around here. No plans. Nothing that absolutely had to be done. I love days like that. Around 3pm, my youngest daughter decided she was going to build a gingerbread house. We talked a bit about it and the decision was made that if she would wait a few hours, all of us (at least all of us who were around that night) would build one with her later on that evening. We hadn't had an annual gingerbread-house making day for a few years and it seemed like it would be a fun activity for a winter evening.
We have this habit of buying gingerbread-house kits after the season is over for almost nothing and then stocking them up for the next year.  Of course, if you go a couple of years without an annual gingerbread-house making day, we are left with with a problem–the supplies get very old. This leads to some pretty serious consequences. As you will see.
Later on that evening, we all sat down at the table to get started. As I gently pulled my pre-made pieces from the box, I was disappointed to see that one of my gables has broken and the other one was in pieces. It was pretty clear that one end of my house would have a nice, large air vent.
As we started pulling out the packets of pre-made icing, we were quickly disappointed. Some were as hard as a rock, others were stiff and hard to work with. We put the stiff ones in warm water with high hopes. As we continued some of us had better luck than others with our creations. Personally I found the whole thing very frustrating. The stiff, uncooperative icing was making it so much work to add candy to the house that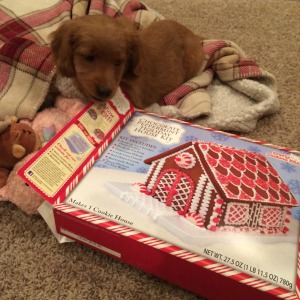 it wasn't even all that fun. And, so, when the roof slid off just as I had finished decorating it, I decided to just go play with my new "grand-puppy." She was getting into a little trouble, anyway, and needed someone to watch her.
I played with her for a few minutes and then wandered back to my house to try one more time. I was less than enthusiastic this time around, but seeing the rest of my family persevering at their houses made me feel a little guilty (except for my son-in-law who had gladly taken up puppy duty and was feeling about the same as me about decorating these houses!)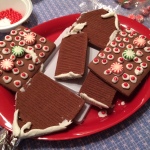 I tried to put the roof back on and let it rest for a moment. I then carefully put a little frosting on a piece of candy cane and stuck it to the side of the house. The candy cane fell off. I tried again and this time the whole house fell completely apart! As it lay there in pieces, I decided that now was a great time to quit and left the table.
Quitting was an option with a gingerbread house. Who really cares, anyway? But quitting is not an option with our own homes. And sometimes we do feel like quitting, don't we?
In my gingerbread house, the glue that held my house together was of very inferior quality. And so I was running into some pretty serious problems.
The same can be said of our own lives and homes. The glue with which we hold our lives together has to be the right stuff.
If we build our homes with unbiblical presuppositions and expectations, we will start to see certain areas crumble. If we use the glue of guilt, pride, or unrelenting stubbornness, our house will become weak. If we allow worldly attitudes and philosophies to give us the recipe for our glue, our homes will most likely fall apart. It will, at best, be a thrown-together shack with the potential to fall in on itself at any moment.
The glue to keeping our homes together is clear in scripture. It consists of love, joy, peace, patience, kindness goodness, faithfulness, gentleness, and self-control (Galatians 5:22-23). The glue that works has a good portion of humility (Colossians 3:2) and biblical love (I Corinthians 13). I use the adjective "biblical" because the world's definition of love is very different than God's.
The other day I was feeling really frustrated about something that wasn't getting done around the house. I told my husband my frustration and let's just say that my words were not filled with kindness and humility. A few minutes later, I sat down to read my daily portion of God's Word. In my read-through of the Bible that day, I "just happened" to be in I Corinthians 13. I was quite aware of the irony of it all. When my husband came back in the house a few minutes later, I humbly apologized.
You see, God uses His Word to act as a mirror for us. It clearly shows us our weaknesses. But it doesn't end there. It also gives instruction and help. We aren't stuck in the mire of our pride and anger. We can get beyond our penchant for bad language or sulkiness. We can change. Our marriages can change. Our families can change.
There is a lot of hopelessness that abounds today, with little talk of victory in Christ. But what kind of God do we serve, anyway? If He can part the seas, can't He work in our own hearts? If He can create the world, can't He fix a marriage? Yes, we will always fight sin. Yes, we will always be tempted. But if we start using the right kind of glue, by the help of the Holy Spirit, things can get so much better.
Life is just tough, isn't it? Relationships are sticky, tenuous things. So many families are dysfunctional and so broken. And we retreat into our shells and build walls. But perhaps it is time to start digging into God's Word for some answers.
If you are ready to begin to discover God's Word for yourself, I invite you to join me in the Growing4Life Bible Reading Challenge coming up in 2015. You can click here for more information. But you don't have to join me to get into the Word. Just do it. Just go get started. If you are humble and ready to obey, you will find it life-changing.
If you enjoyed this post, would you consider sharing it on your facebook page or twitter feed? I do not take in any income or spend any marketing dollars for Growing4Life, but rely solely on my readers to spread the word. Thank you!