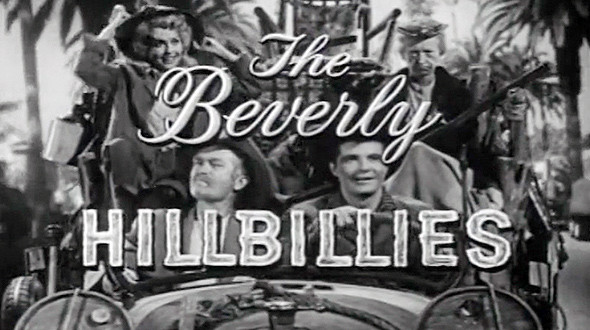 I don't know how old you have to be to remember the show "Beverly Hillbillies." It is a silly show, tilled with innocent humor and pointless plots, telling the tale of a hillbilly family that struck it rich.
The first verse of the theme song goes like this–
Come and listen to a story about a man named Jed
A poor mountaineer, barely kept his family fed,
Then one day he was shootin at some food,
And up through the ground came a bubblin crude.
Oil that is, black gold, Texas tea.
Jed and his family were actually very rich for a very long time before he even realized it, because there was oil underneath the ground where he and his family lived.  His ignorance did not make his wealth any less valid or true.
I was reading in Ephesians this morning (Oh, how I love that little epistle!) and came across these verses–
For this reason I bow my knees to the Father of our Lord Jesus Christ,[c]
15 from whom the whole family in heaven and earth is named,
16 that He would grant you, according to the riches of His glory, to be strengthened with might through His Spirit in the inner man,
17 that Christ may dwell in your hearts through faith; that you, being rooted and grounded in love,
18 may be able to comprehend with all the saints what is the width and length and depth and height—
19 to know the love of Christ which passes knowledge; that you may be filled with all the fullness of God.
20 Now to Him who is able to do exceedingly abundantly above all that we ask or think, according to the power that works in us, 21 to Him be glory in the church by Christ Jesus to all generations, forever and ever. Amen.  (Ephesians 3:14-21)

And I was just struck by the knowledge that we have so much in Christ. And yet we live like we have so little. So often we are just like Jed, living as a spiritual pauper. We work our way through the swampy mess of our lives, relying on our own resources and strength. When that runs out we turn to worldly philosophies and counselors. And then when that doesn't work, we often build walls and hide behind them. But these verses tell us that our strength and riches come from Jesus Christ. And that He is able to do exceedingly abundantly above all that we ask or think! This isn't talking about selfish requests focused on material goods and a comfortable, pleasant life. Earlier in Ephesians Paul tells us–
For we are His workmanship, created in Christ Jesus for good works, which God prepared beforehand that we should walk in them. (Ephesians 2:10)
When we are saved we are filled with the desire to please God. This isn't a requirement, it's just a fact. What doesn't change is our fleshly desire to please ourselves. And so with salvation comes a huge battle and many of us are not prepared to fight it. We either cave to the temptation of our lusts or we fight it with earthly tactics and humanistic techniques.
And yet God tells us in Ephesians that God can accomplish greater things than we can ever imagine through His power in us. We can have victory! Oh, most times it doesn't come easy and we have to work hard. While God miraculously changes sinful desires in some people, most times it is tiny step by tiny step forward.
But I think the thing I found encouraging is that if we are walking with the Lord in obedience, we can expect victory! Paul goes on in Ephesians to clearly explain what a truly saved and transformed life does and does not look like. If our lives are filled with the things that are of the flesh, we should not expect victory. We can't live willfully in sin and expect God to work great things in us. That is why so many of us flounder as spiritual paupers, when, in truth, we are quite rich!
Today is a good day to examine your heart. I know that I had much confession to do this morning, as I read Ephesians and realized how I have been allowing some things to take a hold in my heart that shouldn't be there. I don't want to live as a spiritual pauper. I want to live as the spiritually rich and very loved person I am in Christ! If you are His, I am sure you want the same. May we all continue to fight the flesh that wars within us by the power of Christ in us! We are on the winning side. Victory is ours through Christ Jesus. Let's not forget it!
If you enjoyed this post, would you consider sharing it on your facebook page or twitter feed? I do not take in any income nor spend any marketing dollars for Growing4Life, but rely solely on my readers to spread the word. Thank you!