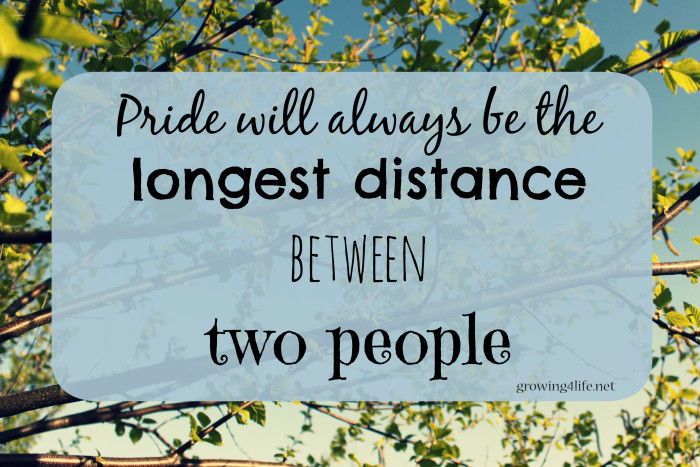 I've had a really rough week. You don't need details, but suffice it to say that I came face to face with my loathsome, prideful self yet once again.
Does that ever happen to you? Or am I the only one? You think you are doing pretty well in this Christianity thing and then something happens that you didn't see coming or someone doesn't meet your expectations and you react. And that's when you realize that you still have so far to go. While it can be really painful, I am so thankful for these times, for they remind me of why I need a Savior so incredibly much and they help me to grow more like Christ.
Pride is an insidious, deadly sin. It gobbles up our peace and joy so quickly. It destroys most everything in its wake. Or, at the very least, keeps any relationship from being the best it could be.
Humility is the opposite of pride. Christ was humble, even to death on a cross, and humility is what He requires of us. First and foremost, humility is necessary for us to understand our need for a Savior. But, after our initial conversion, it is also so key in staying in a right relationship with God. It is absolutely critical for healthy family relationships. Humility helps us to be a better co-worker, a better child, a better spouse, a better parent. We are happier when we are humble. We bless others when we are humble. We experience much greater peace when we are humble.
When we think of pride, we often think of the kind that David exhibited in I Chronicles 21 (and 2 Samuel 24). David took a census. This was apparently an act of pride that cost him (and the whole nation of Israel) dearly. We can't know for sure, but according to my Bible study notes, David's act of taking this census could have angered God for a number of reasons. Perhaps because David was trying to gratify his pride in the great strength of his army and military power. Or he was putting more trust in his forces than in his God. Maybe this was showing that he was taking credit for the many victories of Israel. Whatever his reason, we know that God was angry, as we read in the passage.
And our pride often looks like David's in our own day-to-day living. We take credit for something; we want the glory; we draw attention to our accomplishments and awards and accolades.
But let's just say that we don't really struggle with this type of thing. Maybe we hate attention and would never boast about ourselves. We would never count our successes and victories and put them out there for all the world to see. Is there still the possibility that pride could still be an issue for us, if boasting and taking censuses isn't our style?
Of course, the answer to this is a resounding YES.
So what are some ways that pride hides out in the dark corners of our minds and hearts? I have been really thinking about this topic of humility this week. Knowing that in order for my relationships to work right, I need to be humble. In searching some of my favorite authors on this topic, I came across a $2.99 Kindle book called Sermons on Humility by Charles Spurgeon. I have not finished it, but in the first few pages he shares several different ways pride exhibits itself in even the most "humble" of us. I will follow each one with a few practical, modern-day examples —
There is the pride of the heretic, who will utter false doctrines, because he thinks his own judgment to be better than the word of God, never content to sit like a child to believe what he is told, he is a disputant but not a disciple. He will insist upon it that his own reason is to be the well-spring of his own beliefs, and he will receive nothing beyond his own reach.
This is immediately what I think of when I think of the Christians who claim that homosexuality isn't a sin, that unity is more important than truth, or that the world evolved. They have the pride of the heretic–relying on their own intellect or on the intellect of other men instead of on the Word of God. The other person that comes to mind is the one who says there are many ways to heaven or that there is no hell. They, too, are holding their own thinking in higher merit than the Word of God.
There is next the pride of the Papist, who attaches merit to his own works, and hopes to will heaven as the reward of his own doings.
While they may not brag or boast about this, many think they are good people, quietly assuming that their good deeds outweigh their bad ones and this will be what gets them into heaven. Even many, many Christians (or shall I say people who identify with the religion of Christianity) believe they are going to heaven based on their own merit. This is pride. This is the kind that keeps our eyes blinded to our need for a Savior.
Next there is the pride of the curious. The man who is not content with simplicities, but must pry into mysteries. He would if he could climb to the Eternal Throne, and read between those folded leaves and break the seven seals of the mysterious book of destiny. You know well our apostle has many things in his writings which are hard to be understood, yet he uttered them because of the Spirit, and you never meet with any attempt in the apostle's writing as you do in the preaching of some ministers, as you do in the conversation of some professors, to reconcile predestination with free will. He was quite content to preach to men as free agents, and exhort them to repent, quite willing to speak of God as working in us to will and do of his good pleasure, while we also work out our own salvation with fear and trembling. Paul was never curious to find out where the lines of truth met, he was perfectly content to take his doctrine from his Master's spirit, and leave the old wives fables and endless genealogies and disputings, and questionings, to those who had no better guests to entertain.
I included this whole section here because it goes so very well with my post from Monday. I agree with Spurgeon whole-heartedly– it is prideful to think we have to understand the things we can't understand. Yes, the ungodly will call you stupid and unintellectual when you take this approach (mostly because of their own personal pride). They don't know God the way we do if we are saved. They don't understand that submitting to His sovereignty is an incredible blessing. That some questions can go unanswered because the ones that really matter have already been answered. They can't get it. Their eyes can't see.
Again, there is the pride of the persecutor; the man who is not content with his own notions, but would hunt to death another, the pride which suggests that I am infallible, and that if any man should differ from me, the stake and the rack would be the due deserts of so great a sin, against so great a person as myself.
We may not want to see someone physically harmed when they don't agree with us, but how many broken families and split churches fall under this type of pride? Millions? Trillions? This is perhaps the most tempting one for "godly Christians". We think we are right. We believe that our opinion is best. We believe we are infallible. But if it's not within the pages of scripture, is it actually something worth a broken relationship?
Is any special piece of furniture or bank account worth the fracturing of a family upon a parent's death?
Is any decision of our adult children worth the tense and strained relationship that comes when we keep insisting they are doing the wrong thing or making the wrong choice?
Is any opinion of mine worth holding on to if it's causing stress and constant argument in my marriage?
Is my hurt pride over what I heard that someone said about me worth a broken friendship?
NO, a thousand times NO. The answer to all of these questions is NO.
And so, so many of us fall prey to this deadly sin, leaving a trail of broken hearts and strained relationships. I don't want to do this. I want my marriage more than I want to be right. I want a right relationship with my kids more than I want to be right. I want to be a good testimony more than I want to be right.
Keep in mind I am not talking about biblical truth here. Of course, we have to stand strong and fight for the truth held within the pages of scripture. I might add here that even these biblical debates can and should only be done with great gentleness and kindness. But most of us are not arguing over biblical doctrine (a few more of us should be! We seem to not find that important, while inane, silly things get us so riled up!), instead, we are debating and arguing over issues which have no biblical mandate. No right or wrong. I am talking about the silly, stupid stuff we won't bend on. The stuff that isn't worth it.
Life is hard. Relationships take work. And no relationship works well without at least one party practicing humility. Joy and peace elude us without humility. Unanswerable questions haunt us without it.
And so we start with us. Today. The only place we can start. And we take our desire to be right, our yearning for glory, and our prideful thoughts about how good we are and hand them all to the Lord, asking Him to humble us and to become more like Him.
Often crying and screaming inside our heads as we endure the emotional pain of the process.
Spurgeon, Charles (2014-09-28). Twelve Sermons on Humility; Titus Books. Kindle Edition.