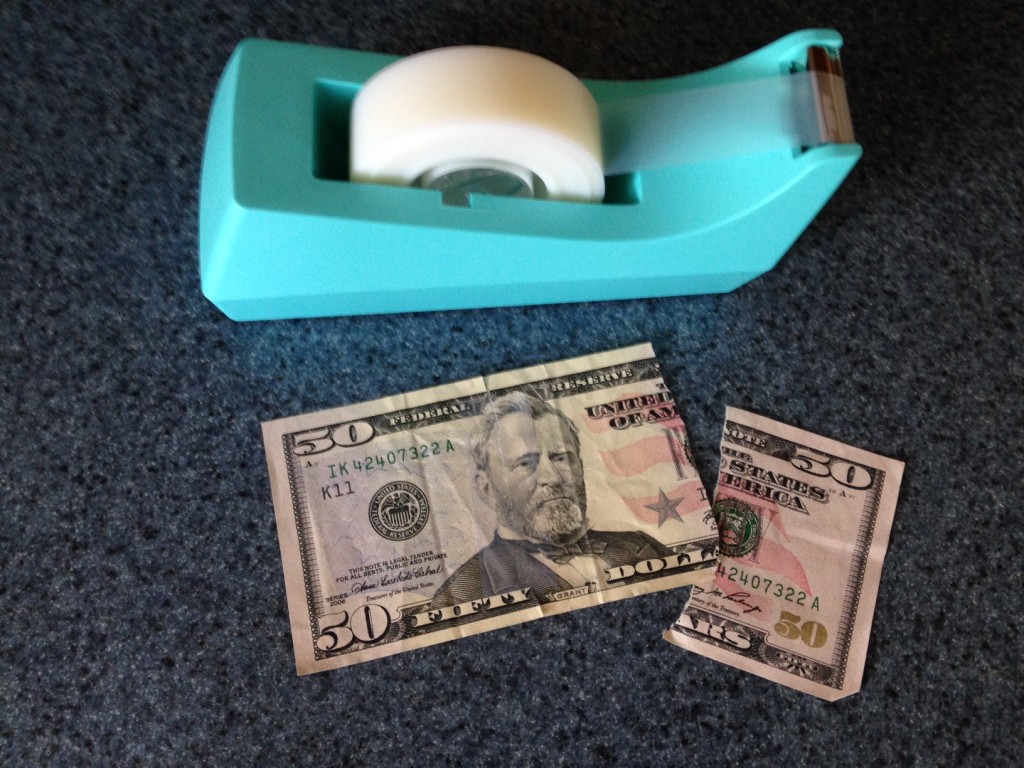 Taking our anger out on those we love most seems to be a pretty typical pattern for many of us.
If something bad happens at work, on the team, or at church, most of us tend to keep our cool. It isn't until we are in our own homes that we react emotionally to the painful incident or bad day and end up hurting those closest to us by lashing out in anger.
The other day, I found an old checkbook that I no longer use. I ripped up the few remaining checks and threw the whole thing in the trash. For some reason, I glanced down at the wastebasket. Was I surprised when my eyes fell on "part" of a $50 bill!
At first, my thought was no way! and I quickly reached down and pulled out the piece, not quite believing that it was actually real. Then I panicked a bit — did I actually just rip up a $50 bill?
I started searching a bit frantically for the pieces. In just a moment, I had found all three. I carefully put the pieces in order and then started taping them back together.
Will the bank accept this bill? I think so –although I'm not quite sure — never having done this particular foolish thing before.
But will it ever be the same again?
No, it will not. I can never make that bill magically into one whole piece again. It will always be taped for the remainder of its days in circulation.
What makes this even sadder is that I never intended to rip up that $50 bill. It just kind of got in my way, unknowingly hidden within the pages of an old checkbook (I still have no idea why it was there or any recollection of putting it there).
What a great picture of what so often happens with our closest relationships–
We are frustrated or upset about an issue that has nothing to do with anyone at home. Yet, as we are letting go of the angry or hurt emotions, we often end up ripping our loved ones into pieces. It isn't our intention, it just happens.
The thing is, just like that $50 bill can never be put back together whole, so we can never truly repair the damage we do to our relationships. Oh, we can patch things up and forgive each other and move on but the damage has been done. While we can forgive, we rarely forget. How helpful it would be if we just didn't let these things happen in the first place.
Life is so short. And most of us have been so blessed with deep, abiding relationships with our families and even some friends. Let's make sure that no person is ever in the path of any ungodly anger or emotion we end up displaying (which is certainly sinful under any circumstances, but seems to be doubly bad when we end up hurting others in the process).
Let's protect our relationships. They are fragile. And oh so precious. No bad day is worth causing those we love hurt and pain. Let's not let something that won't matter a bit in eternity erode our relationships with our spouse and children. It's so not worth it.