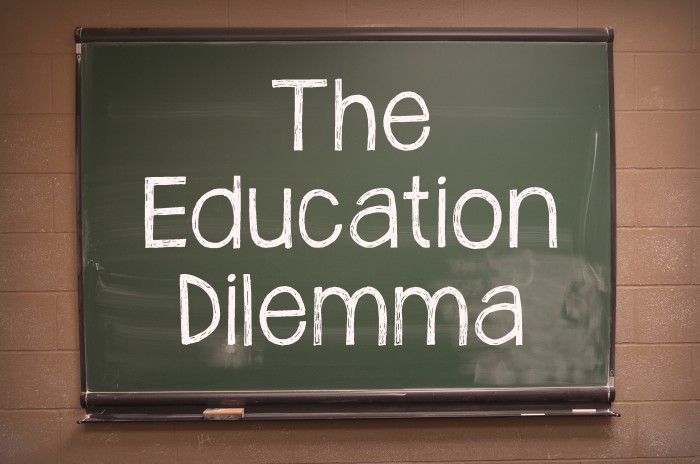 Mandates regarding public education are coming from the federal level that cause any Christian parent –or any moral parent, for that matter– to shudder. Should Christians remove their children from the public schools? How does a family know when it is the right time to leave (or not leave) the public school system? And what is the best choice for education if the choice is made to leave the government-run schools?
Education has been a source of disagreement and contention among Christians for a long time now. Homeschooling, Christian Schools, and Public Schools all have their passionate supporters. But sometimes that passion turns into hurtful, arrogant remarks that cause dissension and strife. There is a lot of emotion and strong feeling around this very personal decision and many walls have been built between relationships because of it.
I have purposefully not written very often about education on this blog. I have my opinions, but, alas, I cannot find a specific command about this subject of educating our children anywhere in the Bible. And, so, that means that each Christian family is called to make a wise, thoughtful, and very personal choice about how their children are going to be educated. Thankfully, we still have that choice–at least for now.
But whatever we decide is extremely important. Adolf Hitler put it this way "He alone, who owns the youth, gains the future." I am not a big fan of Hitler, but he does have that right. And, so, it is crucial that we keep the hearts of our children, no matter which choice we make.
Any education we choose for our child will have its advantages and disadvantages and many different things will weigh into our decision. A few public schools still have quite a bit of Christian influence, while a good many are a lost cause. Some families have a decent, affordable Christian school nearby and some do not. Some mothers love the challenge of homeschooling and others do not feel gifted in this area. These are all things that will affect our decision about education.
It would seem to me that the bathroom mandate from President Obama probably has many Christians thinking just a little harder about how they are going to make sure their kids get a good education without being destroyed morally and spiritually in the process.
Making a change, however, can prove to be very confusing and challenging. Friends and family will list the pros and cons of their education system of choice. Very strong and loud opinions are spouted by our friends and acquaintances as to what they think we should do. But the decision does not need to be made by our parents, sibling, or friends. It is a decision that has to be made by each individual family. So how do we decide as a family what is the best choice for the education of our children? This very question came up in our Sunday School class last week and I have been thinking about it ever since. I thought of five factors we should all probably consider when making such an important choice–
1. What is the best choice for my child? If we aren't careful, the choice we make will be based on a mother's desire to work outside the home. Notice I used the word "desire". While there are certainly some moms that are forced to work due to a variety of reasons and there are also some who work so that they can afford to send their children to Christian School, there are also so many others who work simply because they long for the satisfaction and fulfillment of a career outside of home life. One of the hardest things to do as a mother is to put the needs and interests of our children before our own. Our natural selfishness can cause our own personal purpose and fulfillment to trump what we know in our hearts is best for our children. This is promoted and bolstered by a world that sees "self-fulfillment" as the ultimate goal.  In order to make a wise decision about education, we moms have to cast aside our own desires and dreams and answer this question: What is best for my child?
2. Remember that soldiers are thoroughly prepared before engaging in combat. I so often hear the argument that we need Christians kids to be salt and light in the dark world of the public school system. While I believe there may be a few, valid reasons to choose to use the public school system, I do not believe this should ever be one of them. Just as a young recruit would never be thrown into the battlefield without intense training, so, too, should we never throw our children onto the battlefield of the world's stage without first training them in the things of God. Our children are like sponges, soaking up everything they hear. While you may be telling them that the world was created by God, the government school system will be telling them otherwise. And while you will be telling them that there is absolute truth and right and wrong, they will be hearing the complete opposite throughout all of their years in the system. This will be confusing to them. They are not yet prepared to handle such conflicting messages. While you can work through this at home, it will take great diligence and lots of work to undo the damage done during their school days, as any parent with a child in public school already recognizes.
3. Consider your child's personality. Each child is so different and, while some are born leaders and will never sway from the convictions they have learned at home, others are easily swayed by even the lightest of peer pressure. What is your child like? If they are a follower, public school (and even Christian school) could potentially be a very dangerous place for them.
4. Consider your family's and each individual child's communication style. Does your family communicate effectively about the stuff of life that really matters? Are conversations about God and the Bible and godly, life choices a natural part of dinner conversations? Does your child participate in these conversations? Does your child ask big questions and tell you about his day when you tuck him into bed at night? Do you know if she is struggling internally with a problem or question? If the answer to these questions is yes, then this will give you a wonderful window into what's going on in their soul and mind, making any education choice feel a little safer. If the answer to this question is no, then it is important to consider the ramifications of this in regards to education.
5. Whatever choice we make does not eliminate our need to educate our children spiritually. How many kids do you know that have been placed in Christian School because Mom and Dad thought it would fix them? What they don't recognize is that what is happening to their child is not about external circumstances but about what is going on internally and spiritually. But figuring all that out can be hard, tedious work that is sometimes messy, awkward, and incredibly difficult. It is so much easier to place a child in Christian School and hope that the teachers there will fix a rebellious child. But there is not any education choice that we can make that will fix what is broken or turn our child into some spiritual giant. The main responsibility for this lies in the home. It is our responsibility, as parents, to see that our kids leave our homes with a deep love and respect for God and His Word. It is our job to teach them that they are ultimately accountable to God and that they are sinners but are so deeply loved by God that He made a way for them to be reconciled to Him through His Son, Jesus. It is our job to teach them that the Word of God is their authority and to obey and submit to it joyfully. It is our job to teach them that obedience and submission to the Word will yield a joyful, peaceful, and fulfilling–albeit not trial-free– life. It is our job to teach them that the world is a dangerous, evil place and we are safest and happiest if we avoid its pleasures, its entertainment, and its lusts. It is our job to teach them to trust in God's Sovereignty during difficult times, to forgive others just as God has forgiven us, and to love and serve others. This is our job as parents and belongs to no one else–not the school, not the teachers, not the pastor, not the youth group.
I hope these five factors will help any of you who may be struggling with this decision. Personally, I have experience with all three kinds of education–I went to public school from kindergarten through high school, I homeschooled our children for 16 years, and then our younger three children attended Christian School for several years. It is hard to believe that our youngest will be a senior next year. As I look over the past and consider the choices we made regarding our children's education, there is one thing that really stands out in my memory and that is that God always showed us which fork in the road to take when we would come to a crossroads. I can think of at least three specific times where we agonized over what to do regarding this subject and the wonderful way that God so faithfully answered our prayers, showing us His will in this area of our family's life. God, in His ever faithful way, provided very clear answers to our prayers. If this is something you are struggling with, take it to the Lord in prayer. If you are praying with a heart to submit and obey Him–no matter what answer He gives (even if you don't like it!)– then you can be sure that He will answer that prayer.
And, finally, let me conclude with this–
We need to offer much grace and kindness in this area of education. We need to allow our Christian friends and family to make their own choices, based on their own convictions and circumstances. If we feel strongly that someone we love is making a wrong choice, the best thing to do is to pray for them. Strongly stating our opinion only leads to broken and strained relationships.
As our family approaches our final year in answering this education question, I find myself filled with compassion for those of you with young kids. It is an evil, pagan world we live in and this is spilling out into all areas of life, including the government schools. It will, most likely, only continue to get worse. You will have big questions to face as you raise your precious little ones. Get on your knees and ask God to show you what to do. He is faithful!
Psalm 121 is a wonderful reminder of this–
I will lift up my eyes to the hills—
From whence comes my help?
2 My help comes from the Lord,
Who made heaven and earth.
3 He will not allow your foot to be moved;
He who keeps you will not slumber.
4 Behold, He who keeps Israel
Shall neither slumber nor sleep.
5 The Lord is your keeper;
The Lord is your shade at your right hand.
6 The sun shall not strike you by day,
Nor the moon by night.
7 The Lord shall preserve you from all evil;
He shall preserve your soul.
8 The Lord shall preserve your going out and your coming in
From this time forth, and even forevermore.