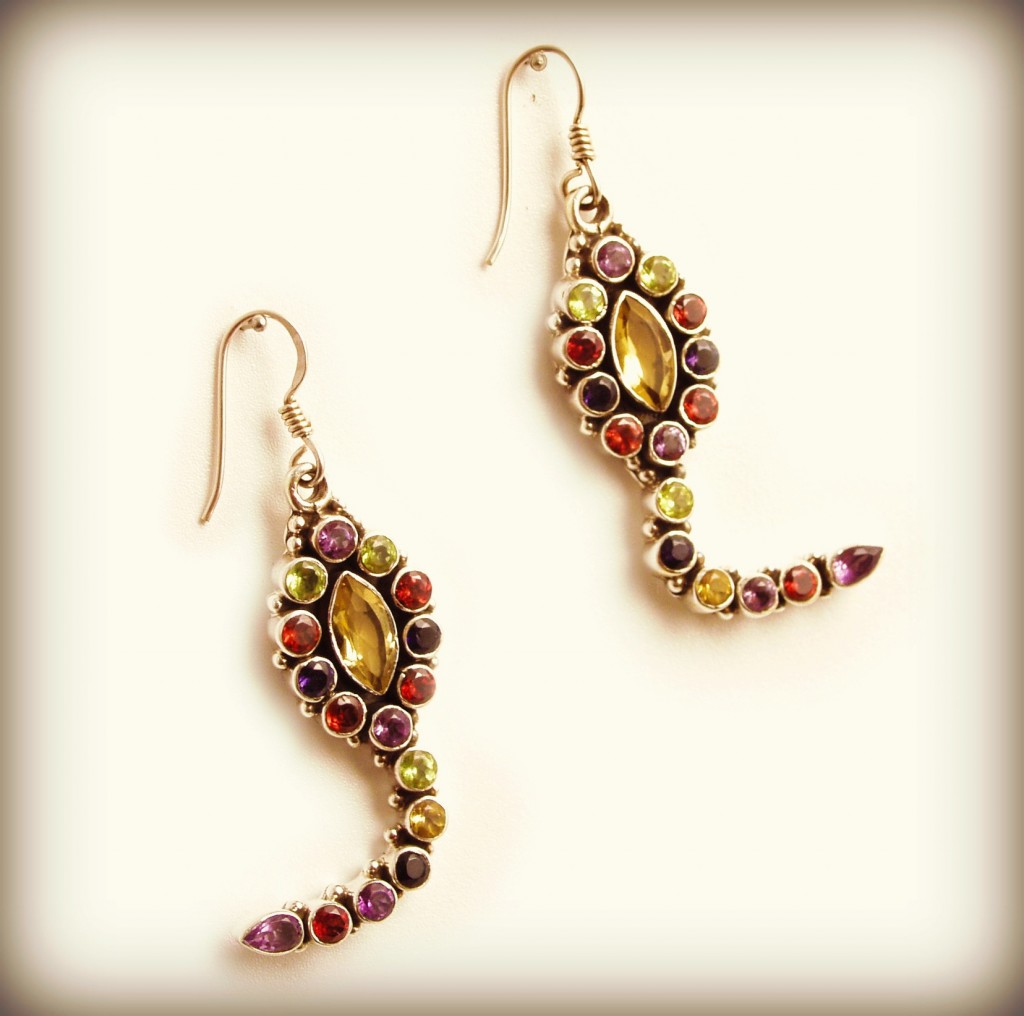 It was a beautiful day to be at the art show. My eyes took in the creativity around me. There were simple folk-art items and detailed oil paintings. There were homemade handbags and clever metal sculptures. But it was the exquisitely crafted jewelry that caught my eye and drew me into the booths. I am always looking for the "perfect" pair of earrings. I never find them, but I keep looking. It was at just one such booth that I found myself having a pleasant conversation with the artist and her husband. Her work was beautiful but very expensive. I browsed with no intent to buy. I complimented her on her talent. The conversation went something like this–
Me: "Your work is beautiful."
Artist: "Thank you!"
Man (with friendly smile): "You are welcome to try on any piece."
Me (laughing): "Oh, my. Thank you but my husband would kill me if I spent that much on a piece of jewelry!" (I was slightly exaggerating with this statement).
Man (half-joking): "Well, you do know it is easier to ask for forgiveness than to ask for permission."
Me (still laughing but very serious): "Not if you want a happy marriage."
After a bit more banter, I walked away. But I couldn't help thinking more on his joke about how to get my own way.
I could have bought a piece of that lovely jewelry. My husband, while he would have been a bit upset with me, would have quickly gotten over it. It would not have destroyed our marriage and probably would not have even destroyed our day. But I love him more than that. I want his permission and his blessing and I seek both before spending a large amount of money. He does the same with me. We do this because we love each other.
As I mulled this conversation over in my mind a few hours later, a light bulb came on in my head.
We do this with God all the time.
We want our own way. And, yet, we know in scripture that what we want is forbidden. We know God has either expressly forbidden the exact action or that He hates the sin that is associated with the particular activity we would like to participate in.  But we go ahead and do it, anyway.
Because it's easier to ask for forgiveness than permission.
We can get our own way, be forgiven, and we honestly believe that all is well.
But is it?
If I would have bought that necklace against my husband's wishes, it would have symbolized that something is not quite right in our relationship. It would have been a sign that I consider my wants and desires more important than his. And I would have been taking advantage of the grace and forgiveness I knew that he would have extended under the circumstances.
This same principle can be applied to our relationship with Christ. When we involve ourselves in sin of any kind on purpose, we are telling Christ that we don't care about his desires. We are saying that our desires are number one. And we are taking advantage of his grace and forgiveness.
But let's not forget: True love does not take advantage.
You know, according to the modern church, many things fall under the "gray" area in the Christian life today. Movies, music, dancing, gambling, personal debt, and drinking are some of the many things that fall under the wide, expansive "gray" area that is "permissible for some Christians but not for others."
But is there actually this big "gray" area or is there simply a church taking advantage of God's grace? A bunch of people who say they love Christ with their mouths but it never quite reaches their hearts?
I am reminded of something I read the other day–
"It is amazing how clear lifestyle issues–often called gray areas by many believers–become when examined against the commitment to be thoroughly Christ-centered." (Jim Berg)
Love and commitment truly do bring clarity to these areas of our lives. We either show our love for our Savior with our choices or we don't. There isn't much in between.
And if we all are honest with ourselves, we know whether or not the TV show we watched last night or the music that we listened to on the way to work or the book we finished last night was pleasing to God. We know if the words we spoke to our spouse before they left this morning or the way we handled the accidentally spilled juice last night was pleasing to Him. We know if what we ate, drank, and played yesterday was glorifying to God or it wasn't.
Oh, we will never be sinless and we will constantly be confessing and asking for forgiveness. And God's marvelous grace is available for those moments. But as we grow in Christ, our desire to willingly do something that we know will not please Him should grow weaker and weaker. Our desire for sin will diminish as our love for Him grows.
Our choices are the evidence of just how close our relationship is with the Savior. But most Christians today are not interested in hearing this. Instead, we want to do our own thing and be forgiven for it. We want to take advantage of grace. When you really stop to think about it, that is a pretty tragic thought.
Yes, it is easier to ask for forgiveness than to ask permission but that is not love.