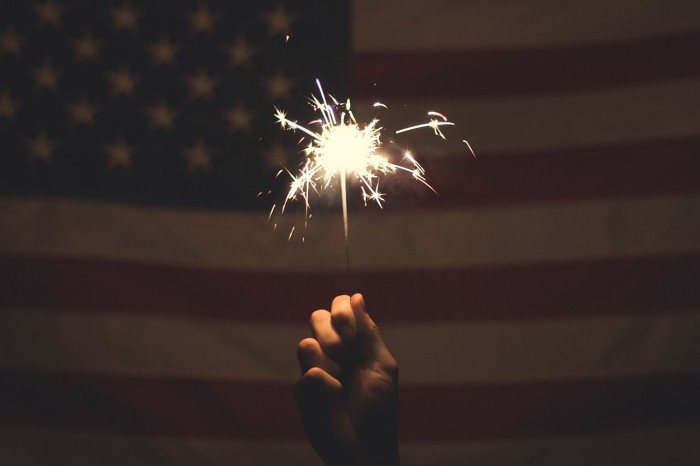 Yes, America is going the wrong direction. And, yes, it is coming quickly. But I thought it might be a good idea to remember why America is still a great place to live— at least right now. Some of these things will change sooner rather than later. Hopefully, many of these things will never change. But, whatever happens, for this day…for this moment…we have so much for which to be thankful! Let's not get so caught up in all that's wrong that we miss the blessings that are right before our eyes.
And so I thought of 50 things for which we Christians can still be thankful. Yes, I know this is not a list that fits everyone. But if you can't relate to some of mine, then think of some of your own that you have in your situation and then add them in the comment section below. I am sure I forgot some obvious ones. Please add them, as well. Here is my list–
1. I can count on the roads to be passable and safe.
2. My children have access to a good education and to higher education of their choice.
3. I can still go to any church I want to.
4. I can go to a mall and see Latinos, Asians, Indians, Middle-Easterners, African-Americans, and Whites all shopping peacefully together, without incident.
5. I can grow my own vegetables and fruit in my garden.
6. I can still share the gospel freely wherever I go.
7. I still feel safe when I jog, bike, and walk in my neighborhood.
8. My grocery store shelves abound with food of all kinds and varieties.
9. If I can't find what I want at my grocery store, I can travel a short distance to a Farmer's Market, an Asian Market, or a Specialty Food Store to find what I am looking for.
10. Our judicial system is not completely and utterly corrupt and full of bribery, like many other countries.
11. I can go to the beach or to the mountains or to the city for a getaway.
12. I can blog about anything I want without fear of being arrested or shut down.
13. I have a variety of specialists that I can go to to meet almost any medical need I have.
14. I can afford a reliable vehicle to take me where I want to go.
15. The general public still obeys traffic laws.
16. We can still buy, sell, and distribute Bibles and other Christian books.
17. We can not only count on getting a paycheck if we have worked, but we can also count on the bank being able to cash it.
18. We don't have trash on the sides of our roads.
19. We don't have people living in the city dumps, trying to make a living from people's trash.
20. We have heat in the winter and AC in the summer.
21. We can freely travel throughout all 50 states without fear of interrogation and danger.
22. I have good dental care available to me. I can go to the eye doctor and afford glasses.
23. Most of our policemen are still good men with a heartfelt desire to serve the public.
24. We have a wealth of tests and tools available to diagnose our illnesses and keep us healthy.
25. I can sit on my porch to enjoy the sunset without fear of attack.
26. I can communicate with someone I love across the world without charge because internet access has become available almost anywhere–even in many public places.
27. Instead of the wild, foraging dogs that are so rampant in many countries, we keep dogs as faithful companions and protectors.
28. There is still an outpouring of love and generosity when someone is in need in this country– no matter their color, race, or sex. Americans have a wonderful sense of empathy and generosity. It is truly a beautiful thing.
29. We have faithful men in this country who are still dedicated to teaching the truths of the Bible.
30. The sermons and lessons of these men are available freely through podcasts and internet stations.
31. There is still the possibility to be successful in this country if you are willing to work hard. The American Dream is still a familiar concept to most of us.
32. I can still find wonderful Christian music to listen to online and in iTunes.
33. I have a multitude of good, wholesome entertainment available for my family through the likes of DVDs, Netflix, and Amazon Prime.
34. I have a plethora of fun activities to choose from for my children. So many, in fact, that I am forced to choose only the best ones.
35. If I choose to lose weight or rid myself of any other unhealthy habit, I can find programs and websites to help me– many which are free.
36. I can trust that when I cross a bridge that it will hold the weight of my car.
37. I don't have to worry about wild animals mauling me.
38. I have fresh, drinkable water pouring from my faucet whenever I want it.
38. I look out my back window and see beautiful, green grass and colorful plants.
39. I have electricity available to me 24 hours a day.
40. I can choose to eat organic or to not eat organic. It's my choice.
41. We can get in our car, on a plane, on a train, or on a bus, and go almost anywhere in this world if we really want to.
42. Our church can hold Bible School and picnics and festivals without fear of government censure or intervention.
43. I have ample amount of leisure time to spend as I choose.
44. We have a yard with plenty of room for picnics and activities.
45. We have affordable –and even downright cheap– clothing available to us. This is not the case in many countries.
46. Gasoline is far less inexpensive here than in almost any other country. Ask a European if you don't believe me.
47. Even the lowest income person in this country has more than the average poor person in other countries.
48. We have vast sections of forest and natural resources that have been protected from greedy men.
49. Our kids can play or be involved in almost any sport that is known to mankind. If there is a will, there is a way.
50.  We can still enjoy a 4th of July celebration with our families!
Now will you please take a moment and add to my list in the comment section? And then go have an awesome 4th of July!