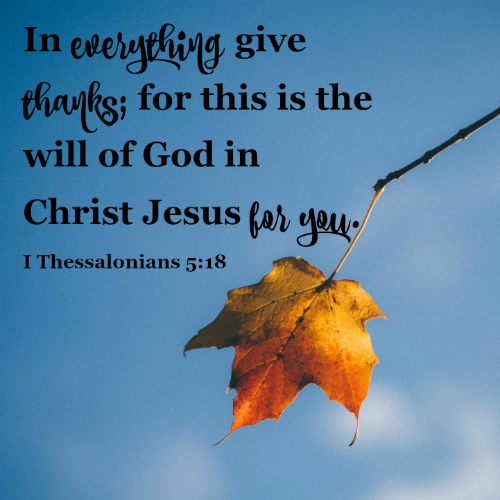 I was listening to Gateway to Joy the other day and heard Elisabeth Elliot say something like this: "there are only two kinds of people: the kind who complain and the thankful kind."
And I had to ask myself:
Which kind am I?
I guess none of us are either kind all the time, but which kind am I most of the time?
The really great thing about this question is that we get to choose what kind of person we will be. It isn't like the question are you short or tall? While we can't change our height, we can change if we are a complainer or if we are thankful.
I would say that I am overall a pretty happy person, but these last couple of years have challenged that a bit. I have been thrown out of my norm, forced to develop a new normal, and I have rebelled a bit against that. I have had many moments– even months– that I have not been thankful. I have blamed it on my circumstances.
But God, I don't want this in my life.
Slowly but surely, God is teaching me that my joy is not dependent on my circumstances. My grateful heart is not dependent on what's going on in my life. Instead it comes from a heart surrendered to the will of the Father, trusting in Him and knowing that whatever is going on in my life is for His glory and my best.
This is a very hard lesson to learn, no matter what change in life we face. Or what circumstances. We all have them, don't we? We traverse on this troubled and fallen earth where trials abound. We can all think of plenty of reasons to complain. But when we choose thanksgiving, we are like a lighthouse on this dark earth.
Let me give you an example.
I know two older women who have now lived out most of their lives. They have married, raised a family, and watched grandchildren grow up. They have health issues and life has changed considerably for both of them over the past ten or so years, giving them much to complain about.
But these two women are like night and day in how they face their circumstances and the contrast is remarkable.
The one complains frequently about her circumstances. The other one chooses to be thankful despite her circumstances. The complainer talks negatively about everyone around her. The other one does not. The complainer rarely has a positive thing to say. The other one is inspiring and full of joy. The complainer is lonely and has few friends. The other one is loved dearly by many. One is showing me what not to be like when I am old and one is creating a beautiful legacy.
One of these women is joining the roiling, heaving mass of discontented humanity and the other one is standing out like a lighthouse on the shore, offering hope despite life's hard times.
This contrast has given me cause for great thought. I want to be creating a beautiful legacy of joy and thanksgiving. But how do I get there?
Perhaps the change starts in our minds, where we first get our initial thought of complaint. Most of us are wallowing in sinful, negative thoughts before ever speaking. And if we want to change, we need to recognize this. 2 Corinthians 10:5 commands us to take every thought captive. Captive. Instead of  letting our thoughts take control of us, we are to take control of them. This is where I fail so often.
I have that thought of sadness or irritation and I will feed it. Instead of taking it captive, I will set it out to pasture to gobble up all of my peace. And yet, life is so much better when I take those thoughts captive as instructed in scripture.
And so I am learning to choose joy and thanksgiving. In my Bible Challenge reading this week, I read that wonderful passage in I Thessalonians 5, including verse 18 about giving thanks always. God's Word speaks to so many of our problems and struggles. But changing is no easy process and needs to be done very intentionally through the power of the Holy Spirit, just like the rest of our Christian lives. Intentional submission to God's sovereignty, intentional scripture study and prayer time, intentional choices that lead to pure, holy, and thankful lives. Until one day God calls us into His presence to live with Him forever. The Hope of Heaven–now that is something for which to be truly thankful!