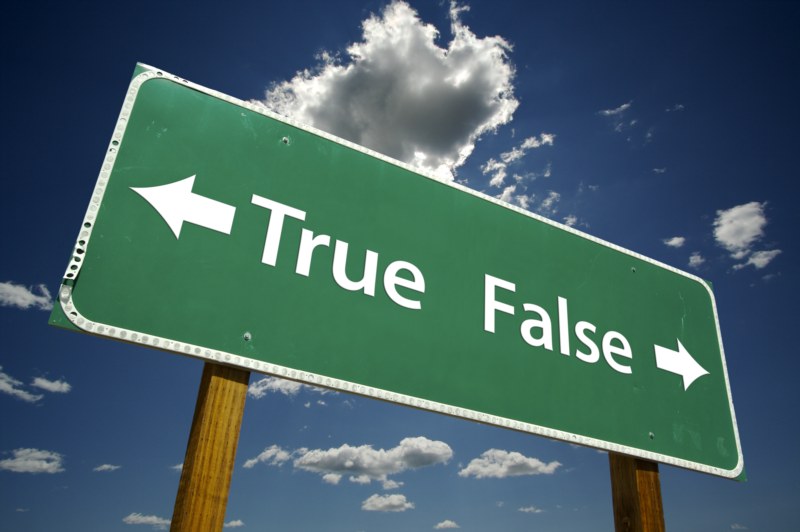 I heard something several months ago that has really stuck with me. It has helped me navigate these treacherous religious waters we find ourselves in. That vast, religious ocean where "anything goes" and all are headed to Heaven. To imply that someone isn't going has become the ultimate sin.
It has helped me answer questions like these–
How do I know if someone is involved in a false religion?
How do I know if Mormons (or Jehovah's Witnesses or Catholics) are all part of true Christianity?
How do I know what unites true believers?
So are you curious yet? Here is what I heard: There are really only two religions.
There is the false religion and there is the true religion. What sets the world's false religious system apart from true Christianity is always the same–whether it be called Islam, Buddhism, Hinduism, Catholicism, Mormonism, Jehovah's Witnesses, Seventh Day Adventist or, yes, it is even sometimes called Christianity, even thought it is not actually true Christianity.
Here is the bottom line–
False religion teaches that your eternal destiny lies in your hands in one way or another. It will teach that you need to do something in order to be saved. Oh, they all vary in what that something is and they might even throw in as part of their doctrine something about Jesus saving you from your sins, but false religion will always require something other than faith alone.
True religion is in Christ alone, by Christ alone, and by faith alone. It requires nothing from you or of you.
I can almost hear some of you cringing. Wait. Nothing??
No, there is no requirement, but before you get too excited, there is a BUT — and this is a very big BUT– a true believer will always be transformed by the sanctifying work of the Holy Spirit. This work starts immediately upon our salvation and never ends while we are on this earth. By its very definition salvation changes us. And this is why we, as Christians, live holy, separate lives. It isn't because we have to. It's because we are new creatures, with a new heart and new desires. It has nothing to do with man-made rules.
If you are in a church that tells you that you will only go to heaven if you accept Jesus and also do x, y, and z (get baptized, don't go to movies, pray to Mary, etc.) you are in a church that is teaching false doctrine.
Doesn't this help clear things up considerably? It doesn't mean there aren't some Christians scattered in among these churches. Be sure you don't hear me saying that. It does help weed out which systems are true and which are false. Remember, the true way is narrow and difficult. The path to destruction is wide and easy and many are they that travel it (Matthew 7:13-14).
I know this makes us squirm. It has become an increasingly unpopular topic for discussion, even among true believers. But following Jesus has never been– and will never be– about comfort (Matthew 16:24-26).
But, while on one hand it is an extremely offensive and uncomfortable thing to talk about, it is wonderfully comforting to ponder as a true believer! Simplifying religion into these two categories helps us to understand that if we have been saved by God's grace through Jesus's sacrifice on the cross, we are part of the true religion.
Religion is not a bad word, by the way. It has become a very hated word by Christians but it very simply means: the belief in and worship of a superhuman controlling power, especially a personal God or gods.
If you are a Christian, you are religious. The difference is we serve a personal God, who made a way for us to be reconciled to Him, not through our own merit but through His great gift (Ephesians 2:8-9).
And so, today as we go to work or play group or the gym, as we seek to tell others about Jesus, may we remember that some who claim to know Him are still relying on their good works to seal their personal destiny. And this is always part of the false religion.
Please NOTE: If you aren't sure if you are really part of God's family–the only true religion– please e-mail me at leslie@growing4life.net or visit NeedGod. Please don't delay.