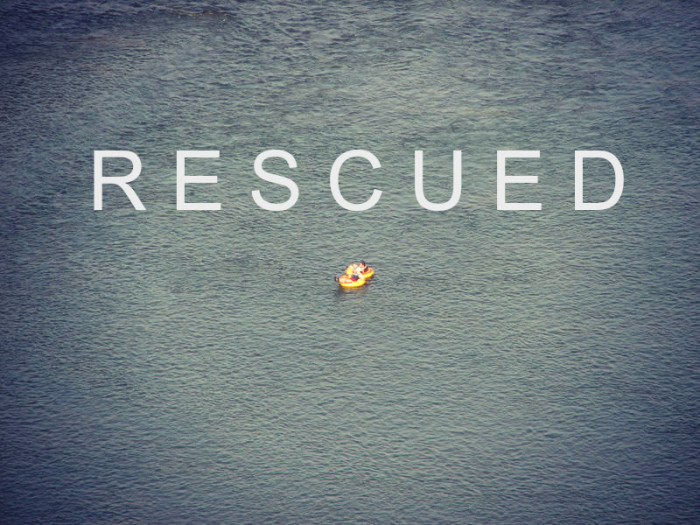 Imagine you are on the ocean a thousand miles from land. You are literally dying from thirst. Your lips are parched and your skin blistered from the scorching sun. The only thing keeping you from drowning in the unfathomable depths of the endless ocean is a flimsy yellow raft. The days are ticking by and death seems close at hand.
Or imagine you are in the belly of the earth, deep inside a cave. You have lost your source of light and you have lost your way. You don't know where to turn and the darkness is so thick you can touch it. You can't even see your hand in front of your face for there is not a hint of light anywhere. You recognize that you are never going to be able to find your way out and you start facing the fact that you are going die a slow, torturous death in this place, leaving behind a pile of bones that someone may stumble onto some day in the distant future.
In both scenarios, all hope is gone. Your life on earth is over and you know it. You have faced the facts and are simply waiting to die.
Now, suppose that–against all odds– someone rescues you. Not only does he rescue you, but he gives his life to save you. He knew that your rescue depended upon the sacrifice of his life but he chose to save you, anyway.
How would you feel about this person?
What kind of passion would you express when you tell the story of your dramatic rescue? What kind of words would you use when describing the person who gave his life to save you?
Most people would tell the story of their rescue in great detail, infusing their words with zeal and fervor. They would try to convey –as much as words would allow– the deep, abiding love and tremendous awe and respect they have for the stranger who saved them.
And this passion is given for a temporary escape from something that's still going to happen eventually. Our rescue hasn't cheated death permanently–it's just given us a bit more time here on earth.
Why do we feel such great passion about a temporary physical rescue and yet feel little or no passion regarding our spiritual rescue?
We were sinners completely without righteousness (Romans 3:23). We were headed for eternal separation from God. Eternal separation (2 Thessalonians 1:8-9). Our final destination was going to be hell–a place of torture and fire (Luke 16:24).
Unending punishment was certain.
We were without hope.
And then came the day long ago that God put His plan of salvation into motion. He sent His only Son to the earth as a baby. That baby would grow into a man who would die on a cross for the sins of man. He took our sins on Himself and covered us with His blood and righteousness so that we could be reconciled to the One, True God!
And then He rose again, victorious over death!

O, Death where is thy sting? O, grave, where is thy victory? (I Corinthians 15:55)
We haven't been given temporary respite from death–we have had an eternal rescue!
And yet, most of us Christians talk about our rescue like we talk about what we are having for dinner. There is no passion, no fervor. We don't tell our neighbors and we don't tell our friends. In fact, some of us do all we can to avoid bringing up the subject, nervous and afraid to speak the name of Jesus.
But how can we keep from praising His name? How can we keep from singing?
Salvation is far more than an intellectual acknowledgement. Even the demons acknowledged Jesus as the Son of God (Matthew 8:29). Salvation is a change of heart.
If our hearts have been changed, then praise should spill forth without effort because we have been rescued! We have left the roiling sea of sin and have found the solid anchor that holds! We have left the inky, black darkness that has blinded us and have walked into marvelous light!
How can we keep from praising Him? How can we keep from singing?
I know this type of  passion and fervor in "Christianity" isn't always acceptable. We don't want to get too excited because we don't want to look strange. But have you been to a sports event lately? Or a concert? Passion and zeal abide there for literally no reason. And we can't bring some excitement to our dramatic, eternal rescue from sin and hell?
As we focus this week on the death and resurrection of Christ, let us consider what Jesus did for us and the passion we have towards what happened. Let's ponder our wretched sinfulness and reflect on how He reconciled us to God, gave us eternal life, and saved us from eternal damnation. If we are truly saved, we will find that we can't keep from praising His name and singing out!
Therefore will I give thanks unto thee, O Lord, among the heathen, and sing praises unto thy name. (Psalm 18:49)
The Lord is my strength and my shield; my heart trusted in him, and I am helped: therefore my heart greatly rejoiceth; and with my song will I praise him. (Psalm 28:7)
Sing unto the Lord a new song, and his praise from the end of the earth, ye that go down to the sea, and all that is therein; the isles, and the inhabitants thereof. (Isaiah 42:10)
By him therefore let us offer the sacrifice of praise to God continually, that is, the fruit of our lips giving thanks to his name. (Hebrews 13:15)