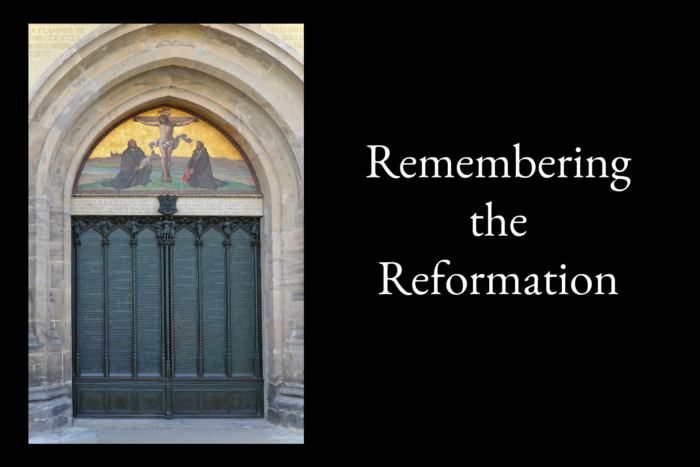 How much do you know about the Protestant Reformation? In 1517,  Luther nailed his 95 theses to the door of the Wittenberg Church and began a movement back to biblical theology. God used him and other men (and women) to bring His church back to pure doctrine. October 31 will mark the official 500th anniversary!
500 years is a long time and we have, obviously, forgotten quite a bit of what we learned back then. I have been dismayed to see the lackadaisical attitudes of believers towards Catholicism. Don't they understand that Catholic works-based salvation is what the Reformation fathers fought against?
This would seem to be a great month to dig a little deeper into the history of the Reformation and educate ourselves so that–at least on an individual scale–we don't neglect and negate all that took place those many years ago.
I know most of you don't enjoy history all that much (and your eyes have probably already glazed over!) But please stick around! I hope you will give me an opportunity to provide posts on the Reformation that will be readable, beneficial, and enjoyable even for people who don't love history (most of you?!?)
I am not going to give an official timeline, although I am going to try to provide these posts on Thursdays, as I am able. Since this will take quite a bit of reading and research for me to prepare, it may not be every Thursday.
Here is what I am going to cover–
2. An overview and timeline of the Reformation
3. Brief sketches of key figures involved
4. The five solas of the Reformation
5. What does Catholic doctrine actually teach?
6. How does the Reformation affect me today?
UPDATE: 11/16/17 — In contemplating both the responses (or lack thereof) I was getting from these posts and also the plethora of really great information already available to all of us (much of it at no cost), I made the decision to discontinue this series. You can read the final post here: Remembering the Reformation: What's It Have To Do With Today?