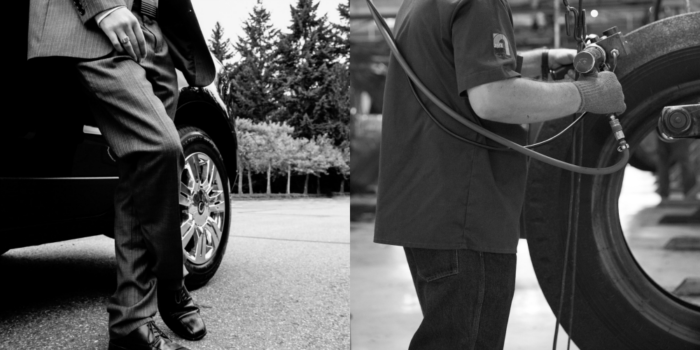 Mr. and Mrs. Smith live in a 6000 sq ft house in a wealthy neighborhood and vacation at their second home on Grand Cayman several times each year. Mr. Smith is a top executive at a major corporation and drives a Jaguar.
Mr. and Mrs. Jones live in a small rancher in an even smaller town. Mr. Jones works at a local factory and drives a Ford truck. Their only vacation each year is to a cabin in the mountains that has no electricity or running water.
Which one of these couples loves money?
Most of us–without any thought at all–would tend to say that of course it is Mr. and Mrs. Smith. There would be no discussion. No thoughtful contemplation. We just assume that if someone is rich they must love money.
Which may be the case.
But isn't always the case.
Let's take their vehicles. A new teen driver miscalculates and backs into their vehicle in the driveway. Mr. Jones has a fit! He grows angry,  resentful, and may even let out a few curse words. On the other hand, in the same scenario, Mr. Smith is gracious and kind and tells the neighbor not to worry about it. Now which of these men do you think loves money (and his stuff)?
Or let's take a look at their homes. What if Mrs. Jones won't let anyone come to her house because she is obsessed with cleanliness? She doesn't want anyone to ruin her carpet or to put marks in her cabinets and so she never practices hospitality. She spends all her time cleaning and making sure not a speck of dirt exists anywhere but no one ever gets to enjoy her home because she doesn't want anyone to mar her perfect masterpiece. Mrs. Smith, on the other hand, while having a beautifully and professionally decorated house, welcomes others to her home regularly. She loves to play hostess and does her own cooking and cleaning. Her home feels lived-in and comfortable. Which of these women loves money (and her stuff) more?
Perhaps we shouldn't be so quick to judge.
Having money is not equal to loving money
AND
Loving money is not equal to having money
They are two separate things and we should treat them as such.
Many years ago, my husband and I bought a large SUV for our growing family. It was a nice car, already a few years old, and affordable for us. I was excited about our new vehicle and can vividly remember how awful I felt when someone made a derogatory statement to me about it, implying that we loved money because we had chosen to drive such a car.
I had to really think through that. Did we have an inordinate love of money? That is a question we all should wrestle through, but what vehicle we drive is not generally an indicator.
Instead of judging ourselves and others based on the stuff we have, we'd be better to judge based on our attitudes about the stuff we have. Here are eight questions we can ask ourselves to make sure we are holding on to our material blessings very loosely–
1. Do we use what God has given us to encourage others and to further God's Kingdom or do we hoard it all to ourselves?
2. Are we quick to let others borrow our things? If someone needs something that we have, do we let them use it? Or are we too worried about it being broken or never returned?
3. Do we grow angry and resentful if someone breaks something of ours? Or do we treat them like we would want to be treated?
Okay–I have to insert a quick story here about this. One evening, our oldest daughter had a group of friends over. They were playing a Wii game in the basement, using our brand new flat-screened TV. After a bit, our daughter came upstairs with one of her friends. Tears ran down the friend's face as she shared that she had accidentally let the Wii remote fly from her hand and hit the TV. It had damaged the screen pretty badly and she was SO sorry. We all watched to see how my husband would react. And he did not disappoint. It is one of the reasons I love him so much. He kindly told her that it was "just a TV" and not to worry about it and then sent them back downstairs. This wasn't an act and he didn't huff and puff about what had happened after she had left that evening. He really took it all in stride. Stuff has never mattered that much to him and this incident was just one more confirmation of that. He has taught me to always love people more than stuff.
4. What is driving us? Do we work to supply for the needs of our family (2 Thessalonians 3:7-12) and to glorify God (I Corinthians 10:31)? Or are we working feverishly so that we can buy a nicer car, a bigger home, and the latest gadget?
5. Are we generous? Do we give freely and often and without reserve when we see a need?
6. Do we grow resentful if someone forgets to pay us back? Do we fuss and fret and make assumptions about them? Perhaps we even gossip about them to others?
7. Am I envious of the stuff that my neighbor has? Am I always complaining about how little stuff I have or what I can't afford? This indicates a heart that is wrapped up in material things and the love of money.
8. If everything I have was taken away tomorrow, would I be okay? Or is my security and happiness wrapped up in material things?
These are tough questions, but if we answer them honestly we will learn the truth about ourselves. The love of money is rooted deep within most of us. It is something for which we need to be on guard always and can never let get the upper hand in our lives. It is not a sin that only affects rich people, but has the potential to affect each and every one one of us that lives in a materialistic, western culture.
Surprisingly, the scripture tells us that the love of money isn't only sinful but that it also has great potential to cause us much sorrow. I Timothy 6:10 tells us this–
For the love of money is a root of all kinds of evil, for which some have strayed from the faith in their greediness, and pierced themselves through with many sorrows.
"Pierced themselves through with many sorrows". That is quite a picture, isn't it? This tells us that loving money could quite possibly destroy our lives. We can see this in a multitude of ways–
►Elderly parents pass away and the kids find out that the will isn't fair. Adult children fight for their "rights", hurtful words are said, and the family is fractured beyond repair.
►Mom and Dad want a particular lifestyle. They believe it is their right to have the American Dream, no matter what it costs. Meanwhile, their children are left to their own devices and grow up, lost and lonely, selfish and spoiled, with no boundaries and no moorings. All for the sake of stuff.
►A man is obsessed with making easy money. He buys into a get-rich-quick scheme and loses his family's life savings.
These are just three examples of a million that could be told. The love of money is a dangerous game and we best make sure we aren't caught up in it. Let's be good stewards of whatever God has entrusted to us, whether it be great or small. After all– it isn't even ours, anyway.
He who is faithful in what is least is faithful also in much;
and he who is unjust in what is least is unjust also in much.
Luke 16:10