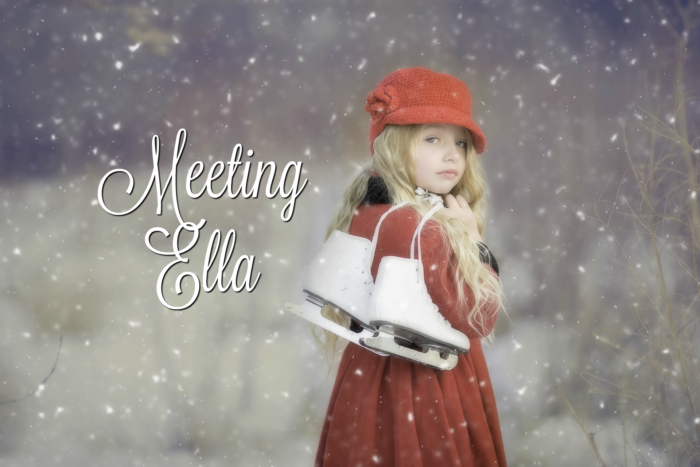 This is the second installment in this year's Christmas Story. Hope you enjoy it! (If you'd like to read Part 1, you can find it here.)
By 7pm, the big house was feeling a bit more like my old home. I had even dusted and swept. I sighed with contentment. The fond memories of this place filled me with a peace I hadn't known for quite some time. Of course, there was a big empty hole without Gram here. And something else was missing, too. What was it?
I walked through the house and made my way to the living room. Spotting the braided rug in front of the hearth, it came to me. It was Snoopy. It was just not the same here without the little black dog that used to follow me around everywhere I went.
With the flip of a switch a fire came to life in the fireplace insert Uncle Gus and I had talked Gram into buying awhile back. The comfortable overstuffed blue chair by the stone hearth was the perfect place to do a little day dreaming. I allowed my mind to travel back in time to that moment when Gram had finally allowed me to get a dog. Driving to the local shelter and giddy with excitement, I had found the happiest puppy there and named him Snoopy–after my favorite cartoon dog. From the beginning, our relationship was special. We became fast friends and were inseparable. I was heart broken when he died during my freshman year of college. I had longed for another dog ever since, but apartment living and a demanding job just didn't make it possible. Of course, all that had changed now.
Wait! Yes, all that had changed! What was holding me back? I grew excited as I considered the prospect of owning a dog again. In fact, I could feasibly go back to that same shelter and find a new dog. What quicker way was there to shoo away the loneliness of this house than with a new canine friend? Tomorrow grew into an exciting adventure as I pondered this idea.
I was jolted back to reality as my mind turned to my job situation. That was of grave concern. I didn't need to worry about it for a few months but those months would go by fast. I shook my head, as if to free it of the troublesome thoughts and grabbed my keys. That problem would have to wait until tomorrow as I had a much more important priority currently–a grumbling belly that was urging me to eat.
I drove into town and pulled into Martha's Diner. As I munched on a hamburger and fries, I looked around, hoping to see a familiar face but saw not a one. It had been over ten years since I had lived in the area. Things do change.
Feeling rather lonely and out-of-place, I pulled out my iPhone and started scrolling through Facebook. The happy faces of my city friends provided a sobering reminder of all that I had given up. Photos of adorable children and beautifully decorated homes reminded me that I didn't fit in with my married friends, either. In fact, I didn't really fit into any world at the moment. It was rather disconcerting.
"Libby? Libby Barnwell?"
I glanced up to see a smiling, older couple staring at me.
"Mr. and Mrs. Miller? How nice to see you," I gave the older lady a warm hug and then turned to Mr. Miller to shake his hand, but, he, too, pulled me into a big hug. This couple, dear friends of my Gram, provided just the dose of encouragement I needed. We chatted for several minutes about life and change and then they made me promise that I would be at church on Sunday.
"We will save you a seat, dear. We always sit about six rows back on the right and will look for you. And please plan on having lunch with us afterward. Our granddaughter, Katie, is living with us currently and I think you two would really get along. Don't you think so, Jim? She's in grad school at the local university so she is living with us for awhile," said Mrs. Miller. And then with one final hug, they walked out of the diner.
Thank you, Lord. Thank you for bringing a familiar face. That was exactly what I needed.
I had one last cup of coffee and then paid my bill. Glancing at my watch, I saw that I had time to run by the grocery store to pick up a few things. My trip to the store didn't take very long and soon I was back at home unloading my car in the bitter wind. Dropping the last bag on the table and locking the door behind me, I reached up to feel my cold cheeks. Winter had certainly arrived.
I quickly put everything away and then checked the clock above the sink. Only 9:30pm. The sound of the wind drew me to take refuge in my comfortable, childhood bed and so, grabbing a book from my backpack, I made my way upstairs and got ready for bed. I snuggled down into the blankets and down comforter and then sniffed. These would definitely need a good airing tomorrow.
Engrossed in my book a few minutes later, I froze when, suddenly, I heard a creak coming from the direction of the stairs.
I strained to hear anything further, but nothing came. After what seemed like hours (but was probably only a few minutes), I returned to my book. Wait! There it was again! Someone was definitely in this house. I immediately realized my vulnerable situation. No weapons. No friends. No family. I was quite defenseless. I didn't even know a phone number of a neighbor, for goodness' sake.
I started to panic. I tried to calm myself by remembering that old houses make noises. It was windy tonight. It was probably the wind.
It was just the wind.
I lay there for a few more minutes but couldn't shake the idea that someone was in the house. I decided to go check. Anything was better than laying in my bed paralyzed in fear. I glanced around for some kind of weapon. The only thing I spotted was a small glass candlestick on the dresser. I picked it up and held it in front of me with one hand and opened the door with the other. I must have made quite a site, me tiptoeing quietly across the room in my snowflake print pajamas, polka-dot slippers, and carrying a glass candlestick as my only mode of protection against who knew what?
I peeked out of my room and looked both ways. Nothing. I cautiously stepped out into the hallway. I crept down the stairs and explored the first level. It didn't seem as if anything had been disturbed. I hesitated at the cellar door. Even in the daytime, I hated the cellar. But I knew I wouldn't be able to sleep if I didn't check it out and so I opened the door, switched on the light, and started down the steps. Halfway down the L-shaped steps was a window that stood wide open. Each gust of wind would cause it to move and creak just a bit.
An open window would definitely cause strange noises on a windy night. I sighed with relief and quickly shut and locked it. From my vantage point of the steps, I looked around the forgotten room. It was piled high with Gram's stuff and someone could easily hide there. This thought gave me no comfort.
At that point, I realized that I had a decision to make. I could either trust the Lord to take care of me or I could choose to be fearful. God and I had a close relationship. He had saved me from my sins and He promised to care for me. My job was to trust Him and not cave in to fear. With a prayer for protection, I headed back to bed, trusting that He would keep me safe through the night.
A few minutes later I was tucked under the stale-smelling covers and, after an hour or two of laying there listening to the weird noises an old house makes at night, I finally drifted off into a troubled sleep.
Find Part 3 to this story here