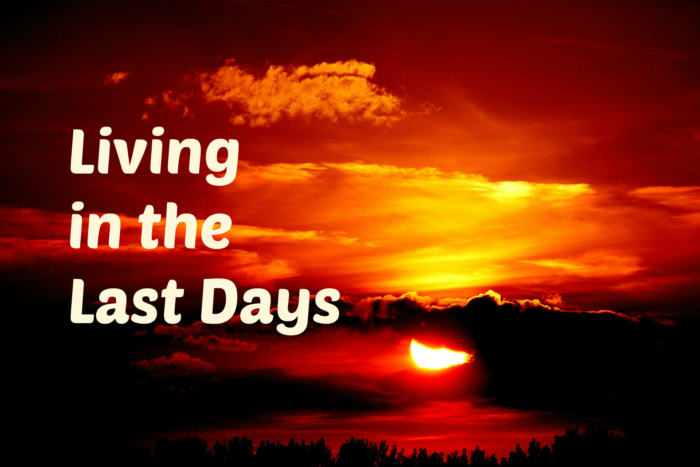 Last time we took a look at I Timothy 3 and it's timely counsel for us as we live in a culture that is speeding towards the last days. Today we are going to continue by looking at I Timothy 4. As Paul prepares for the end of his ministry, he is, in effect, passing the baton on to Timothy. What he tells Timothy applies to all of us, as well. Let's take a look–
1. We are to preach the Word. (v.2)
The mandate is to preach the Word. It is not to feed the poor or to meet felt needs or to help dig wells. While nothing is innately wrong with these things, our main priority must be to preach the Word. If this is lost, all is lost.
2. We are to preach in season and out of season. (v.2)
MacArthur Study Bible has this to say about in season and out of season: "The faithful preacher must proclaim the Word when it is popular and/or convenient, and when it is not; when it seems suitable to do so, and when it seems not. The dictates of popular culture, tradition, reputations, acceptance, or esteem in the community (or the church) must never alter the true preacher's commitment to proclaim God's Word."
I believe this applies to all of us laypeople, as well. We should be filled with a desire to share the Gospel and point people to the Word, being willing to sacrifice our comfort, convenience, and reputation. A difficult calling, to be sure. But when we remember what Jesus did for us, I am not sure how we can do any less.
3. God's preacher or teacher is to use the Word to convince, rebuke, and exhort. This is to be done with great patience. (v. 2)
I charge you therefore before God and the Lord Jesus Christ, who will judge the living and the dead at[a] His appearing and His kingdom: 2 Preach the word! Be ready in season and out of season. Convince, rebuke, exhort, with all longsuffering and teaching.
4. For the time will come that people will not endure sound doctrine. (v. 3)
Paul says not only will they not endure sound doctrine, but because of their own selfish desires, they will actually turn towards false teachers and fables and turn away from the truth. These two verses are playing out before our very eyes today! All across the world, people are falling prey to the bewitching of false doctrine, because of their own desires. They desire a religion that will provide abundant material blessings, make their dreams come true, heal their physical bodies, and make life easy. And there is no dearth of teachers to feed those itching ears.
For the time will come when they will not endure sound doctrine, but according to their own desires, because they have itching ears, they will heap up for themselves teachers; 4 and they will turn their ears away from the truth, and be turned aside to fables.
5. Be watchful in all things. (v.5)
Many Christians today would have you believe it is intolerant and unkind to be watchful. And yet, we know that we must be. Satan seeks to devour us! We must be watchful!
6. Endure afflictions. (v.5)
Afflictions are going to come. We are to endure through all of the normal storms of life, as well as through the persecution that will come (which is promised to all who desire to live a godly life in I Timothy 3:12).
7. Do the work of an evangelist. (v.5)
The word "evangelist" is used only two other times in the NT and it always refers to preaching the gospel to non-Christians. Witnessing should be an integral part of the fabric of our lives.
8. Fulfill your ministry. (v.5)
We are to fulfill whatever ministry God has given us.
But you be watchful in all things, endure afflictions, do the work of an evangelist, fulfill your ministry.

9. Like Paul, may we say at the end of our lives that we have fought the good fight, finished the race, and kept the faith. (v. 7)
If we take a moment and think about our lives, are we actually fighting the good fight? Or running a race? Sometimes we Christians get so caught up in our busy lives that we forget there is a spiritual battle raging around us. We forget that we are running a race and must intentionally work to keep the faith. These things don't just happen. They must be done intentionally or we fall into a lazy, apathetic place from which it is hard to recover.
10. There is reward coming for those who loved the Lord and have served Him faithfully. (v.8)
Our reward is eternal. A good thing to remember when we feel battered by life's storms and the world's persecution.
For I am already being poured out as a drink offering, and the time of my departure is at hand. 7 I have fought the good fight, I have finished the race, I have kept the faith. 8 Finally, there is laid up for me the crown of righteousness, which the Lord, the righteous Judge, will give to me on that Day, and not to me only but also to all who have loved His appearing.
11. There is no sin in naming names. (v.10-16)
Some Christians will try to convince you that it is sinful to name the names of false teachers or even those who are straying from the faith, and yet, here, below, we see that Paul does just that. He avoids slander and gossip, but simply states the facts: "Demas has forsaken me, having loved this present world" and "Alexander the Coppersmith did me much harm…beware of him"
We can see from Paul's example that it is not wrong to name names, but that we must do so carefully and without added unnecessary criticisms, personal attacks, and drama.
12. Paul had enemies, and we should expect no less. (v.10-16)
I think it is easy for us to raise Paul on a pedestal and think that he was so beloved that he never faced the heartbreak of betrayal, rejection, or abandonment. And, yet, in just a few short verses, we have a window into Paul's experiences with others. Just as we all do, he had those who supported his ministry and those who desired to destroy it. He had those who were his friends and those who deserted the faith because of a love for the world. Doesn't this sound so familiar? His experiences show us that this has been going on all through the ages and encourage us to keep our focus on the Lord, as we continue serving Him in a hostile world.
Be diligent to come to me quickly; 10 for Demas has forsaken me, having loved this present world, and has departed for Thessalonica—Crescens for Galatia, Titus for Dalmatia. 11 Only Luke is with me. Get Mark and bring him with you, for he is useful to me for ministry. 12 And Tychicus I have sent to Ephesus. 13 Bring the cloak that I left with Carpus at Troas when you come—and the books, especially the parchments. 14 Alexander the coppersmith did me much harm. May the Lord repay him according to his works. 15 You also must beware of him, for he has greatly resisted our words.16 At my first defense no one stood with me, but all forsook me. May it not be charged against them.
13. Our strength comes from the Lord and He will preserve and protect us until He calls us home (v.17-18)
When we think about the enemies we face in both the world and in the spiritual realm, it can be a bit daunting. Are there any more comforting verses to consider than these? Here we know that God will stand with us, strengthen us, deliver us, and preserve us, as we seek to glorify Him and share the Gospel. We are not alone!
But the Lord stood with me and strengthened me, so that the message might be preached fully through me, and that all the Gentiles might hear. Also I was delivered out of the mouth of the lion. 18 And the Lord will deliver me from every evil work and preserve me for His heavenly kingdom. To Him be glory forever and ever. Amen!
14. God uses many people for His purposes and most of them are not famous.
Paul finishes this epistle with greetings and tidbits about other servants of Christ. Many of these we know nothing about. The early church was made up of thousands of people who daily served the Lord in their villages and homes. May we follow the same example as the men and women listed below–faithful servants that Paul would greet in a letter if he was still on the earth today.
Greet Prisca and Aquila, and the household of Onesiphorus. 20 Erastus stayed in Corinth, but Trophimus I have left in Miletus sick.21 Do your utmost to come before winter.Eubulus greets you, as well as Pudens, Linus, Claudia, and all the brethren. Farewell
22 The Lord Jesus Christ[b] be with your spirit. Grace be with you. Amen
I hope that you have enjoyed these thoughts on 2 Timothy. There was just so much to reflect on as I read those two chapters that I just felt compelled to share it here with you. I hope that this has encouraged and challenged you–not only to ponder on what I wrote but also to dig deep into the Word for yourself.
As we approach these last days, it is our only anchor in this crazy world. I don't know if Jesus will return today or if it will be another one hundred years. But what I do know is that we are hurling at top speed towards one-world religion, one-world government, and one-world economy. The end is coming. And these two chapters in 2 Timothy help us to know how to live in this unprecedented time.