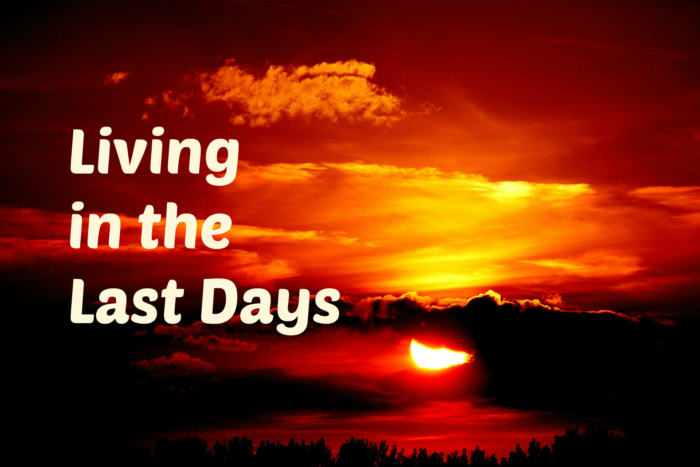 So we might be living in the last days. Or we might not. There is no way to truly know. What I do feel safe in saying is that, if we aren't experiencing the end times already, we are most certainly moving closer towards them each day. Some day soon I would like to write about how so many aspects of the last times foretold in the Bible are converging. It is really incredible and so confirming of scripture. But today is not that day.
A week or two ago, when we started reading our Bible Challenge passage for the week, chapters 3 & 4 of 2 Timothy, a friend texted me and said it sounds just like Paul was writing about our times right now. I couldn't agree more! And so as we approach the last days, there is much gold to mine from the treasure of the Word, particularly in these two chapters. It helps us know what to expect and how to respond. There are some nuggets there to show us how to personally face our own last days, as well.
Paul wrote the letter of 2 Timothy as he pondered the nearness of his own death. He knew he wouldn't be around much longer and so he wrote encouraging and challenging words for Timothy that were inspired by the Holy Spirit. If you haven't read these chapters recently, I would encourage you to go do so now or after this post. They are pretty incredible.
I'd like to share some of what I have learned from chapter three of 2 Timothy today and then finish up with chapter four on Thursday. Please keep in mind that these are simply observations. I am no Bible scholar but I do believe that I am proof that you do not have to be a Bible scholar to read, study, learn about and benefit from the Bible. So here we go–
1. The last days will be perilous. (v.1)
But know this, that in the last days perilous times will come:
Perilous: full of danger and risk.
i.e. Not fun. Not full of chasing our dreams. Not wealth, health, and happiness. But danger. And risk.
2. Paul describes men and women in the last days and it reminds us so much of right now. (v. 2-5)
For men will be lovers of themselves, lovers of money, boasters, proud, blasphemers, disobedient to parents, unthankful, unholy, 3 unloving, unforgiving, slanderers, without self-control, brutal, despisers of good, 4 traitors, headstrong, haughty, lovers of pleasure rather than lovers of God,
This sounds pretty familiar. But, of course, things could get a lot worse.
3. People will call themselves godly but they won't really be godly. (v.5)
4. In contrast to the popular message of our day, Paul tells us that we are not to unify with people like this. (v.5)
having a form of godliness but denying its power. And from such people turn away!
5. Women are and always will be especially gullible to false teaching. (v.6)
For of this sort are those who creep into households and make captives of gullible women loaded down with sins, led away by various lusts,
Okay, I know women do not want to hear this, but, in many ways, we do tend to be more sensitive to spiritual things and this often puts us at a greater risk to be deceived. We must be so very careful. By the way, this is not a criticism of women. God purposefully designed us this way.
6. Many people learn about God, but they never study His Word with a submissive and obedient heart and this keeps them from the knowledge of the truth. (v.7)
7 always learning and never able to come to the knowledge of the truth.
7. Time and truth walk hand-in-hand (v.8-9)
Now as Jannes and Jambres resisted Moses, so do these also resist the truth: men of corrupt minds, disapproved concerning the faith; 9 but they will progress no further, for their folly will be manifest to all, as theirs also was.
Eventually false teachers are found out. They can pretend to be biblical teachers for awhile, but time eventually sells them out. Paul uses the example of Jannes and Jambres resisting Moses to make his point. We can see this same dynamic with the likes of guys like Rob Bell and William Paul Young. They pretended to be Christians, but eventually time showed everyone that they were preaching a very different Gospel.
8. Paul's lifestyle was in direct contrast to a worldly lifestyle. He praised Timothy for following his example. We, too, should follow his example. (v. 10-11)
9. Paul endured much persecution but also experienced the Lord's deliverance in mighty ways! We serve a mighty God who can do mighty things! (v. 11)
But you have carefully followed my doctrine, manner of life, purpose, faith, longsuffering, love, perseverance, 11 persecutions, afflictions, which happened to me at Antioch, at Iconium, at Lystra—what persecutions I endured. And out of them all the Lord delivered me.
10. If we desire to live a godly life we will suffer persecution. (v. 12)
Yes, and all who desire to live godly in Christ Jesus will suffer persecution.
Not "might"; not "if"; not "could", but WILL. We WILL suffer persecution. We may as well just expect it. In fact, if we know it's coming, it should help us prepare to accept it with a spirit of grace, love, and forgiveness.
11. Evil men and imposters of the faith are going to get so much worse. The deception is not going to improve. (v. 13)
But evil men and impostors will grow worse and worse, deceiving and being deceived.
Again–we see this so clearly in these days, don't we? False doctrine abounds more than ever before. The authority of God's Word has been cast aside for the sake of experiences, false unity, and social justice. It is so incredibly tragic but it's going to keep getting worse until the appearing of our Savior. Again, we need to expect it.
12. Our only source for truth is the Holy Scriptures. We must continue to study the Bible and hide it in our heart, for this is what will keep us strong in these last days!
But you must continue in the things which you have learned and been assured of, knowing from whom you have learned them, 15 and that from childhood you have known the Holy Scriptures, which are able to make you wise for salvation through faith which is in Christ Jesus.
13. Scripture is all we need to know God and to live a holy life that is pleasing to Him.
All Scripture is given by inspiration of God, and is profitable for doctrine, for reproof, for correction, for instruction in righteousness, 17 that the man of God may be complete, thoroughly equipped for every good work.
Through the years, Satan has tried to eradicate, hide, bury, twist, destroy, mangle, convolute, minimize, and change the Word of God. He gets how powerful it is. He understands that the power for the Christian life is there. He knows that it is God's very Word to the human race.
Unfortunately, humans–even many believers–don't get this. They don't understand that the Holy Scriptures are the only way to know God. They are what make us complete and thoroughly equipped for every good work. They are an amazing treasure!
There is much to learn in all of scripture, but I believe that 2 Timothy 3 & 4 is especially encouraging, challenging, and convicting for this time on earth. It is from this passage that we understand the world isn't going to get better. We can see that it isn't our job to bring God's Kingdom to earth (a very popular message these days) but that we are to hold on to scripture tightly, while we preach the Word (ch. 4 will talk about that) in the midst of such dreadful wickedness and apostasy. We learn that we are to expect persecution– not material health, wealth, and fulfilled dreams.
These two chapters offer encouragement and challenges for us in this age–whether Jesus returns tomorrow or one hundred years from now. Keep looking up!