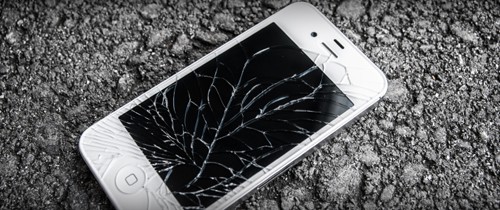 It was a beautiful sunny day. I was doing something a bit unusual for me– I was actually on a job rather than behind a desk. A customer had called asking that their summer containers be replaced with plants for autumn. My husband thought I was the best person for the job and so I found myself getting my hands dirty that day.
As I gathered the plants and tools I needed, I actually gave a brief thought to getting my Otter Box case. I keep it for days I'll be mostly outside or traveling. But I decided not to.
A dumb decision. I can see that now.
It happened as I was walking to my car for something. I heard the text message sound. It couldn't wait until I was at the car (I am not exactly sure why??) and so, as I usually do, I pulled my phone from my pocket as I walked. Somehow I lost my grip on it and it fell face down onto the concrete sidewalk.
Now, at this point, I wasn't really that worried. I have dropped my phone countless times and it has always remained unscathed. I was expecting the same thing this time.
I was in for a big disappointment.
As I picked it up, my heart sank. The screen wasn't just cracked in a corner, it was completely shattered, and yet the glass was clinging tenaciously to the screen.
I gingerly pressed on the center button. It lit up. I pressed on an app. It responded. I carefully put the phone in the car in a horizontal position and went back to work, berating myself and trying to figure out what I was going to do about this unexpected turn of events as I worked.
I went home, put on the Otter Box cover so I could still use it, and mourned (well, not really, but almost…).
This all happened last Friday. It is now Monday and my phone screen is still a shattered mess. It doesn't respond real well and so any texting I do is almost cumbersome. It has become my "emergency use only" phone.
My very clever son has offered to replace the screen (he's already replaced the screens on two other phones) and so my new screen has been ordered and is on its way.
Of course, I can't have something like this happen to me without thinking through all of the lessons that can be learned from it. I thought of several and just can't narrow it down to one–
LESSON #1
My shattered screen was really a blessing in disguise. About a month ago I had actually removed some of the apps I tend to press whenever I have a nano-second to look at my phone. I had started to habitually pull my phone out of my pocket in all situations and I knew it was a very bad habit. And so I had removed the apps in an effort to break myself of this behavior. This new turn of events really gave that effort a big boost. Because now my phone isn't even a temptation because it doesn't work right.
And–believer it or not– life continues on even without a phone. I know some of you might not believe that but I tell you the truth: Life is not about your phone and the world that is held within it.
We need to pull ourselves out of this tiny-screened world so many of us find ourselves in and make a conscious effort to embrace the world we live in—the living, breathing, shining world that is right in front of our faces.
And so, while it is inconvenient, I am not really unhappy that this happened to me.
LESSON #2
I find it interesting that the phone is shattered but it still works. iPhones remind me a little bit of that Timex commercial (it was Timex, wasn't it?) from so long ago–
It takes a licking but keeps on ticking.
I was certain when I saw that shattered screen that my phone wouldn't work. But it did.
I think it is a little representative of people. We can deal and put up with a lot. We are hindered and hampered but we keep taking the next step. Our dreams are shattered, our worlds cave in and yet we have no choice but to keep going.
But so many of us choose to keep living with that shattered screen. Instead of turning to the Lord for complete healing and a changed life, we toil through life with grief and shame. How sad, when we could turn to the Lord for a new heart and walk with Him. How tragic that so many of us live under the shadows of heartache, bitterness, and envy, never turning to the One who can help us step away from our past and provide healing.
No, life does not become perfect. Please don't hear me saying that. But the peace and joy that comes when we surrender our lives to the Lord cannot be measured. These are not just empty words. I am living proof of this, as are many I know. Find someone who genuinely loves the Lord and is living a life in surrender to His will and just ask them. I know they will attest to this, as well.
LESSON #3
"If only" is a phrase that can haunt us, if we aren't careful. If only I had put my Otter Box case on my phone. If only I hadn't dropped it. If only I had just left my phone in the car to begin with.
The phone incident is so minor in life, but much more serious "if only"s haunt many of us, don't they?
If only I wouldn't have had that affair.
If only I would have married a believer.
If only I would have disciplined my child when they were a toddler.
If only I wouldn't have gone there that night.
If only I wouldn't have said that.
If only he or she wouldn't have gotten cancer.
But the world of "if only" is a shattering, heart-breaking world where we feel hopeless and helpless. It is a world in which we can't change a thing.
Somehow, with the grace and mercy of God, we need to pull ourselves out of it. We need to submit ourselves to the perfect will of our heavenly Father and forget the "if onlys". They just serve as an avenue of discontentment and dissatisfaction.
Whew. That's a lot for one day. Hope I didn't overwhelm you. Perhaps I should have broken this into several posts. But I hope that some of these lessons I have learned may help you, too.
If you have appreciated this post, I would be very honored if you would share it with others. Thank you!