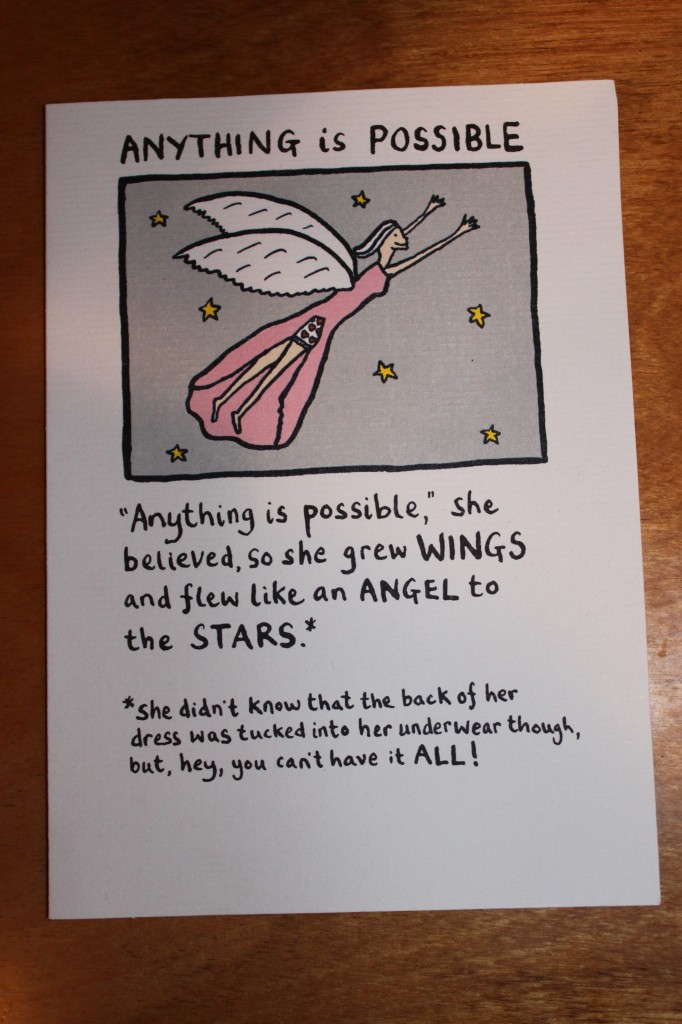 Did you read the picture? Before they gave it to me, my friends told me that sometimes you just find THE perfect card. They were right. I received that card because that actually happened to me. Recently. I still shake my head in consternation that I couldn't feel it. Why wouldn't I feel a breeze?  I left the bathroom like any normal day. Nothing felt any different (really–not to repeat myself –but how in the world could that be??) I walked confidently across the church lobby until a dear lady came rushing up behind me, frantically calling my name. Mind you, my trip across the lobby was just about over. I had walked quite a ways like that.
I now have my top embarrassing moment. Ever. I have done some stupid things, but that takes the cake. For sure.
So why am I stupid enough to share it with all of you?
Mostly because I think we all have a very hard time laughing at ourselves. At first, I was mortified. Actually, I am still mortified. And when my family joked about it, my face got hot and I mumbled harsh words to myself, berating myself on my ridiculousness and stupidity. But when you have teenagers who just love to tell a funny story, this one comes up a lot (I can't say that I blame them) And when it comes up, it doesn't do any good to get mad. And so I just choose to laugh. It is hilarious. So it happened. It has happened to others, too (at least I hope so). It could have been worse. I am not sure exactly how, but it could have been.
I think the reason I am able to laugh at myself is because of watching my mom. She has done some funny, embarrassing things, too. They are her stories, so I won't share them here, but my favorite is still brought up around family campfires quite often. And she just laughs at herself. For my whole life, I have seen my mother just laugh at herself when we tease her.
I don't think I realized until recently what a great example she has been in this area. I don't think any less of her because she has had a few embarrassing moments. But I do think more highly of her because of how she handled them.
Life is short. We all do embarrassing things. So who cares?  We need to throw our stupid pride aside and just laugh.
And, by the way, on a positive note: Given the many embarrassing moments I have had over the past several months, I realized God probably doesn't have to work as hard keeping me humble, since I do a pretty good job all by myself!