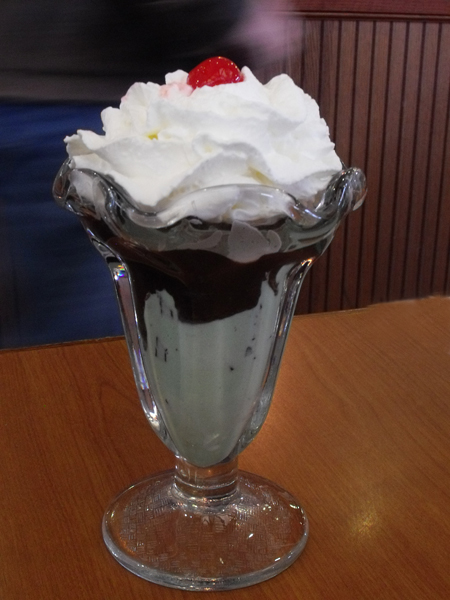 We were sitting in Friendly's waiting for our ice cream.  Normally we don't get dessert with dinner, but who can skip dessert at Friendly's?  As we waited, a waitress brought out some luscious-looking sundaes to a booth across the restaurant, one of them being a mint chip sundae with hot fudge. And suddenly, the air was filled with the aroma of mint chocolate! "Wow! Can I smell that from here?" said my husband in disbelief.
Unbeknownst to him, I had pulled out my mint chocolate hand sanitizer to remove the stickiness from my hands at just the same moment the waitress had brought out the yummy looking sundaes. We all started laughing because the timing was so impeccable. Of course, we couldn't smell the ice cream from across the store. But my hand sanitizer gave us the illusion that we could.
Many churches are becoming a little like this. They smell like the church. They look like the church. But when you walk in the doors, they aren't really functioning like a biblical church.
While church is a great place to feel loved and to fellowship and perhaps sometimes to even win the lost, there are some other really important functions that get totally ignored or are done rather as an afterthought.
The first and most important job of a church is to teach doctrine. Paul mentions this word in several of his letters. I Timothy 1:3 and Titus 2:1 are two of them. Doctrine has become a bit of a "bad" word in most churches. That is because people aren't interested in learning biblical doctrine.  The word makes many cringe. But doctrine simply means "something that is taught; teachings collectively" according to dictionary.com. Paul urges ministers to teach their flocks about what the Bible says. That is the most important priority.
I Timothy 4 shows us another important duty of a church:  Now the Spirit expressly says that in latter times some will depart from the faith, giving heed to deceiving spirits and doctrines of demons, speaking lies in hypocrisy, having their own conscience seared with a hot iron, forbidding to marry, and commanding to abstain from foods which God created to be received with thanksgiving by those who believe and know the truth.  For every creature of God is good, and nothing is to be refused if it is received with thanksgiving;  for it is sanctified by the word of God and prayer.  If you instruct the brethren in these things, you will be a good minister of Jesus Christ, nourished in the words of faith and of the good doctrine which you have carefully followed.
Church leaders have a responsibility to help their flocks discern.  There are a lot of false teachings floating around out there.  But because the world's philosophy of  "if you believe it, it's true for you" has crept into the church, church leaders have become afraid of confrontations. And I can see why, as most times accusations start flying immediately and the leaders are branded narrow-minded and old-fashioned and stuck in tradition and too uptight. But Paul expressly commands ministers to teach discernment. Churches need to be willing to do this.
And, finally, one other important job of a church is to discipline.  One of the passages that talks about this is I Timothy 5:20 where Paul urges elders to rebuke those who are sinning in the presence of all, that the rest may fear. Most churches ignore any passage on church discipline. And, honestly, I can understand why. In this day and age, you are considered judgmental and narrow-minded if you stand against any sin.  But does this excuse the church from doing it?
These are three  important jobs of a biblical church: teach doctrine, protect from false doctrine, and discipline wayward believers.
We have been sold the lie that churches only exist to save the lost but that isn't biblical. While many have been drawn to a church service and been saved there, that is not its main purpose.  We have been sold the lie that church is about experiencing love and community. While many of us have made wonderful friends and enjoy being part of a community, that is not its main purpose.
I have no idea what type of church you attend.  And finding a good, solid, biblical church is getting harder every day.  But there are still some good ones around. I hope you are in one of them.