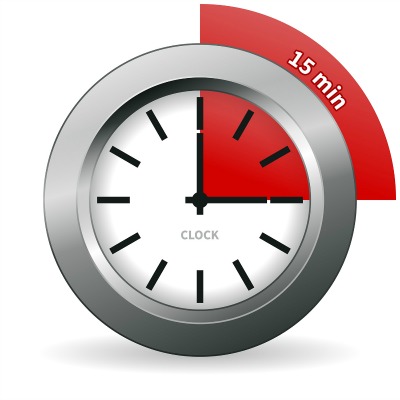 How much time does it take to change your life? I think sometimes we drag our feet at putting any change in place, thinking that it will gobble up the precious free hours that we have. We honestly believe that we don't have time to cook healthy meals or exercise or that we don't have the time to organize, keep a budget, or read the Bible. Or perhaps we believe we will never have time to learn to play that instrument or learn how to use the computer or read that classic. And so I have a challenge for you (and for me, too!)
It's simple, really.
15 minutes.
The challenge is to give 15 minutes per day this year to something that you really want to accomplish in your life. If a year seems overwhelming then start with a month.
There are 1440 minutes in each day. We spend about 480 of those minutes sleeping. That leaves 960 minutes to work and play. Surely, we can take just 15 of those 960 to start working on something that really matters to us?
For me, I have decided to take January and tackle some housecleaning jobs that have been neglected.  I have made a checklist of small jobs that need to be done around the house that I never seem to get to. None of the jobs will require more than 30 minutes and most will be 15 minutes or less.
I share this here, because I wonder if sometimes we don't move forward because it just seems so overwhelming. But what if it only took 15 minutes a day?
If we exercise for 15 minutes a day, isn't that so much better than not at all?
If we focus on our budget for just 15 minutes (or even 5 minutes!) each day, wouldn't that be so beneficial in tracking our finances?
If we would read our Bible for even 15 minutes per day, that would still add up to 5,475 minutes spent reading our Bibles. That's over 91 hours spent reading our Bible in one year!
Perhaps change is within our grasp, after all.
A man names Charles Atlas says this: "15 Minutes a Day! Give me just this and I'll prove I can make you a new man."
I don't know anything about Charles Atlas and I don't know the context of this quote, but what I do know is that this is true. If we would dedicate just 15 minutes a day to something we really want to accomplish, we will accomplish it! Sure, the downside is that it will take us longer to get there, but let's remember it was the slow and steady tortoise that finished the race in Aesop's familiar fable.
Of course, I would be amiss if I didn't mention here that there isn't anything better you could spend your 15 minutes on than studying God's Word this next year. I am sure by now you are tired of hearing about the Bible Challenge, but I truly hope you will consider joining me and other Growing 4 Life readers as we read through the Bible chronologically. Or, if not with us, that you will be in God's Word with another group of friends or your church or even on your own. I am convinced that– while we can change our behavior and our habits–a changed heart can only be accomplished through the work of the Holy Spirit through the reading of God's Word. There is power in this Book. There is nothing else that could possibly be of more value to you as you head into 2015.
But whatever you choose to spend your 15 minutes a day doing, I know you will feel a great sense of accomplishment at the end of the year (or month) because you stuck it out and have made a change– even if it's a small one.
Anyone care to join me in the 15 minute challenge?