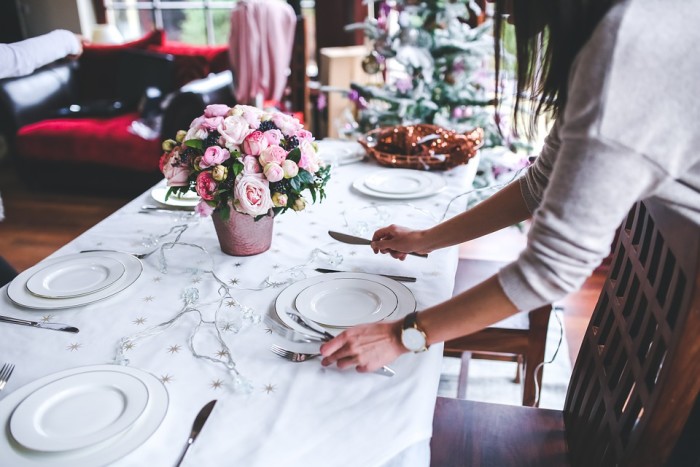 The other night as I stood over the sink, cleaning up from another big meal I had planned and prepared during this holiday season, I suddenly realized that somehow over the past 25 years I went from being completely incapable in the kitchen to being able to prepare a meal for 10-20 family members and/or close friends and not even be really stressed about it.
When did that happen? Or perhaps a better question is: How did that happen?
First, you have to understand that hospitality would not be my natural gift. Food preparation and serving takes me way outside my comfort zone. Way outside.
I remember the first meal I cooked for my in-laws. I have this vague memory of burning the peas. I was so incredibly stressed. Not because of them–they were more than gracious. It was just so stressful to plan and prepare meals for even two extra people who I wanted to impress. It wasn't much better the next time I tried to host a couple from our church for Sunday lunch–we arrived home to find that I had never turned the oven on for the roast!
But I survived those embarrassing incidents of hosting guests in that tiny apartment we first called home and just kept trying. And, gradually, over the years, somehow everything changed.
But that change only occurred because I forced myself to have that first meal. And then a second. And then a third. Had I just refused to have people in my home from the beginning or even after those first couple attempts–using my fear and inability as an excuse– I would not be where I am today.
And it's a great reminder that sometimes we need to step forward in faith to do the good works God has prepared for us despite the fear and the inability. Despite the failures.
We will never change if we don't start walking in the direction we want to go. We won't accomplish much if we never even try.
Sure, it took me a really long time to get here. But I did get here. Sure, I still have failures sometimes (like making the pineapple stuffing a little too crispy on Christmas day!) But now I know that I can survive failures without the world coming to an end.
Life is good. But it's way better if we know we are doing the will of God and living to glorify Him, despite our personal fears and insecurities.
Is there anything that you know God has called you to do that is just way outside your comfort zone? Perhaps it is witnessing to a co-worker or starting to tithe? Maybe it is disciplining your children properly or memorizing scripture? Showing hospitality, getting rid of the TV, getting involved in a ministry at your church or asking someone to forgive you–these are all things that take great courage. But if we never try, we will never change.
As we contemplate this year's end, may we reflect on what it is that God would like us to change this coming year. Let's start thinking about how we may be better able to please Him by making a change or two in our lives, taking that first step of faith forward. Let's show the world around us that we are never satisfied with status quo.