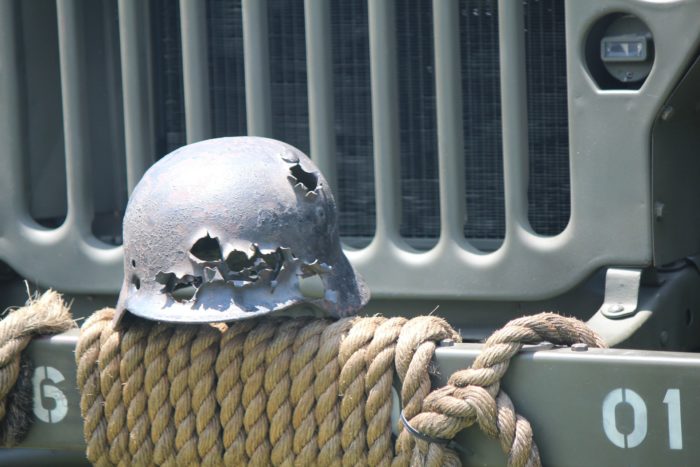 This morning in church we had a brave Viet Nam war veteran share a bit of his testimony. I can't imagine how difficult it must have been to condense such an experience to just a few short moments on a Sunday morning. He concluded by comparing his experiences as a soldier to our duty as a soldier for Christ. As he talked, I found myself engrossed in what he was saying. How little we talk about the battle that is going on and what our duties are as a soldier for Christ. Most don't want to focus on the negative. And, yet, scripture makes it clear that we are in a battle. If you have time, read 2 Corinthians 10:3-5 and Ephesians 6:10-20, which is where we will find some description of this spiritual battle and also some keys to victory.
Even though it was just a short testimony and challenge for our congregation, I came away with four things we should all know about fighting the spiritual battle we Christians become a part of as soon as we are saved. Like it or not, if you are a Christian, then you are a soldier in Christ's army. While this isn't a specific Learn to Discern post, I do believe that these principles are key to our understanding of discernment and also help to clarify the importance of discernment in the church today.
Here are Four Important Principles of Battle—
1. Stay Focused on the Enemy. He said this several times–how important it was that they stay focused on the enemy. If they lost sight of them, if the enemy stay hidden, they knew they could very well be taken out in a heartbeat. Our enemy, as believers, is Satan. And we must keep an eye on what he is doing. So often we will hear the opposite–that we aren't to focus on the enemy, but instead just keep our eyes on Jesus. And, yes, the center of our faith is Jesus Christ, our Lord. But if we aren't keeping an eye out for Satan and his devious plans, we are going to be deceived! And while Christians are being deceived, the lost are being told a false gospel. There is so much that hangs in the balance. We must keep our eyes on the enemy.
2. Someone Needs to Stand Guard. One of the keys to keeping the company safe was to have someone stand guard. The consequences were severe for the guard–sometimes even execution–should the enemy enter the camp while he fell asleep on duty. These guards could save the whole troop. The same is true spiritually. How interesting that instead of thanking the guards of the church, they are so often mocked, belittled, and marginalized. To stand guard in protection of the church generally means not only fierce attack from the enemy on the outside, but it also often brings on attacks from the inside. Instead of being grateful for the protection–for someone brave enough to point out how something doesn't match scripture–churches and Christians grow angry and are constantly telling the guard that they are imagining things–that it isn't the enemy they see. This never fails to befuddle me.
The guard has absolutely nothing to gain by calling out a false teacher and–in this current church culture–they have everything to lose. If they are brave enough to speak up to protect the church, then we'd better take heed and listen.
3.War Isn't Pretty. As this man described some of the things that happened and the experiences he faced (and I know he gave us the "G" version, as a full description of the horrendous and awful sights he saw wouldn't have been appropriate in a church service), I cringed. I couldn't even imagine facing anything like this. One of the reasons for this is because I like my world comfortable and well-ordered and without conflict. Thank you very much.
But war isn't pretty. It's dirty. It's violent. It's chaotic. It's terrifying. People get hurt and die. And you know what? Spiritual battles aren't pretty, either. Gossip flies. Character assassinations occur. Reputations are ruined by false accusations. Christians languish in prisons and sometimes die cruel, horrible deaths. We need to stop expecting this life to be roses and lollipops. Standing up for Christ is not for the faint-of-heart.
4. Don't Fight With Your Comrades. And, finally, he talked about how important it was that the company be unified. As I thought about this in relation to our spiritual battle, I thought about something that I started to really put in place in my life a while ago now. As a young person, I tended to argue a lot. I'd make big deals out of things that just weren't. Somewhere in the last twenty years or so, I have learned a very important lesson: Never argue or debate anything that is not in scripture. If it won't matter in 100 years, it is not worth an argument. Now, this can be tough–especially at home. I don't do it perfectly (just ask my family!) but I am working on it.
You see, sometimes disagreements and divisions must occur, but only because there is an effort to compromise the Word of God. We can and we must make a big deal out of standing for what scripture teaches. But we can and we most certainly must let the other things go. If we are to gain the respect of those around us, we can't argue and criticize and judge just because. Only a stand for the Bible and what it teaches is worth a real argument. And if we are lovingly agreeable on most occasions, then when these things come up that compromise scripture and we lovingly disagree, we will have the respect of those around us, even if they don't like what we are saying. We must endeavor to keep the unity among believers as much as it is up to us! (Romans 12:18)
I hope this has encouraged you today. Life can be so hard. Sometimes it is hard because we are living out the consequences of sinful choices. But sometimes–many times– it is hard because we are fighting this battle against our enemy. If we are sharing the Gospel, if we are pointing out false teachers, if we are taking a stand for Christ and against worldliness, you can be guaranteed he does not like it! Let's remember these four principles of battle and keep fighting on, bravely giving our all for the One who gave His all for us.