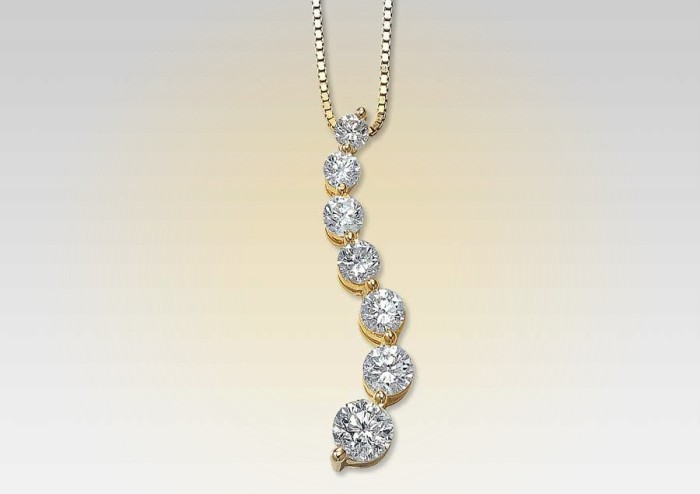 Several years ago, I lost a necklace. Not the big, chunky kind made out of brightly-colored beads. This was a delicate chain with a small diamond charm. The special kind your husband gives you to celebrate a special milestone or anniversary.
I had taken it off at the end of a long day and placed it on the end table. When I thought of it the next day, it had completely vanished. I searched everywhere. I couldn't find it.
We came to the conclusion that it had probably fallen in the small trash can next to the table. I sadly realized that it was lost forever. We have a big dumpster which holds all of the trash that our sizable company discards. The bag holding this necklace was in that dumpster. The chances of finding a tiny little gold chain inside a large trash bag in an even larger dumpster were slim to none. We didn't even know which trash bag was the right one.
My husband decided to look, anyway. That's just the kind of guy he is. I sent up a little prayer letting the Lord know that I would greatly appreciate finding this special necklace.
Within just a few minutes, Eric came inside the house holding the chain in his hand. Unbelievable. Why would God care about such a thing?
A few years later, I lost my anniversary band. It was a little big and when the weather grew cold and my fingers shrunk even further, the band must have slipped off. How well I remember that Monday at lunchtime. I looked down at my hand and realized it was gone. We searched everywhere for it. But my heart sank, knowing full well that it was unlikely that we would find it.
For several weeks, I prayed that it would somehow miraculously turn up. This ring meant even more than the necklace, as it was bought to celebrate our 25th wedding anniversary. It was very special and also rather expensive. I was heartbroken.
It never turned up.
But when my birthday came around a few months later, my husband presented me with a small wrapped box. When I opened it, I found the exact same ring that he had purchased over a year earlier. He had bought me this because he knew just how disappointed and upset I was about the loss of that ring. And you know what? This ring means almost more than the first one. It symbolizes unconditional love even through my failures and stupid moments. It shows me commitment and willingness to go above and beyond. He could have been furious and never bought me another piece of jewelry again. Instead he bought me a replacement for the ring I had lost.
So why am I telling you this?
These events came to mind as I read the account of the floating axehead in 2 Kings 6. Elisha's servants decide to build a new dwelling. At least one of them is so poor that he needs to borrow an axe to fell the trees. While they are working by the Jordan, his iron axehead falls into the Jordan. He is in much despair over this, because it is not his and he does not have the money to replace it. Elisha asks him where it has fallen, throws a stick in the water, which causes the iron axehead to float, and the servant picks it out of the water.
This whole story takes place in only six verses. It's only a minute portion of the Bible, but there is much to learn here. This man's life was not in danger. His home, his wife, his children, his education are not mentioned. We know nothing about him.
What we do know is that iron was very expensive in those days and this lost axehead would cause him financial difficulty.
What we do know is that God cared enough about this man and his seemingly trivial problem to provide a miracle on this man's behalf.
Now, I'm sure this didn't happen every day and there were probably some axeheads that sat on the floor of the Jordan at the great displeasure and inconvenience of their owners and borrowers. God did not make every axehead float.
But in this instance, God decided to intervene.
This incident shows us that, just like my diamond necklace, God cares enough to help in the little things. Sometimes He chooses to show Himself in an amazing way.
But sometimes, as in the case of my ring, He instead has a lesson to teach us or something to show us by not interceding. And that's okay, too.
No matter how God chooses to answer us, He knows best. We can count on Him to take care of us all the way. He will give us the strength and grace that we need–and even occasional little miracles–as we go.
And we come once more to the necessity to rest wholly in God's Sovereignty. I am convinced that this one thing is what will bring us joy and peace as we travel through life. God cares about us. He cares about even the smallest thing. We know that He is in control, no matter what comes our way. What a comforting thought!