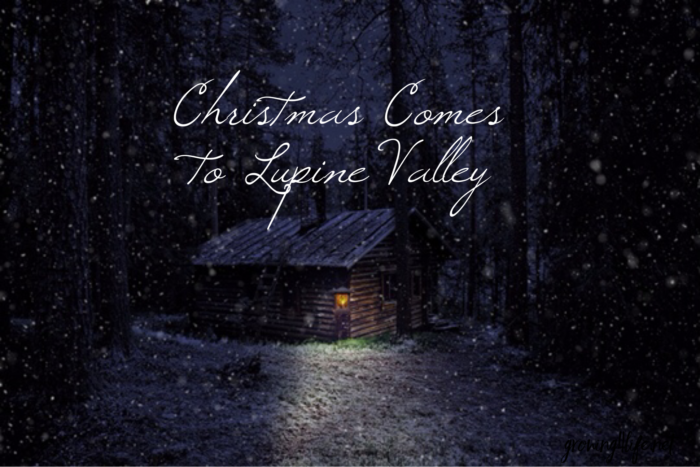 Today I present Part 3 of this year's Christmas story. I hope you are enjoying it. It's been a little more challenging for me, as it takes place in the past during a time I have not lived through. It means a bit more research for me but I find it pretty interesting (for example, what kind of writing instrument did someone use in 1917?) My goal is to make the story as real and authentic as possible, so hopefully I am accomplishing that purpose. If you missed the first two parts of this story you can find them here.
  The following morning, Henry and Grace quietly ate breakfast while the girl slept. Oh, how exhausted she must have been.
  When Grace peeked in on her after breakfast, she was just waking up.
  "Good morning, dear. I hope you slept well. I took the liberty to wash a few things in your bag so you'd have something clean and fresh to wear today. It dried so nicely by the fire overnight. We can wash the rest of your clothing today in some nice, hot water," and with those words, she laid a dress, along with some fresh underclothing, on the chair in the corner of the room and then quietly left, closing the door behind her.
  Soon the girl came out of the bedroom wearing the clean dress and a shy smile.
  "Are you hungry?"
  She nodded her head and sat down at the table, where hot coffee and delicious-looking flapjacks sat waiting.
  Grace sat quietly by the hearth as she waited for the girl to finish eating. She tried not to look impatient but inside she was chomping at the bit to hear the girl's story.
  Finally, the girl turned to her, "Thank you so much, ma'am. That was delicious."
  "You are quite welcome. Do you feel up to talking this morning?"
  The girl sighed, "Yes. I guess I do owe you my story after all you've done for me."
  Grace gave her the comfortable rocker and then pulled a chair close by. She asked her a question to get her started, "What is your name, dear?"
  "Clara. Clara Hill."
  "And how old are you? Do your parents know where you are?" Grace asked gently.
  "I am twenty. And I am actually on the way to my parents. Maybe I should start at the beginning," she said and then continued, "A couple of years ago, I got married to Edward Hill. We grew up together. He wanted adventure–Eddy always wanted adventure his whole life–and so we got on a train and headed west. We didn't get that far before we ran out of the little bit of money we had saved and we ended up in Slate Valley because that is where Eddy found work."
  Grace recognized the name of the town that was about 20 miles northwest of them.
  "Mama and Papa weren't very happy that I was moving so far away, but I was full of adventure myself and excited to go," Clara sighed and then continued, "Everything went okay for awhile. Until earlier this year when Eddy was drafted."
  Grace remembered that there had been a draft for World War I last May for the young men in the country. It hadn't affected her or her family but Clara's predicament reminded her of how many must have been affected.
  Clara went on to explain that a few months after she realized she was pregnant, Eddy had left for the War. She had lived a lonely, friendless life in a few rooms above the cobbler's shop. When she had gotten behind on her rent by a month and couldn't pay yet again last week, the cobbler had told her she had to be out by the following day. He didn't seem to care or consider her condition.
  Grace's mouth fell open. How could anyone be so cruel?
  Clara continued, "The landlord reminds me of Mr. Scrooge in that Dickens story. Only no spirits have visited him yet."
  The women both smiled and then Clara continued, "The day after that happened, I received word that my husband was missing in action," she tried to say it without emotion but gave a little pause to catch the sob in her throat and wipe her eyes with the back of her hand, "At that point, I just didn't know what to do. I didn't mind living there when it was Eddy and me. But being there without Eddy and knowing he was probably never coming back and, with no money and now no place to live, well, it just seemed time to go home. So I packed a bag along with a bit of food and decided to try to get to Mama and Papa before this little one makes its appearing. It's only a few hundred miles and I figured I might find a little help along the way. But it may not have been so smart to do that with the baby coming and all." She finished with a big, hopeless sigh.
  "When do you expect your little one?"
  "I really don't know," she shrugged her shoulders. With some tactful questioning, Grace realized that she hadn't had seen a doctor or midwife up to this point. But, in a quick evaluation of her condition with her limited experience, Grace wondered how wise it was for Clara to be traveling anywhere right now.
  "Surely there is a church in your town? Did you ever reach out to the pastor? Or some of the church ladies? Surely, they would have helped you."
  Clara grew a bit uncomfortable at this point and Grace was sorry she had mentioned it. Finally, she said, "I'm not really a church kind of girl and those church ladies always seemed like real snobs when I saw them in town."
  Grace tucked that knowledge away for later and then asked, "So how did you end up here in our woods?"
  "Well, I was traveling on the road from Oak Ridge when it started to grow dark. I saw your lane and it looked so friendly-like, that I thought maybe I could find a cozy place to rest for the night. I saw that little path and then found that old tree by the crick and, well, it looked pretty safe there. I am so sorry if I am causing you any trouble," she looked genuinely worried about this.
  "Oh, my dear, we are so glad you are here and want to help you. It seems like you've had a very rough year," Grace's comforting words fell over Clara like a soothing balm.
  "You know, God is in the business of meeting needs. Just look at how He brought you right to us in Lupine Valley!" Clara wasn't sure she agreed with Grace, but she smiled, anyway.
  "So the first thing we need to do is write a letter to your parents, letting them know you are coming home and to expect you. I don't know exactly how yet, but we are going to get you home."
  Grace pulled out a piece of paper and a fountain pen from a shelf above the little desk they kept in the corner. She invited Clara to come and sit down to write.
  "In the meantime, we are going to have Henry send them a telegram so they know you are safe."
  Clara looked down at the ground and seemed embarrased, until finally Grace realized she probably couldn't write. Scolding herself, she kindly said to her, "Why don't you tell me what you want to write?"
  The next few moments were spent with Clara dictating a short but meaningful letter to her parents telling them she was coming home. Grace folded it, put it in an envelope, and then addressed it with the information Clara gave her.
  Leaving the young woman sitting by the hearth, she pulled on her shawl and took the letter out to Henry, where he was chopping wood.
  "Could you take this to the post office and then send off a telegram to them, as well. If it was Martha or Jane, I'd want to know they were okay," as a mother herself, she wanted Clara's parents to know as soon as possible that their daughter was in safe hands and that they would figure out a way to get her home.
  Henry said he would finish cutting the wood and then head out. And, true to his word, he was headed to town in the horse and wagon within the hour.