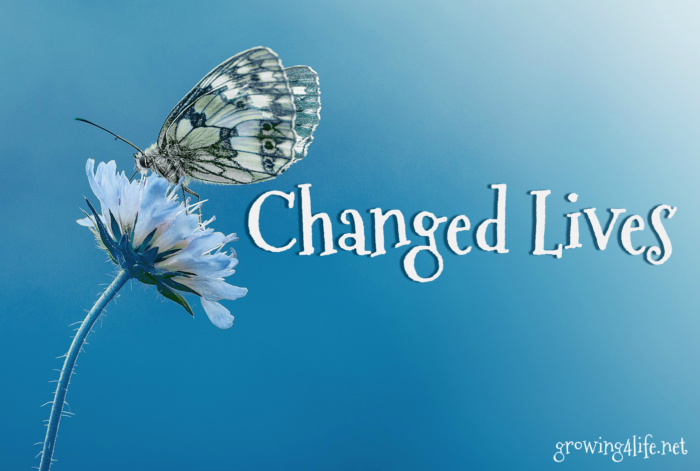 As I prepared today's post, I realized that it has been almost a year since I last shared a "Changed Lives" testimony. This hasn't been because I haven't met anyone who has been changed by Jesus. In fact, I've met so many! It was just one of those things I kept putting off. But today is a great day to bring you a new testimony.
Today I bring you Jim and Carol's story. Let me tell you a bit about how this came to be. Jim is often at the door as I enter church each Sunday, ready to offer all a warm handshake and a cheery greeting. But a year or so ago, I noticed that Jim just kept getting thinner and thinner and he just didn't look well. Eventually I found out that he was fighting a fierce battle with cancer and that it was taking its toll on him. And, yet, there Jim stood at the sanctuary door every Sunday, greeting everyone cheerfully. It was this consistent cheerfulness that led me to talk with them about Jim's cancer journey. Little did I know that there was much more to the story! Spending an afternoon with them encouraged me greatly and I know that it will encourage you, too.
This is Jim and Carol's story–
In early 1970's, a young girl named Carol was set up on a date with a young man named Jim. Carol, a Christian girl, knew Jim wasn't saved but she really enjoyed that first date and, as she got to know him better, she decided to start a relationship with him anyway. Things moved along and eventually they planned to be married. Carol just naively thought everything would turn out okay. And it did–eventually. (But it's important to remember that it doesn't for everyone. As Carol said during our time together: It's best to obey the Bible and marry a Christian.)
After the wedding, things got pretty difficult. They had a daughter and then two sons. During these early years, when Jim wasn't working long hours, his passion for baseball consumed his time. After baseball games, Jim would drink with his buddies and come home drunk. When Jim got drunk he didn't get silly like "you see on the movies" as Carol put it. Instead, Jim would come home and verbally attack his wife. The family dreaded these times.
This naturally burdened Carol's heart greatly. She had already been praying for Jim's salvation for years and she continued to do so during this time.
Ten or so years into their marriage, Jim started to soften and mature a bit and things got better for the family, although he remained hardened to the things of the Lord. While he never kept Carol from taking the children to church or talking with them about the Lord, he just wasn't interested. He admits now that he wasn't ready to surrender the "fun stuff" of life to live a legalistic, moral life that looked no fun at all. He viewed believers as living in a prison of "perfect" and he didn't want any part of that.
Jim describes this time as having a thick wall standing between him and the Lord. The Lord was on one side and he was on the other. To remove that wall would mean giving up the world he so loved and enjoyed. And he just wasn't ready to do that.
When they were married for almost fifteen years, an elder and his wife from their church stopped by for an unexpected visit one New Year's Eve. As Carol opened the door to the couple her heart sank. She knew her husband's thoughts about "stuffy Christians" trying to convert him. She hid her thoughts and welcomed them in with a smile.
That evening was the beginning of a long journey that would bring Jim to his knees in repentance before the Lord. As the couples visited together that night, the elder never brought up anything about God. Instead, he talked with Jim about hunting and other things that men talk about. God knew that Jim needed to meet someone who was willing to be his friend, despite his rebellious heart towards the things of God. He found that friendship in this elder.
At this point, Jim started going to church, playing on the church softball team, and hanging around with the church folk. During this time, he was not saved but he was watching. He found out that Christians were not perfect, after all, but have struggles and flaws just like everyone else. They just handled them differently. This gave him pause for thought and the wall between him and the Lord started to crumble just a bit.
A few years after he started attending church, Jim found an odd swelling around his eye. The doctor told him it was an insect bite and sent them home. But when it didn't go away, it led Jim and Carol to seek further answers. It was biopsied but, even after this step, the specialist had no idea what it was. They finally ended up at a dermatologist who sent him to a plastic surgeon. This surgeon recommended that the biopsy be couriered immediately for results rather than being handled in the typical fashion. When no courier was available, Jim and Carol took the biopsy themselves to the local facility that would test it.
It was this second biopsy that finally yielded the diagnosis that no one ever wants to hear: Cancer. Jim had a form of lymphoma on his face.
With this diagnosis, Jim came face to face with his mortality as a forty-something husband and father. With two kids in college and one in high school, this was certainly not what he had wanted to hear. Frightened of the unknown, he started praying to the God whom he had never been interested in. And the wall between him and God started to crumble a bit more. Meanwhile, Carol, who was praying as well, was filled with that inexplicable peace that God gives His own. While she certainly had moments of fear, she trusted God to take care of Jim.
It was during this unsettling time that Jim and Carol went to a Sight and Sound production called "Behold the Lamb". (For those that may not know, Sight and Sound is a Christian theater that puts on dramatic productions of stories from the Bible that rival Broadway in their professionalism.) While at this production, Jim was struck by the reality of his sin and the hope we have in Christ. While he wasn't saved there, he would say this was when the wall between him and God started to finally give way.
About this time, Jim and Carol's pastor moved away and they had to find a new church. This search led them back to Carol's childhood church, where Jim developed a friendship with their new pastor. One day, Jim asked the pastor about salvation and told him he was ready to surrender his life to Christ.
Carol had prayed for twenty-five years for this day! Oh, what rejoicing was in her heart as she listened around the corner to her husband as he prayed and surrendered his life to Christ.
Through this time, Jim finished his prescribed chemo treatments and after it all was over, the oncologist pronounced him cancer-free! He even used the word "miracle". Jim looked at him and told him that it was prayer that healed him. God had heard the prayers of many friends and family poured out for Jim and had shown mercy.
After this eventful time in their lives, things really changed. Jim stopped drinking completely upon his cancer diagnosis. He developed a passion for church and especially for the men's ministry that began while he was there. And he began to take his role as husband and father more seriously.
Fast forward twenty years.
The kids grew up and two of them moved away. Jim and Carol decided to move near their two sons and so they started a new adventure a few hours south of what they had both always called "home". They found a good church and became a part of the family there. Jim continued to take a yearly trip a few hours away to see his oncologist. He and Carol started talking about the possibility of stopping those visits since he had been cancer-free for so long.
And then one day, Jim got an ulcer in his mouth that wouldn't go away. Again, there were visits to doctors and uncertain times as they tried to figure out why it wouldn't heal. He also felt a lump around his nose and his face felt a bit numb. While Carol didn't really think about it being cancer again, Jim admits that he was wondering if the dreaded cancer had returned.
Jim got a biopsy of the area right before Christmas in 2016 and found out that he did indeed have cancer again—this time it was a completely different type of lymphoma than the first time. It filled his sinus cavity on the left side of his face and was even in his tonsils. It had started eating away at his jaw and his nose.
A plan was put in place to save Jim's life. It included a bone graft to preserve his jaw along with three rounds of the strongest chemo available, as well as 17 rounds of radiation. The chemo was so powerful that they had to test Jim's heart to make sure that it would be strong enough to handle it.
Jim's heart tests went well and so they proceeded with the chemo. He got through two rounds with flying colors. Other than the loss of hair, he really didn't have any side effects. No nausea, no fatigue. Things looked pretty good. Jim kept smiling and started to pat himself a bit on the back. He was getting through this with God and he was doing pretty good.
And then, right before the third round of chemo, Jim found a watery lump the size of a water balloon on his shoulder at the place where his chemo port was. Thus began a dreaded time of anxious waiting as they worked to find an appointment for an emergency MRI. The soonest they could get in was the next morning. After the MRI, they headed home to wait some more. Around four o'clock that day, they discussed their fear of heading into the weekend without any answers and then walked into separate rooms. Unbeknownst to each other, they both started praying that the doctor would call. A few minutes later, the phone rang. The doctor told them to get to the emergency room immediately. Jim had a large blood clot in his shoulder.
Jim tells of this time as being very humbling. Things were going pretty well, all things considered, and this stopped him in his tracks and forced him to rely on the Lord like never before. After a night's stay in the hospital in which his chemo port was removed, he was given a three months' prescription of a blood thinner medication and sent home to get better.
The third round of chemo was out of the question and so they decided to increase the amount of radiation from 17 treatments to 25.
Unfortunately, the radiation could not continue until Jim's body was strong enough to take it. It was during this time that Jim reached what he describes as his lowest point. He was so disappointed and the waiting was awful. He had to surrender his will to God's at this point and it was not an easy thing to do.
Finally, Jim was strong enough to start the radiation treatments. But these treatments were not like the chemo. They wreaked havoc on Jim's body, giving him mouth sores that made it hard to talk and eat, a terribly sore throat, a loss of appetite, and a fatigue so awful it would keep him on the sofa for the whole day. The side effects he had expected with chemo showed up with a vengeance during the radiation treatments.
But through most of this second cancer journey, Jim shares that he has had peace. While he had that difficult moment as he waited for the radiation treatments to start up, he recalled that his battle with surrendering to God's sovereignty was strongest during his first bout with lymphoma.
It is this peace that gives Jim a vibrancy and cheery spirit despite his circumstances. The radiation treatments are now finished, but the side effects live on in Jim's body. The radiation killed his salivary glands and so he has a very dry mouth. He has lost the ability to taste and he has no feeling on the one side of his face. He has difficulty swallowing. Every day Jim is reminded of his battle with cancer as he faces these challenges that will be with him for the rest of his life.
At this point, as I sat there talking with Jim and Carol in their living room, they both shared how much they have to be thankful for. They mentioned the prayers and support of fellow believers. They are grateful for Jim's salvation that has unified them in Christ. They are so grateful God didn't take Jim during that first battle with cancer. They are thankful for their church. And they are so blessed to celebrate their 45th anniversary this year. Jim & Carol's three children grew up and started their own families and blessed them with five grandchildren.
Those who know Jim know his passion to share the Gospel. He loves the Lord and he loves people. You know this almost the instant you meet him. And it was through this second round of cancer that God has opened many doors for Jim to share the Gospel. I have no doubt that Jim has planted a multitude of seeds in his neighborhood, his doctors' offices, and the hospital where he stayed. Jim wants to use this journey to point people to Jesus. This is why he was willing to share his story with you all. He also wanted to be sure that I shared his dedication to prayer during this journey. As he has prayed through his illness, his desire has always been, first and foremost, that God's will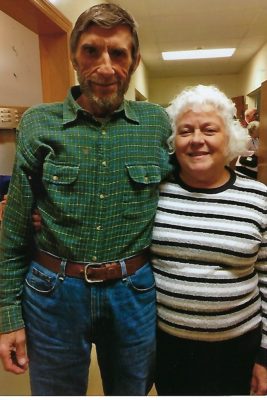 be done. Jim continues to be dedicated to prayer and prays regularly for others.
I also want to acknowledge Carol's steady and loving support during all of this. I could see that she provides a quiet strength and stability that is the perfect complement to Jim's passion and zeal.
As I walked out of that home late that afternoon, I walked away blessed. Here was a couple who loves the Lord deeply. God has used cancer to not only bring Jim to saving faith, to plant seeds for the Gospel, and to spiritually grow Jim and Carol, but also to uplift and encourage other believers as they face their own battles and trials.
The questions, the waiting, the fear, and the anxiety that naturally spring from our trials can take a hold and leave us helpless and terrified. It is my hope that through Jim and Carol's testimony you are encouraged today to trust in God's sovereignty and to use whatever trial you are facing, whether big or small, as an opportunity to give God the glory and to plant seeds for the Gospel.