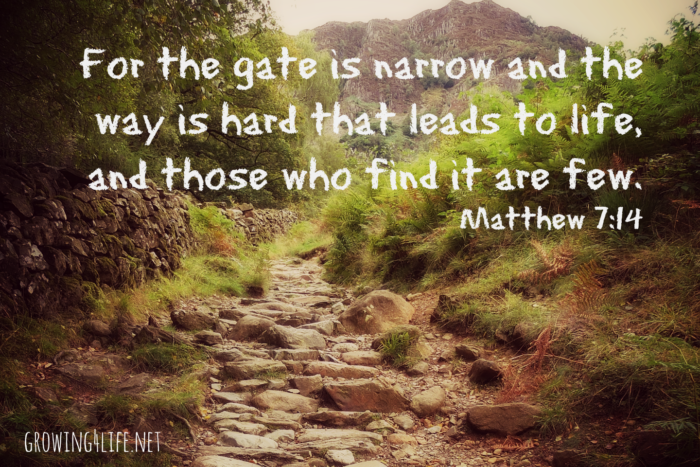 God, through the writing of Paul, gives us such a clear picture of what an unregenerate soul looks like. This is especially clear in the third chapter of Titus, but we find it in many other passages, as well.
I find it curious that–while this is so clear in scripture–so few pastors and teachers are willing to teach that this kind of life would indicate that someone is in danger of hellfire. It would appear that, if someone professes with their mouth that they are saved and yet has no fruit to back up that profession, we have adopted a "hands-off" approach, yielding to the politically-correct dogma that would teach that to challenge their profession of faith would be to demean, belittle, or even hate them.
But could anything be further from the truth? Wouldn't the most loving thing to do in a situation like this be to show them the truth from God's Word? Let's take a look at how the Word describes unbelievers and believers. (When describing unbelievers it refers to ingrained patterns of behavior where there is no conviction, no confession, and no repentance and where there is no effort to remove oneself from temptation or the sinning behavior. Keep in mind that no person–believers included–can ever be sinless. The key is the battle. True believers hate sin and continue to fight it, always working, through the power of the Holy Spirit, to grow in their sanctification and holiness.)
Okay, let's take a look at some of these passages–
For we ourselves were once foolish, disobedient, led astray, slaves to various passions and pleasures, passing our days in malice and envy, hated by others and hating one another. (Titus 3:3)
The unregenerate are foolish, disobedient, easily led astray, and slaves to various passions and pleasures. They pass their days in malice and envy. They are hated by others and they hate one another.
This is how the Word describes us before we are saved. As unpleasant as it is to contemplate, we have to admit that if someone lives like this–day in and day out–without any conviction or desire to change, we have to recognize that they are probably not saved, no matter what they say with their mouth. True belief is always revealed by actions.
Let's think of this in terms of a marriage. If a husband says he loves his wife but then he cheats on her and abuses her and fills their home with the things she hates, then we have to conclude that he is only saying the words but doesn't really mean them. His actions have not backed up his words.
Let's go back to Titus 3. After describing the unredeemed, Paul then goes on to pen these verses–
4 But when the goodness and loving kindness of God our Savior appeared, 5 he saved us, not because of works done by us in righteousness, but according to his own mercy, by the washing of regeneration and renewal of the Holy Spirit, 6 whom he poured out on us richly through Jesus Christ our Savior, 7 so that being justified by his grace we might become heirs according to the hope of eternal life. (Titus 3:4-7)

This is the difference that Jesus makes! Isn't this a beautiful thought? We are redeemed and changed through God's transforming power!
When we minimize the transformation of a saved soul through the blood of Jesus Christ and the power of the Holy Spirit we diminish the miraculous and radical thing that salvation really is. When we don't expect someone to grow or we nonchalantly classify someone as "definitely saved" when they give no evidence of it, we belittle the work that Jesus Christ did on the cross.
Let's look at a few more verses that would indicate the differences between believers and unbelievers. I can think of no better place to go for this than Galatians 5:16-24–
But I say, walk by the Spirit, and you will not gratify the desires of the flesh. 17 For the desires of the flesh are against the Spirit, and the desires of the Spirit are against the flesh, for these are opposed to each other, to keep you from doing the things you want to do. 18 But if you are led by the Spirit, you are not under the law. 19 Now the works of the flesh are evident: sexual immorality, impurity, sensuality, 20 idolatry, sorcery, enmity, strife, jealousy, fits of anger, rivalries, dissensions, divisions, 21 envy,[d] drunkenness, orgies, and things like these. I warn you, as I warned you before, that those who do[e] such things will not inherit the kingdom of God. 22 But the fruit of the Spirit is love, joy, peace, patience, kindness, goodness, faithfulness, 23 gentleness, self-control; against such things there is no law. 24 And those who belong to Christ Jesus have crucified the flesh with its passions and desires.
Here we find a long and comprehensive list of the sins of the flesh. This whole list–like it or not–describes the unregenerate. How do I know this for sure? It is in verse 22 with that little word "but" where we can see that the fruits of the Spirit are in total opposition to the works of the flesh. Verse 24 clarifies further: And those who belong to Christ Jesus have crucified the flesh with its passions and desires. This is what believers do–we have crucified, we continue to daily crucify–the flesh. Any person who isn't willingly doing this or isn't even slightly interested in doing this is giving evidence that they very well may not be saved.
Look–I don't take joy out of saying this. I wish it were different. But this is what the Word of God says. I know that this is an extremely unpopular message in today's church. I do get that. In fact, just yesterday I saw a post by a very popular "Christian" blogger who declared on Twitter that she could never serve a God who would send most everyone to hell. The comment thread that followed made anyone who did believe in what the Bible teaches about hell look ridiculously archaic and incredibly stupid.
But should unpopularity keep us from speaking the truth as we find it in the Bible?
Galatians 5 would indicate that after we are saved and the Holy Spirit indwells us, our lives should increasingly show the fruits of the Spirit which are love, joy, peace, patience, kindness, goodness, faithfulness, gentleness, and self-control.
Now none of us exhibit these fruits perfectly. And none of us live our new life in Christ without fighting some of these sins of the flesh. Some of us have victory in one of these areas, while others remain a lifelong challenge for us. But remember–the key is in the battle. This is the sin nature and we know that we will fight this battle against sin until the day we die (Romans 7:18-25). While this can be a discouraging thought, we also have these marvelous promises–
Romans 6:6 – Knowing this, that our old man is crucified with Him, that the body of sin might be destroyed, that henceforth we should not serve sin.
2 Corinthians 5:17 – Therefore if any man be in Christ, he is a new creature: old things are passed away; behold, all things are become new.
Philippians 1:6 – Being confident of this very thing, that He which hath begun a good work in you will perform [it] until the day of Jesus Christ:
The battle with sin may be always with us but we never have to serve sin again. We have a new Master who walks with us, works in us for His glory, and we are new creatures living for God.
One who is regenerated gives evidence of this in their life. The one who is not saved lives for himself/herself.
How many people claim the name of Christ today and yet live wholly and fully for themselves? How many say they walked the aisle or said a prayer and yet haven't given any evidence of a transformed life in Christ? The numbers that fall into this category are staggering. And yet, somehow, the church has sanctioned this and would criticize not the hypocrite but those who would reveal this tragic truth that is clearly taught in scripture (Matthew 7:15-20).
I would like to just add one final thing as I close and this is a really important aspect of this conversation: None of us knows what is going on in the heart of any person. Only God knows. I would never–and you should never–tell someone they aren't saved. There is no possible way for us to know this and that is God's job. But what we can do is lovingly point them to what God's Word says about their lifestyle, behavior, or actions. We can pray for opportunities to talk with them about their lack of fruit or disinterest in living a holy life. We can open our eyes to the possibility that they might not be saved and begin diligently praying for them instead of living in the comfortable place of naive assumptions.
Because the stakes are high. So high.
We know of this danger because Jesus Christ makes it clear for us in these verses–
Matthew 7:14 For the gate is narrow and the way is hard that leads to life, and those who find it are few.
Matthew 7:21-23 Not everyone who says to me, 'Lord, Lord,' will enter the kingdom of heaven, but the one who does the will of my Father who is in heaven. 22 On that day many will say to me, 'Lord, Lord, did we not prophesy in your name, and cast out demons in your name, and do many mighty works in your name?' 23 And then will I declare to them, 'I never knew you; depart from me, you workers of lawlessness.'
There are few sadder verses in scripture than these. Let's take them to heart, dear reader. Not only for ourselves but for those we love. We never want to leave unsaid what could have–and should have– been said. Life is so fragile. I have become more aware of that than ever these last few weeks. When our loved ones are snatched away by that great thief, Death, we don't want to be left with uncertainty when we ask that final question: Where are they now?