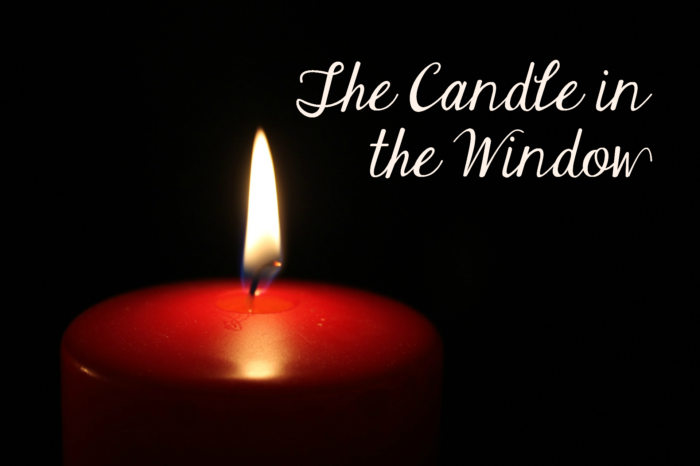 You may (or may not) have noticed that this is my first post this week. My daughter and son-in-law are here for the holidays so I decided to take a break. Not sure if/when I will write over the coming weeks, but I will be back at it in the new year. Thankfully, I wrote this story last month with this in mind. By the way, before moving on to the story, I just want to let you know that I will be offering a Growing4Life 2017 Bible Challenge. If you don't have another plan in place, I hope that you will consider joining me! Look for the details soon!

Today I bring you the fourth installment of The Candle in the Window. If you have missed the first three parts, here are the links so you can catch up–
The Candle in the Window, Part 1
The Candle in the Window, Part 2
The Candle in the Window, Part 3
And, now, here is Part 4–
Jessa carefully pulled the thick red candle from its tissue wrapping. A plastic holly candle ring, already unwrapped, lay on the floor beside her. As she held the candle, she could feel tears burn behind her eyes. Willing herself not to cry, she tenderly placed the candle on a glass plate and placed the holly ring over it. As she set it gently on the table in front of the window, one lone tear spilled over and made its way down her cheek.
Unpacking the memories of Christmases long past was a heart-breaking affair. Her mother had loved Christmas. There were five boxes of beautiful–and sometimes tacky–Christmas decorations to prove it. Looking at the remaining boxes, Jessa thought it might be wise to wait until the kids got home from school to go through them. Their chatter would be a welcome distraction.
She went to the kitchen and made a cup of coffee. She eyed the plate filled with Christmas cookies on the counter and then picked up a couple of them and placed them on a napkin. Taking her coffee and cookies back to the family room, she sat down in a comfortable chair and picked up the novel that she was currently reading. Perhaps immersing herself within its pages would take her mind off of just how much she missed her mom.
A few minutes later, she sighed and closed her book. She had just read the same page four times. Putting the book on the table beside her, she sat munching on a cookie. Childhood memories of her mother and Christmases long past flooded her mind. Mother and daughter had weathered many trials as a team and the bond between them had been strong. Christmas had always been a happy break from the hard times and Jessa was so thankful for the memories. However, reviewing them was painful and the fact that her mom had died just a few weeks before the holiday wasn't make it any easier.
Her eyes fell on the red candle. They had had Christmases without a Christmas tree. They had gone without turkeys and wreaths and gingerbread and presents. But they never had a Christmas without that red candle in the window.
The candle reminded her of her father. She had never met him but the red candle in the window had always been placed there in his honor. Her mother had told Jessa that the candle was one of her father's favorite Christmas traditions from his childhood home and how the young couple had gone to the local Woolworth's to buy their first bright red candle and cheap plastic ring of holly. It was the only Christmas decoration her parents could afford to buy that first and only Christmas together as a married couple.
What had her father been like? She had seen a photo or two but photos told so very little. Nettie had told Jessa that she felt like she never really knew the man her father would have become as he grew in the Lord. Nettie had often shared the story with Jessa of how she had married an unbeliever and counseled her daughter not to follow in her footsteps. But she had rejoiced that God had saved him! Oh, how she rejoiced! Especially since he was gone a few short weeks later. And Nettie would then tell her daughter how her father had repented of his sins and accepted Jesus Christ as his personal Savior just before the tragic car accident that took his life. She told Jessa that after her father was saved he had stopped drinking with his friends and how grateful she was for those few precious weeks of happy memories.
Jessa knew little else about him—except that he was a white man from New York. And that his name was Kenneth. Kenneth Roy Morgan.