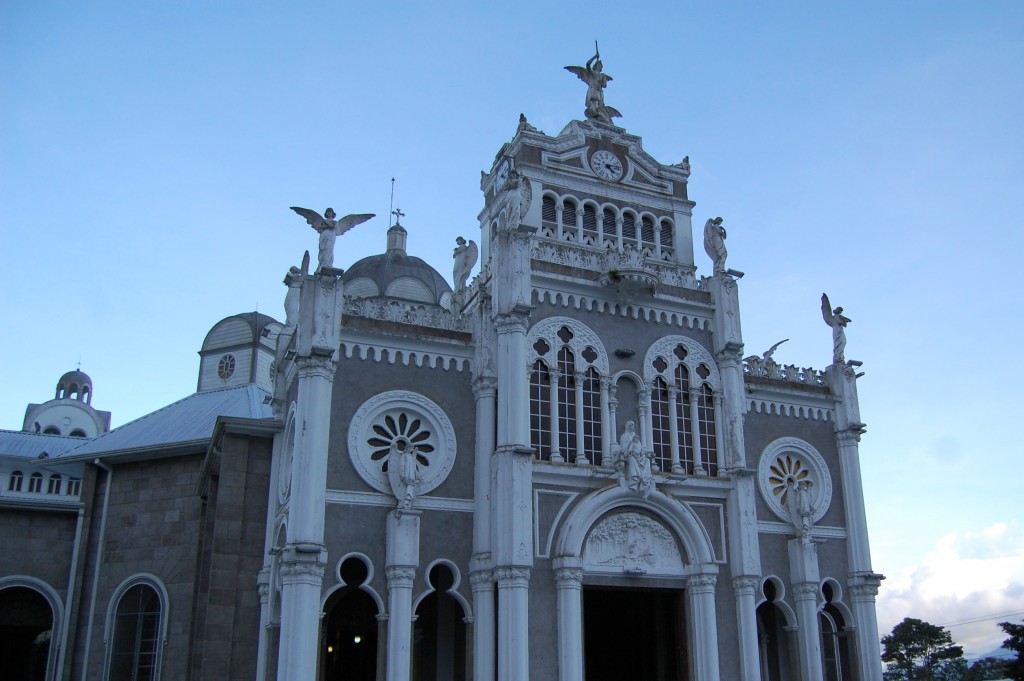 We saw the beautiful cathedral from a distance. It was one of the most beautiful buildings I had ever seen. I was delighted when the bus parked and we could disembark for a look at this amazing piece of architecture up close.
As our team poured from the bus, I noticed many people coming and going from the church. As we walked towards the building, our Costa Rican leader, Raymond, told me a little of its history. Apparently, once each year, there would be a huge celebration in honor of the humble beginnings of the church. He told me that people would come from many miles away, always walking the last mile on their knees. This was part of the ritual expected at this celebration.  In fact, that was part of the tradition of this church at all times — you walked the aisles on your knees.
As if to confirm what he was saying, as we went inside the church, I saw a woman and her small daughter, walking on their knees towards the front of the church.
And I was overwhelmed with gratefulness for God's grace. I didn't need to do anything to earn God's favor. Jesus had taken care of all of that for me. Suddenly, I understood in a new way the inestimable value of this gift.
As we continued on our tour, we walked down a circular walkway to the area where holy water dripped from a pipe or a spring. Around this area many were gathered, anxious to fill a small container of this holy water for healing or special blessing.
And, once again, I was overwhelmed with a grateful heart for God's grace. I didn't need any special water for blessing or healing. I knew that God's Word teaches that we can just go to Him in prayer with our requests and that He hears us (Luke 11:9-13). There was no need for special water, candles lit to saints, or useless prayers said to the human mother of God.
I knew that the beautiful building held within its walls a false religion based on works. A religion where people were chained to works-based righteousness, always hoping that they had done enough good works to earn their way to heaven.
And I was thankful. So thankful. God, in His incredible mercy and grace, had made a way for me — for anyone — to be reconciled to Him. I didn't deserve it. I knew that. I was the worst of all sinners. I AM the worst of all sinners. And yet, God loved me so much that He offered His Son as a sacrifice for me. As a sacrifice for any who would repent and believe. What amazing grace and love!
And I was dismayed. For there were thousands, if not millions, who still didn't realize that walking on your knees and praying to humans wasn't at all necessary to reach heaven (Isaiah 64:6). For Jesus had already paid the price. If we repent and accept this free gift, we are guaranteed a spot in heaven (John 3:16).
Of course, this gift, if we truly understand it, changes and transforms us completely. We are no longer the person we were. Some might perceive us as legalistic or caught up in rules, but we genuine believers know that our choices aren't based on a set of rules but, instead, out of a heart of love for the precious Savior who gave His life for us (I John 2:3-6, John 14:15, Colossians 3:23-24).
And I understood the beauty of God's grace in a whole new way. Amazing Grace isn't just a song. It's the Truth. And what an incredible Truth it is.
Amazing grace How sweet the sound That saved a wretch like me I once was lost But now I'm found! Was blind But now I see!