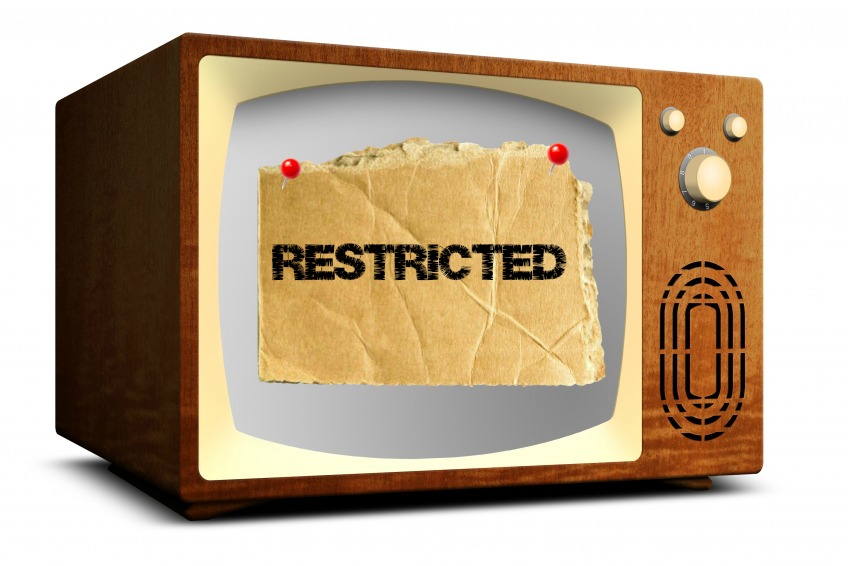 Would you believe I let myself –once again– get caught up in a popular TV show?  At first, it was excellent. The characters were deep, the dilemmas were real, and the plot, fascinating. The producers did an admirable job showing the real world without delving into the filth. Oh, the filth was there, under the surface, but they did a great job at keeping it real without glorifying or magnifying the reality of the filth.
But then, just like all of the other times I had let myself watch a popular show, I ended up being disappointed. You'd think I'd learn!
Call me crazy, but I actually believe the entertainment industry quite purposefully starts a new series quite benignly. We all get hooked into the plot and then, just when we are all loving the show and quite intrigued with the story line, the series starts to be more explicit and violent and ungodly. What an easy way to harden the hearts and change the morals of an entire society!
But, actually, it is okay with me. Do you know why? Because it is a great reminder that television is just a big waste of time, anyway. Yeah, yeah, I know there are some good educational shows. I get that. But most of us are not watching educational TV. We are watching cop shows, hospital dramas, and inane comedies. We are spending hours watching men play with a ball or throw each other down in rings.
What a waste of our God-given hours!
So, I got to thinking…
In this day and age, when we have become so reliant on our televisions for our evening entertainment–especially during the long winter evenings–what else could we be doing instead?
And I came up with this list. Of course, this list would be different for a home with young kids or an empty nester, but at least it gets us started thinking about turning the box off and turning our brains on.
Here are my 10 things to do instead of watching TV–
1. Play games! Since our kids have started dating, we have revived the game playing in our family. We enjoy lots of different games but here are a few of our favorites: Qwerkle (perhaps our all-time favorite!), Play Nine, Scattergories, CatchPhrase, Apple to Apples, Blokus, and Yahtzee. We like quick games that don't take a ton of strategy. While we like to think a little, we are not real interested in thinking a lot! ;)
2. Find a new hobby. We live in a country with a million and one opportunities. Sure, we may be limited by our budgets, but even the most limited budgets can afford at least the cable bill per month. Cancel cable and invest that money into a new hobby. Think knitting, crocheting, baking, wood-working, sewing, digital scrap-booking, painting, making jewelry, building models, and photography. Start playing for an indoor sports league or take up strength-training or ice skating.
3. Take a class. Challenge yourself by enrolling in a class. There are affordable classes on just about anything–dance, accounting, computers, cooking, gardening, cake decorating, history, Bible, photography. Think of a subject you'd like to know more about and find a class that could help you learn.
4. Put a puzzle together. I know puzzles are old-fashioned entertainment. I get that. But buy a fun puzzle and start working on it. Watch your kids (no matter their age) come and sit down and start working on it with you. Or they may just sit next to you and start talking. When you are working on a puzzle, you are able to talk and laugh and discuss. It gives great opportunities to build relationships.
5. Organize something you have been meaning to organize for years. Perhaps it is files or photos on your computer. Or maybe it's a drawer or a cabinet. These things do not take a lot of thought, so they are easy, mindless tasks to do when you are tired at the end of a long day. Put on a great podcast, like Grace to You, and you can learn something while you are working.
6. Read a book. You can probably guess that this is my favorite option. I love to get a nice steaming cup of peppermint tea sweetened with a little turbinado sugar and sit down with a good book. I often bemoan the fact that there are too many books and not enough time. I am usually reading several titles from different genres and will often enjoy reading quietly in the evenings. If you are one of those people that says "I hate to read" then I challenge you to give it a try. Train yourself to read and be amazed at how it changes you. I always love this quote by Dave Ramsey: In five years, you will be the same person except for the people you meet and the books you read.
7. Play an instrument. Perhaps you still have a saxophone or flute hidden away in a closet somewhere. Get it out and dust it off. Or maybe you used to play the piano and now the piano is only used for your kids' lessons. Sit down and get to know that wonderful instrument once again. Pick up your daughter's violin or your son's trumpet and see if you remember anything. And if you've never played anything then learn now! We are never too old to stretch our brains and learn something new (and they say that learning new things is a way to keep Alzeimer's at bay–just saying!)
8. Download a fun app on your iPad or Tablet. It is incredible just how many apps are available, isn't it? You can edit photos, create photo collages, play games about the Bible, history, science, and geography. You can write a new song or pound out a familiar tune using one of the many music apps. There are apps to help you organize your home and garden and gift-giving. There are apps that will help you learn a new language or how to star gaze. Using your iPad or Tablet makes it so much easier to read online material, as well. Some of my favorite apps are Wonderful Days, FighterVerse, Pocket, Zinio, DuoLingo, PicCollage, Stack Countries, and Life.
Please note: Time spent on the iPad feels the same to your family as watching TV (i.e., you become distracted and uninterested in what's going on around you), so I have discovered that it is in my family's best interest to limit this time until after the kids are in bed (or busy elsewhere, in my case) and my husband is working on something else.
9. Do that thing you "never have time for". Everyone does it. You ask them if they read such and such a book– "Oh, I don't have time for that." You ask them if they have kept in touch with so and so– "Oh, we are so busy, I don't have time for that." This is probably worthy of a whole post all on its own, but to bottom line it– we all have time for what we want to do. So take a moment and think about the things that you say you don't have time for and see if any of those can fit into that slot in the evening when you are vegging out in front of the television.
10. Encourage someone. Pick up the phone and call someone you haven't talked to in awhile. Write an encouraging letter full of news from home to a missionary. Write a thank you note to your pastor or teacher. Send an e-mail to someone you haven't seen since last Christmas. Send Get Well cards to the infirm on your church's prayer list. Visit the elderly man or lady at the home that has no family. Do something nice for someone.
You have just read my "ideas" list for this winter. As I have been pondering this list the last few days, I have become excited about doing something besides watching that box this winter. I have plans to learn a new language, learn to knit (or at least give that one more try!), and write some letters. I hope to organize some pictures and put some Shutterfly albums together. With some perseverance and diligence, I can redeem the long winter evenings instead of waste them.
Anyone care to join me in this goal?