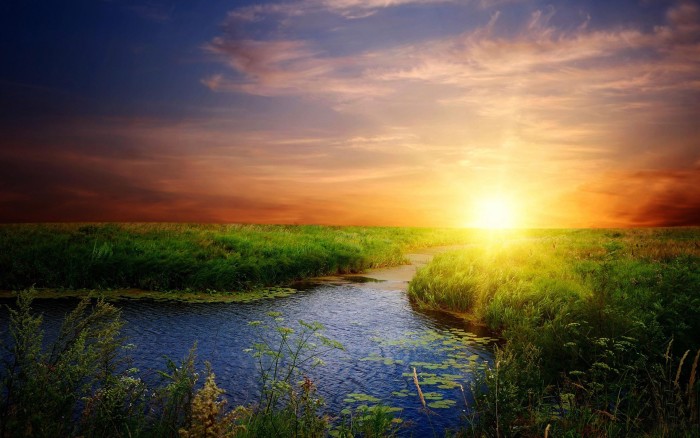 As a friend recently pointed out to me, Job is not only about suffering but it is also about the very nature of God. If you are still reading along with us in the 2015 Bible Challenge, we are just about at the end of Job. The book is filled with men giving their eloquent (and dare I say long-winded?) interpretation of why Job is suffering and their personal descriptions of God and life.
But finally God speaks. In Chapter 38, we hear God's response to Job.
I am always put to shame with the words of God. It is such a lesson in submitting to God's Sovereignty.
Where was I when the foundations of the earth were laid?
Have I commanded the mornings since time began?
Can I loosen the belt of Orion?
When we read God's response to Job, we can respond two ways: Submission or Rebellion. There is no neutral.
So let's move ahead many thousands of years. What does this have to do with life today?
As you read Job 38, can you understand why it was so critical to Satan that people stop believing in a 6-day literal biblical creation?
For when the world system undermines our belief in God as Creator and Designer, then it undermines our complete and total understanding of God, as presented in the rest of the scripture. This naturally leads to rebellion towards God, rather than submission.
Many Christians say it doesn't matter if we believe in a literal creation or not. But it does. Job 38 is one of the reasons. If we don't believe in creation, then Job becomes a poem to us– something that we can learn from and that sounds beautiful in a literary, symbolic sort of way instead of being the true, inspired Word of God. And when that happens, God's Word loses its power in our lives.
This is a big deal. As believers, we need to understand the critical nature of believing in a literal 6-day creation. It is the foundation of the rest of the Word of God. And we know what happens when a foundation is destroyed– it isn't long before the rest of the house comes tumbling down. I think we can already see this playing out in the modern-day church.
But let's make this even more personal. How we deal with the unanswered questions we have as we read is very important. I have no doubt that you have many, after having read Job. There are just some really puzzling verses within this book of the Bible.
We can get frustrated as we read and start focusing on our questions, rather than on the words themselves.
When I asked my brother, Pastor Dean, a particularly burning question that several people have asked me about this book, he encouraged me to let my readers know that they should not worry too much about the unanswered questions, but instead focus on what we can know.
Last year while I was doing my first read-through of the Bible, I became aware of two things–
1. If I focused on the questions, I would stop reading. There are so many unanswered questions– particularly in the Old Testament. I had to allow God to give me insight into what He chose and stop thinking I needed to understand it all.
2. I also realized –and this is really important–that if I understood it all, I would be God. Do you get what I'm saying here? We live in this culture where we think we have to understand everything. The age of reason has affected us in more ways than we even know. And, while I don't recommend living a life of ignorance, we do have to come to God's Holy Word with an attitude of submission and humility, recognizing that we aren't going to understand everything because He is God. And we are not.
And so let's move on from Job assured that God is God. He is sovereign and does what is best, even when we don't understand why. And while God does give us more and more insight, the deeper we dig into His Word, let's remember that we are never required to understand it all, but only to submit and obey. For therein lies the key to the joy of the Lord and the peace that passeth understanding.