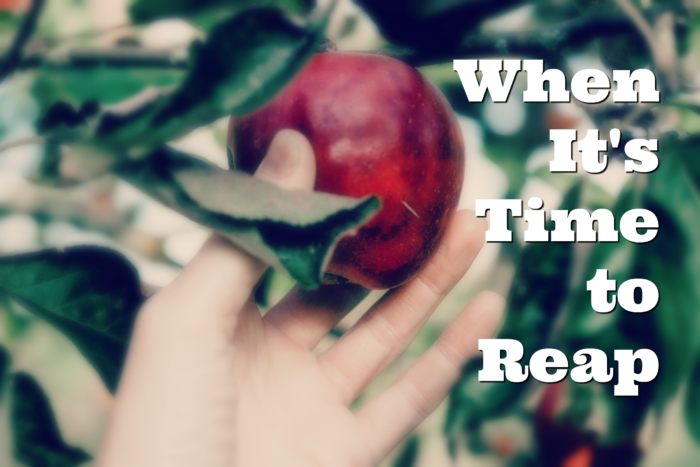 She sat there in her hospital room, old, confused, and alone. A lifetime of bitterness and grudges and pride was being harvested. Her unforgiving heart and her need to be in control had pushed away most of her friends and family, leaving her to walk through this latest health crisis alone. When one of her children reached out to her, she clung to her pride and her bitterness and pushed them firmly away.
It is, by far, one of the saddest, most heart-breaking things I have ever witnessed. And I was reminded of Galatians 6:7–
Do not be deceived, God is not mocked; for whatever a man sows, that he will also reap.
We reap what we sow. It is a principle of life we cannot escape. If we sow seeds of bitterness and unforgiveness and grudges, those seeds will grow into plants and those plants will produce fruit. Deformed, loathsome fruit.
If we sow seeds of love and grace and mercy, those seeds will produce good and healthy fruit.
But there are other bad seeds to sow, other seeds that produce bad fruit. Galatians 6 goes on to say this in verse 8–
For he who sows to his flesh will of the flesh reap corruption, but he who sows to the Spirit will of the Spirit reap everlasting life.
Any sowing that is done to our flesh will reap corruption. Any sowing that is done to the Spirit yields everlasting life.
BUT, you may be thinking, that old woman is not me. I am sowing good seeds, I have a good relationship with my family and friends. Lest we get too confident in ourselves, I remind you of something that John Stott once said–
"Every time we allow our mind to harbor a grudge, nurse a grievance, entertain an impure fancy, or wallow in self-pity, we are sowing to the flesh. Every time we linger in bad company who's insidious influence we know we cannot resist, every time we lie in bed when we ought to be up and praying, every time we read pornographic literature, every time we take a risk that strains our self-control, we are sowing, sowing, sowing to the flesh."
Oh, we all do it. Every. Single. Day. Maybe not to the extent that will leave us old and alone. But we all sow to the flesh, reaping the consequences of our sinful choices.
God sent His son to forgive our sins and give us eternal life. But salvation does not erase the consequences of sinful choices. We continue to live with those until we die.
Thankfully, living a life that is pleasing to the Lord eliminates so many of those ugly consequences. And that is something we can start to do right now! Today! His commands are not burdensome. They protect us! And what a wonderful protection they are.
We cannot change the consequences that we are experiencing from sinful choices of our past. BUT we can change the future. Here are a few questions we should ask ourselves as we contemplate our future harvest:
What seeds am I sowing that will yield an abundance of good fruit?
What seeds am I sowing that are going to yield the fruit of corruption?
AND…
What can I change to make my harvest so much better?
As God has a way of doing so often, He brings just the right book or sermon along at just the right time. That very thing happened this week. If you'd like to think on this topic a bit more, I recommend this sermon by John MacArthur on the principle of sowing and reaping: The Inescapable Law of Sowing and Reaping.