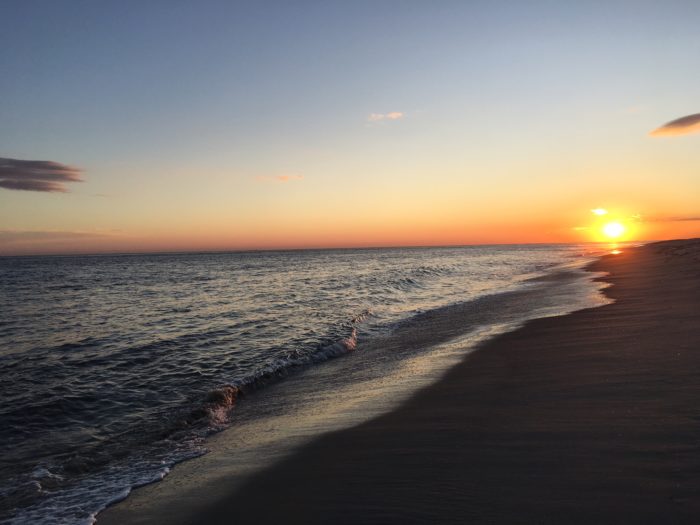 Last week was spent at the beach with family. It was a wonderful, relaxing time, but now it is time to get back to reality. After being gone for over a week, I am ready to get back to my own space and routine.
The week was full of beautiful summer-like weather and so one evening a few of us headed to the beach. We had visions of sitting on the quiet, empty beach during the evening hours, watching the baby play in the sand and taking in the view. As you can see in the photo above, the view was fantastic. Isn't it beautiful?
But there are some things you can't see on the photo. Actually it was more like five million things: Tiny "no-see-ums"–minuscule sand flies that suck blood from their hosts. Right around dusk, these things came out in mass. They were crawling through the baby's hair, biting our arms and legs, flying around our heads. It didn't take us very long to pick up our stuff and leave. As we walked across the sand, we carried the heavy beach chair (why did we pick this one??), and a growing baby. And the sand toys kept falling out of the bucket! Our idyllic evening ended up not being very idyllic at all.
But you would never know it from the photo.
Oh, how true this is for any photo you see. It is one of the reasons I don't really care for photo-driven social media. There is so much you don't know from a photo. We now make judgments about people based on their photos. Confident selfies, and photos of beautiful homes, happy families, and lots of material "stuff" give us impressions of people. But are they the right impressions?
The photos we see are just like that beach photo. They are lovely but they are not the whole story. Not by a long shot.
Behind a selfie you might find a confident person having a good time. But you may also find insecurity, a longing to be loved, or a desperate need for attention. Behind beautiful photos of homes and families, you don't see the cereal on the floor, the toddler's messy hands on the kitchen cabinets, or the muddy footprints brought in after the rain. You don't see the screaming, the yelling, the crying, the frustration, the irritation, and you can't see the love, the fun, the joy, the peace. You can't see anything but a photo. It tells us nothing. Not really.
And, in this day and age, you don't even know if a photo is telling the truth. With the likes of photo editing software, anyone can make a photo "say" anything. Photos just can't be trusted as our main source for truth.
So the next time you are tempted to judge someone you know by a photo, think again. It doesn't tell the whole story about them. It is just a tiny fraction of the whole. If social media causes you to envy and covet and to think about "what if's", then perhaps you should consider getting off. Besides it being a sin (I Corinthians 13:4; Galatians 5:26; Ephesians 5:3), life is just too short to constantly be wishing for a different life while yours passes you by.
Last night, as we traveled home from the beach we passed a 55+ community. I looked at my husband and said, "we are almost old enough to live there! How did we get here?"
"We just kept living," was his astute response.
We just kept living. We all have been blessed with the gift of a certain amount of time. None of us knows exactly how much it will be, but let's not waste a second of it wishing for someone else's life.
(By the way, we did find a different beach where we spent two incredibly lovely evenings that were all that the photos imply. Sometimes photos do tell the truth. But sometimes they don't. We really have no way of knowing when they are or when they aren't, so we may as well just enjoy them at face value and then move on with life.)