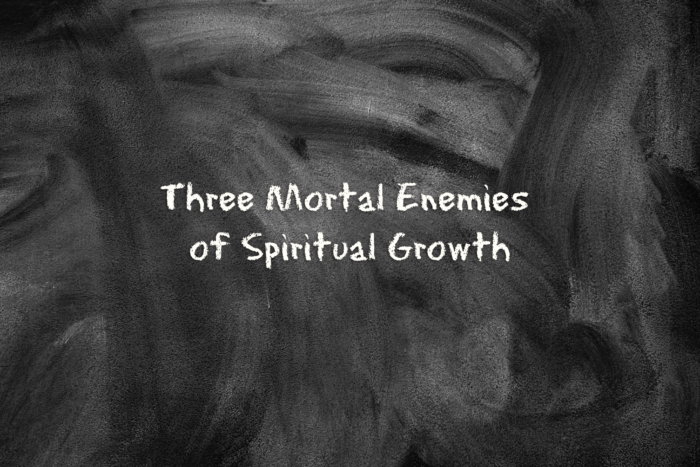 This year has been incredibly busy. Part of the fall-out of that busyness is that my Bible study and prayer life really took a nosedive. When I did have a spare minute, I was just too tired to think. While I did continue reading for the G4L Bible Challenge, I found it challenging to fit in and I also found my reading to be more of a duty than an enjoyment. It saddens me to admit this but it is the truth.
As I was contemplating these past months, I was thinking about how much my busy schedule negatively affected my spiritual growth. As I was thinking about this, a few other things that stunt our spiritual growth also came to mind.
Let's talk about them.
Busyness
In many ways being busy has become synonymous with living a productive life. Where I live with our German roots, there are many who feel guilty even sitting down for a few moments because that signifies laziness. And so just sitting and reading the Bible would make them feel like they aren't accomplishing something productive. And then there are those that have no conviction that sitting is lazy but they are so wrapped up in work, lessons, sports, and the gym that when they have a minute to sit, they are simply exhausted.
Sometimes we can't help our busyness and we have to endure for a season, understanding that God has grace for us during these times. It could be a new baby or needing to be a caretaker for an elderly parent. It could be a special project at work or school. These are occasional things that take us out of our routine and may, for a time, slow down our spiritual growth.
But there are those times that we can help our busyness. Times when we fill our schedules with the superfluous and unimportant. Times when we follow the crowd by putting Johnny and Suzie in every single activity or sign up for classes or activities that are not beneficial to our spiritual well-being. Most of these things aren't wrong, in and of themselves, but when they keep us from God's Word, this creates a problem.
If we feel overwhelmed and too busy, then we need to take an honest look at our schedule and contemplate if there is something we can eliminate or at least put off temporarily to give us more margin in our lives.
If we say that we believe prayer and studying God's Word is the most important priority of our lives, then we must show this by our actions. If we are too busy to study the Word and pray, then we are too busy.
Pride
I have often pondered how someone can say they are reading the Bible and yet have no transformation whatsoever? How can someone have regular devotions or be in the Word and yet remain utterly unchanged? I've come to realize that it is pride that causes this. If we approach God's Word with a lack of humility then our spiritual growth won't only be slowed, it will be halted completely.
Why is this? Well, a prideful heart believes it knows most of life's answers before even approaching the Word. A prideful heart has no interest in hearing suggestions from a different source other than one's own mind. A prideful heart always thinks it knows better.
Why does this make a difference in our spiritual growth? We can turn to James 4:6 where we read that God opposes the proud but shows favor to the humble.
A humble heart is a heart ready to receive God's Word as its final authority. In contrast, a prideful heart is not. This is the root of many of the false doctrines that abound today–prideful hearts that twist the scriptures to their own agendas.
Worldliness
Worldliness is a death knell to spiritual growth. I John 2:15 and James 4:4 couldn't make it any clearer–we can love the world or we can love God. But we can't love both.
God is opening my eyes to this more and more. When I was in my 20s, I was listening to a heavy rock song (yes, I used to enjoy this back in the day.) As I listened, God convicted my heart. The music made me angry. In fact, I'd purposefully play this type of music when I was angry because it would fuel my anger and make me feel better. This was the beginning of my journey in understanding that what we put in our minds affects us. It either moves us towards the Lord or it moves us towards the world. It can never do both.
As I started to gradually and intentionally work to remove worldliness from my life (which has been a lifelong process and I still continue to work on), I have personally experienced a renewed desire for Bible study, a reawakened sense of what pleases God, and a complete change in my desires. Only by the grace of God can any of us intentionally choose to remove worldly things from our lives.
Movies, books, and music that promote sexual immorality, sorcery, bad language, blasphemy, and all sorts of evil; Going to bars or dances; Dressing immodestly in order to be like the world and follow the trends; Gossiping and passing rumors; Gambling; Addictions (to any thing–including food); Materialism and always wanting the latest and greatest…
All of these things kill our desire for God.
All of these things, without exception, move us towards the world and away from God.
Do you struggle with any of the above? Is there any change you can make this week to set your spiritual growth on a better path? Many of these things sneak up on us while we aren't even paying attention. I know that has been the case with me on many occasions. All three of these mortal enemies have worked their way into my life at one time or another. And, honestly, they still do. While we live in the flesh, we are forever susceptible to these enemies and we must stay on guard.
I hope this post will encourage you to examine your life and to start making changes that will boost your spiritual growth. Let's choose to spiritually flourish in a world that is so lackadaisical and status quo!