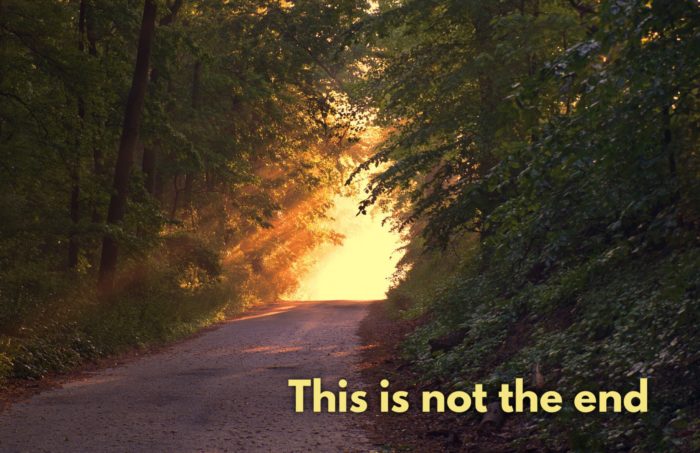 The past week and a half have passed by in a fog and much sorrow. My dear sister-in-law, Grace, succumbed to the cancer that had cast a shadow of death over her life for the past year and a half. She was the wife of my brother, who many of you know as Pastor Dean, and the mother of their daughter, Katherine.
Grace was a wonderful woman. She lived well and she died well. Our world will never be the same.
So many thoughts have been rolling around in my head throughout this entire time. I wanted to share here some of the important things I have learned through the death of someone I loved very much. Some of these will be things you have learned, too, as you have had to live through a similar situation. And other things will be unique to Grace. She was a very special person and I am so honored to have known her.
First, it is important to die well. We talk so much about living well, but Grace showed me how important it is to die well. The peace and contentment she had in life, she continued to experience as she faced death. Last weekend, we had the opportunity to visit her in the hospital to say our final good-bye on this earth. The peace she radiated as she faced her final days was supernatural. The peace Dean and Katherine exhibited was also supernatural. Grace's body was failing and the hope for any kind of miracle was pretty much over. And, yet, they were still at peace. It was one of the most inspiring things I have ever witnessed. God, just has He promises, gave grace and peace in an unimaginable trial. They weren't demanding that God give them their desires or their way through this whole process. They trusted that God knows best and they had yielded their lives to Him. How were they able to do this? Keep reading…
Second, tell people what you appreciate about them now. Don't wait until they die. We stood beside my brother as hundreds of people came to offer their condolences. I was blessed as I listened to the many kind and encouraging words people had to say about Grace. And I wondered if Grace ever realized what a difference she had made in the lives of so many? For some reason, we have such a hard time saying the good things to people. Or even about people. But perhaps we should say them now to those we love and appreciate. A quick text, a phone call, an email, or a handwritten note are quick and painless ways to let someone know that we appreciate them now–while they are alive. I do wish I would have told Grace what I appreciated about her. What we appreciate about each other is so rarely the the topic of conversation. But it really should be so much more often.
Third, the world will continue on. As we walked out of the service celebrating her life, I saw groups of people chatting and even laughing. I didn't fault them for I've done the same thing. Many of their lives will continue on as normal despite the passing of Grace. And I was so struck by the fact that life goes on. We tend to get a little wrapped up in ourselves and think that a family or a business or a sports team or a school (or whatever) can't survive without us. And, yet, life continues on. After we die, life must go on. It was a humbling and thought-provoking realization. While we will miss Grace terribly and life will never, ever be the same again for those of us who knew her, life does–and has to–continue on. It feels so very wrong to go on without her and yet this is life.
Fourth, consider regret. In February, we realized that Grace would probably not live through the year. We made plans as a family to spend a weekend with them in June. But some of us weren't sure we should wait that long. Cancer can go south very quickly. As we talked about taking a spontaneous trip the following weekend, I came to a realization: We would not regret going if she was still alive in June. We'd just have an extra weekend with her and that would be a good thing. But we might greatly regret not going. OH, how very thankful I am that we realized this and made that trip in February. It was a wonderful, wonderful weekend as a family. All of us were able to go except for a few. There is something about the shadow of death hanging over a Christian family that makes the fellowship so much richer and sweeter. That time spent together was incredibly precious.
Regret is a terrible thing. And, in some ways, perhaps we should try to live life in light of this. In both our words and our actions, may we leave little room for regret should death take someone. May we be gracious and unselfish with all people we come in contact with. May we make decisions based on eternity rather than on what is expedient. May we choose the right thing instead of the easy thing. May we do all of this so that we are able to live free of regret.
But, I don't want to just end this section there. Sometimes we do or don't do things we regret. We mourn deeply. And yet we must remember that the Lord forgives. May we learn from these things so that the experience is not without growth.  May good changes sprout out of the regret we have experienced so that it is not in vain.
Fifth, express love more often. So often–with family especially–we are a little lax on expressing our love for each other. We are fairly kind and courteous in public and to those that don't know us that well, but when we get home we leave our shoes and our manners at the door. And yet there is no guarantee that any of us has another day. If you knew this was the last day you would have with your spouse or your child or your elderly parent or that family member that rubs you the wrong way, what would you change? Let's change it now. Today.
Sixth, don't get so worked up. Oh, how stressed we get over the littlest things. As Grace lay in the hospital dying it was hard to care about anything else. It was hard to think about anything else. And yet our business had to go on. I had to continue spending hours and hours at a computer learning a new software program. But it did change my perspective. The frustrations and irritations just didn't seem as big of a deal. In fact, during this time, we also had a terrible stomach flu going through our family. Normally, this would upset me terribly, but in light of what was going on, it melted into unimportance. I wish I could keep this perspective always. I want to. I want to remember what is important and what isn't. But, oh, how hard this is!
Seventh, fill yourself with God's Word and eradicate worldliness if you want to experience God's peace. This may be the most important thing I have learned. Dean, Grace, and Katherine experienced a peace I have never seen before when someone faces death. As I pondered this, I realized two things: First, I do not know of a family that loves the Word of God more than they do. They know it, they study it, and they live it. Second, they have eradicated most of the world from their lives. They do not watch tv. They do not listen to the world's music. They hold onto the things of this world with an open hand and acknowledge that all they have and are is God's. They are simply unconcerned with things of this world. Oh, that doesn't mean they don't know what's going on. And that doesn't mean they do this perfectly. But I recognize in them a real difference compared to myself and most anyone else I know. Worldliness has very little influence in their lives. And I could see that this made a huge difference in enabling Grace to die well. She wasn't hanging on to the things of this world because she had Jesus and the real hope of a future with Him. The third verse of the hymn "Give Me Jesus" reminds me of what I saw as I watched them:
Take the world, but give me Jesus,
Let me view His constant smile;
Then throughout my pilgrim journey
Light will cheer me all the while.
Eighth, make a difference for the cause of Christ. As I heard hundreds of testimonies of people whose lives grew deeper roots of faith through the Word, who were drawn to Christ, and who were encouraged in Christ through Grace's life, I couldn't help but wonder: Will I have such an amazing legacy? Her legacy was incredible. She made a real difference for Jesus Christ. I believe she will continue to do so through her death. As believers, this should be our goal.
What are we doing to draw people to Christ? What are we doing to help people grow deeper roots of faith based on the Word of God? How are we encouraging people in a meaningful way based on the Word and not on some humanistic, psychological, self-help way? These are important questions to consider as we ponder our own legacies.
Ninth, memorize hymns. Last Sunday we spent a half hour or more singing hymns in Grace's hospital room. Dean and Katherine, my parents, and two of her siblings were with us. It was a blessed, blessed time. Every now and again Grace's voice, now so weak and faltering, would be heard strong and clear as she sang a phrase or two. And then she would sit and listen again.  It was during this time, that I recognized anew how precious the hymns of the faith are. Most of the modern day worship songs would have been useless and annoying at a time like that. Most of our churches feed on second-rate hamburger when they could be eating steak. I sorrow greatly over this change in modern-day churches and am so very thankful for our music pastor at our church who continues to lead our congregation in the hymns of the faith. This experience has led me to desire to listen to them at home much more often and to memorize them, as well. For some day I, too, may be in a hospital room unable to do anything but think.
Tenth, notice the little things. Grace was a tremendous encourager. She would notice if someone was struggling and would reach out. Even in February, she kept asking me about my knee (it's been giving me a lot of problems). She had an unusual compassion for others. Pastor Dean told the story of the one day she came home from a chemo treatment and wanted to go shovel a neighbor lady's driveway. This is who she was. I don't really think I will ever be like that, but I do want to be someone who isn't so wrapped up in myself that I am not seeing the needs around me. I want to be someone who doesn't miss the opportunities God gives me to encourage and build up others.
Eleventh, check your priorities. Oh, how caught up we get in the temporal things of this life. They distract us. They keep us from spending time with the Lord in the Word and in prayer. They keep us from thinking about important things. They keep us from sharing the Gospel. And, maybe most sadly, they keep us from focusing on what is really important as we raise our own children or as we support those around us raising their children–the next generation. Oh, how tragic this is. How critical that we remember what is really important in light of the Bible and in light of eternity.
Twelfth, this is not the end! I was so struck by the difference in the tears of those who knew the Lord compared to the hopeless sobbing of those who didn't. It was a striking difference. It brought I Thessalonians 4:13 to mind–
 Brothers and sisters, we do not want you to be uninformed about those who sleep in death, so that you do not grieve like the rest of mankind, who have no hope.
I saw this so clearly.
As believers, we know we will see Grace again. God told us so in His Word and we know that it is true. We have a real hope that this world does not have. Oh, the lost may comfort themselves with meaningless phrases of a "better place" but they are basing it on nothing. They are empty words from which to derive worthless comfort. But we know–we know— that we will see our fellow believers again! What a blessed hope and promise! And so we sorrow but we do not sorrow without hope!
And so life will continue on without Grace. It still feels surreal and it is hard to imagine life without her. But may her life and her death encourage us to be more like Jesus. May it remind us to focus on what really matters. May her legacy drive us to scripture and away from the world. May it build us up in the faith and confirm all that we know to be true from the Word. And may it remind us of just how short time really is here on earth.