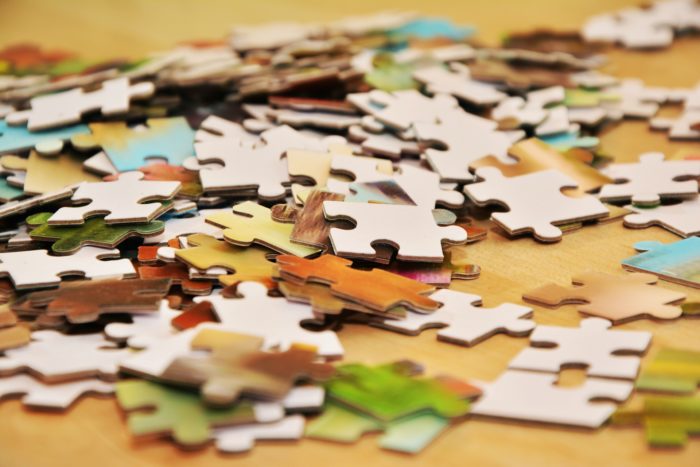 I have a jigsaw puzzle app on my iPad. I will often put a "digital" puzzle together while I am watching TV or listening to my audio Bible or a sermon. I am a chronic multi-tasker and need to keep my hands busy!
I normally choose puzzles that have plenty of differences, as the ones that have the same shades of color throughout can frustrate me. The most recent one I put together was a little bit of both. There were areas that were different and there were areas of sameness. When I first started to put it together a few weeks ago I decided to first work on all the pieces that looked the same. I wanted to get the hard stuff out of the way.
But, after a few days, I found this puzzle very frustrating and I left it in favor of easier ones. I was having such a hard time figuring out where all of those green pieces went.
A few weeks later, I decided to give it another try. As I stared at the puzzle and thought about how to best work it out, it came to me: Work with the obvious pieces first and then the rest will fall into place.
And you know what? That was exactly right. I filled in all the different areas and when it came time to place all of the green pieces it was so much easier.
But I first had to place what I knew before I could figure out what I didn't know.
As I was thinking about that puzzle, it dawned on me that puzzles in life can be a little like this. We want to know all the answers. We want to know where all of those hard-to-define pieces are going to fit and how it's all going to end. But, if we are a believer, we should first start with what we know.
And what do we know? What pieces can we put into all of our puzzles (i.e. trials, frustrations, storms, adversity) first?
Let's talk about some of them–
Piece ONE— God loves us so much.
Behold what manner of love the Father has bestowed on us, that we should be called children of God! Therefore the world does not know us, because it did not know Him. I John 3:1
For I am persuaded that neither death nor life, nor angels nor principalities nor powers, nor things present nor things to come, nor height nor depth, nor any other created thing, shall be able to separate us from the love of God which is in Christ Jesus our Lord. Romans 8:38-39
Piece TWO–God is working all things together in the way that is best for me. Even if it doesn't seem that way at the time.
And we know that all things work together for good to those who love God, to those who are the called according to His purpose. Romans 8:28
Piece THREE— God desires me to be conformed to the image of His Son. In fact, we are predestined for this! This is more important than my happiness, my dreams, or having an easy life.

For whom He foreknew, He also predestined to be conformed to the image of His Son, that He might be the firstborn among many brethren. Romans 8:29
Piece FOUR— Sorrows and troubles are part of our journey here on earth; We cannot avoid them.
These things I have spoken to you, that in Me you may have peace. In the world you will have tribulation; but be of good cheer, I have overcome the world. John 16:33
Piece FIVE— God is aware of the minutest details. He hasn't abandoned us.
So why do you worry about clothing? Consider the lilies of the field, how they grow: they neither toil nor spin; 29 and yet I say to you that even Solomon in all his glory was not [l]arrayed like one of these. 30 Now if God so clothes the grass of the field, which today is, and tomorrow is thrown into the oven, will He not much more clothe you, O you of little faith?
31 "Therefore do not worry, saying, 'What shall we eat?' or 'What shall we drink?' or 'What shall we wear?' 32 For after all these things the Gentiles seek. For your heavenly Father knows that you need all these things. Matthew 6:28-32
Piece SIX— Our first priority is to seek God and His Kingdom.
But seek first the kingdom of God and His righteousness, and all these things shall be added to you. Matthew 6:33
Piece SEVEN–Puzzles and trials are testing me and perfecting me.
My brethren, count it all joy when you fall into various trials, 3 knowing that the testing of your faith produces [a]patience. 4 But let patience have its perfect work, that you may be [b]perfect and complete, lacking nothing. James 1:2-4

Piece EIGHT–Supernatural peace though Christ Jesus is possible–no matter what the circumstances.

Be anxious for nothing, but in everything by prayer and supplication, with thanksgiving, let your requests be made known to God; 7 and the peace of God, which surpasses all understanding, will guard your hearts and minds through Christ Jesus. Philippians 4:6-7
Piece NINE–This life is temporary and the best is yet to come!
But as it is written:
"Eye has not seen, nor ear heard,
Nor have entered into the heart of man
The things which God has prepared for those who love Him." I Corinthians 2:9

Blessed be the God and Father of our Lord Jesus Christ, who according to His abundant mercy has begotten us again to a living hope through the resurrection of Jesus Christ from the dead, 4 to an inheritance [b]incorruptible and undefiled and that does not fade away, reserved in heaven for you, 5 who are kept by the power of God through faith for salvation ready to be revealed in the last time.
6 In this you greatly rejoice, though now for a little while, if need be, you have been [c]grieved by various trials, 7 that the genuineness of your faith, being much more precious than gold that perishes, though it is tested by fire, may be found to praise, honor, and glory at the revelation of Jesus Christ, 8 whom having not [d]seen you love. Though now you do not see Him, yet believing, you rejoice with joy inexpressible and full of glory, 9 receiving the end of your faith—the salvation of your souls. I Peter 1:3-9

__________________________________________________
When we put these nine pieces in our puzzle first, the other pieces will slowly fall into place. Oh, it doesn't mean it will be easy–but it will be easier than if we don't do this.
Life has its ups and downs. And sometimes we face things that do not make sense; things that are horribly painful; things that are unexpected.
In the swirl of thoughts that goes on whenever we face a trial, we may forget to first contemplate these nine truths from scripture that apply to every situation–no matter how great or small.
I hope this is an encouragement to someone today. I don't know what you are facing but God does.