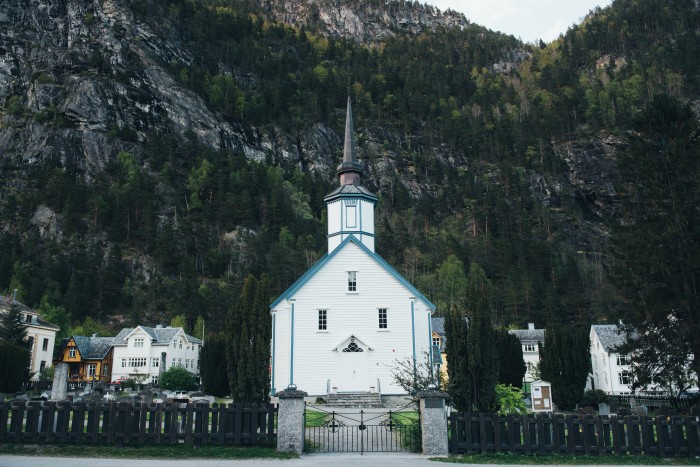 Have you ever walked into a conservative church and felt overwhelmed by all the love?
Most likely not.
While some conservative churches are friendly, this would generally not be what we are known for.
I was listening to Todd Friel over at Wretched Radio the other day and he asked this question: What is our weakness, as conservatives? He suggested that one weakness is that most of us can be a tad bit rigid and aloof. Okay, so those were not his exact words but that was the idea.
As it is always good to examine ourselves, I have given his question and answer a good deal of thought. Do conservative churches and people tend to be more unfriendly than liberal or charismatic ones?
A little while ago, my husband and I had the opportunity to visit what we would call a conservative church. It wasn't a typical conservative church but was quite large. They put on a well-executed service without a hitch. However, we walked into the church, sat through the whole service, and walked out of the church without one person saying hello. In fact, we weren't even acknowledged. Okay, to be fair, one friendly lady did talk to us in the parking lot going into the service. But she provided the only spark of friendliness in our whole experience that morning.
We love our own church but were out of town that Sunday, so we were not church-shopping. But had we been, I doubt we would have given this one a second chance.
People want to be loved. When they walk into a church, they want to feel welcome. It is one of the reasons we are at the church we are at today. Of course, it wasn't our top priority, but it was important to us. And so, when we walked into the church doors of our current church, the fact that we were welcomed by the people there definitely was a deciding factor to visit a second time.
On a brief side note, unbelievers visiting our churches really don't care how we are dressed. The only reason three-piece suits and Sunday dresses have gotten such a bad rap is because of the judgmental attitudes that usually accompany them. Our clothing does not speak louder than our body language. Visitors feel welcomed by our bright smiles and warm friendliness. They couldn't care less about what we are wearing.
And so, while it's certainly not true that all conservative churches are unfriendly, I do think there may be some merit to considering this weakness. It does exist and it may be good to consider why it exists and then do our part to change it.
I have thought of seven reasons why we may not reach out to visitors in our churches and then follow each reason with a suggestion on how to change it–
1. We are self-absorbed. We become very wrapped up in our own little worlds and so when a visitor comes we don't even see them. We aren't trying to be unfriendly, but our kids need to be in Sunday School and then we have to find this committee member or that pastor to talk about something and we don't even see visitors, much less stop and talk to them. Or some of us think we have enough friends. We don't need anyone else in our lives so why bother making small talk? We are caught up in living for just ourselves and may not even realize it.
Solution: The solution here couldn't be simpler. We need to lift our heads up and be aware of those around us. We need to step outside of our own world and look at the faces we see at church–not just the visitors but all of our church family. This Sunday, let's offer at least one word of encouragement to someone who may look discouraged or reach our hand out to one person we have never met before.
2. We are prideful. We have become proud of the "wonderful, obedient Christian" we have become and lose sight of the fact that we were–and still are–great sinners. We turn our noses up at those who do not look like us or may not have reached our "level" of Christianity and, instead of radiating Christ's love, we give cold stares and and haughty smiles.
Solution: We need to always remember that but for the grace of God, go I.  Anything we are, anything we have become, any good we have accomplished is only because of God working through us for His glory. We need to stop thinking we are God's gift to humanity and put on some humility. Pride is listed in the seven deadly sins (Proverbs 6:16-19) and yet this sin, in particular, seems to be an approved Christian sin. And, while it may be accepted by our church families, it is certainly not accepted by God.
3. We are afraid that we are going to be asked questions we can't answer. Starting a conversation with a church visitor may mean we are asked questions about the Bible or where we stand on certain doctrines. While many of us have been taught the principles of scripture from a church pew for most of our lives, we have never delved into it ourselves. Or perhaps we have been studying the Bible but we aren't having conversations with others about it because we are quite sure we would mess everything up if someone asked us a question about doctrine.
Solution: We need to start studying the Bible, if we aren't already, and then practice having conversations about what we are learning. Let's have conversations about God and His Word with our kids. And let's discuss doctrine at the dinner table. The more familiar we become with the terms, the less frightening it becomes to discuss. Sincere Christians need to be studying the Word of God, so that we can be ready to give a defense or an explanation of the hope that is within us (I Peter 3:15).
4. We are afraid they will tell us they have been there before. This can be quite humiliating. It happened to me when I was just starting to attend the church I am at now. I saw a "new family" sitting in front of me and so I reached out in friendliness, only to be informed that they had been attending there for years. (I've since learned that there are many people who claim to have attended for years, but rarely show up– and so they really are visitors and need to be dealt with as such). But this scenario can be embarrassing and people do get a bit offended sometimes. We don't like to risk it and so we say nothing.
Solution: Who cares? Does it really matter? Let's just come up with some excuse– such as "Oh, I'm sorry, I'm fairly new here myself," or "I am so bad at remembering faces," or whatever but don't let this fear keep you from reaching your hand out in a good solid handshake of greeting.
5. The patterns of our family or childhood denomination are rooted deep within us. If we grew up in a staid, uncommunicative family, it is probably almost painful to try to be friendly. There are also several denominations known for their lack of friendliness. If this is the culture we grew up in, it is quite hard to work our way past our discomfort in reaching out to a stranger.
Solution: The first step in this is recognizing that it is a problem. If this is our natural tendency, it can be hard to understand just how unfriendly we appear to others. A good first step in changing this is to very purposely offer smiles to others as we walk into the church doors. Perhaps we could talk to someone we know but don't know well to grow a little more comfortable at making small talk. As with most anything else, the more we do it, the easier it becomes.
6. We are over fifty. I have noticed something about the older crowds in church. Since I am just shy of this crowd by mere months, I believe I have the right to say this: We believe we have the right to stop serving in our churches. We have paid our dues, done our duties, and now would like to just coast in to the finish line, thank you very much. What this means is that we come to church faithfully, but do not really engage with others or reach out to make others feel welcome.
Solution: If this describes us and we have decided to rest on our laurels, then it is high-time to realize that our work for God is never done. I know of no Bible verse that says that we can just stop serving God when we are older. Of course, some seniors do have a really valid reason for backing away from church ministry. Our bodies slow down and some of us have serious physical illnesses and limitations and so we can't look around at others and judge them. But if we can walk into the church doors, then we can offer a warm smile and friendly hello to a visitor.
7. We equate warmth and overflowing love with the charismatic movement. Just as the charismatic movement made us afraid of the active work of the Holy Spirit in our lives, I believe it also made us afraid to love one another without reservation, because we equate it with this movement and –if we are honest–that scares us just a bit.
Solution: We need to remember that Jesus Christ showed great love to others. It is our responsibility and our great privilege to love like Jesus loved. In fact, Paul tells us that we will accomplish nothing without love (I Corinthians 13).
I am aware that you may not agree with everything I've written here. And that's okay. I just hope that I gave you some food for thought today. Remember– we can never be satisfied with status quo because we want to be growing for our entire lives!