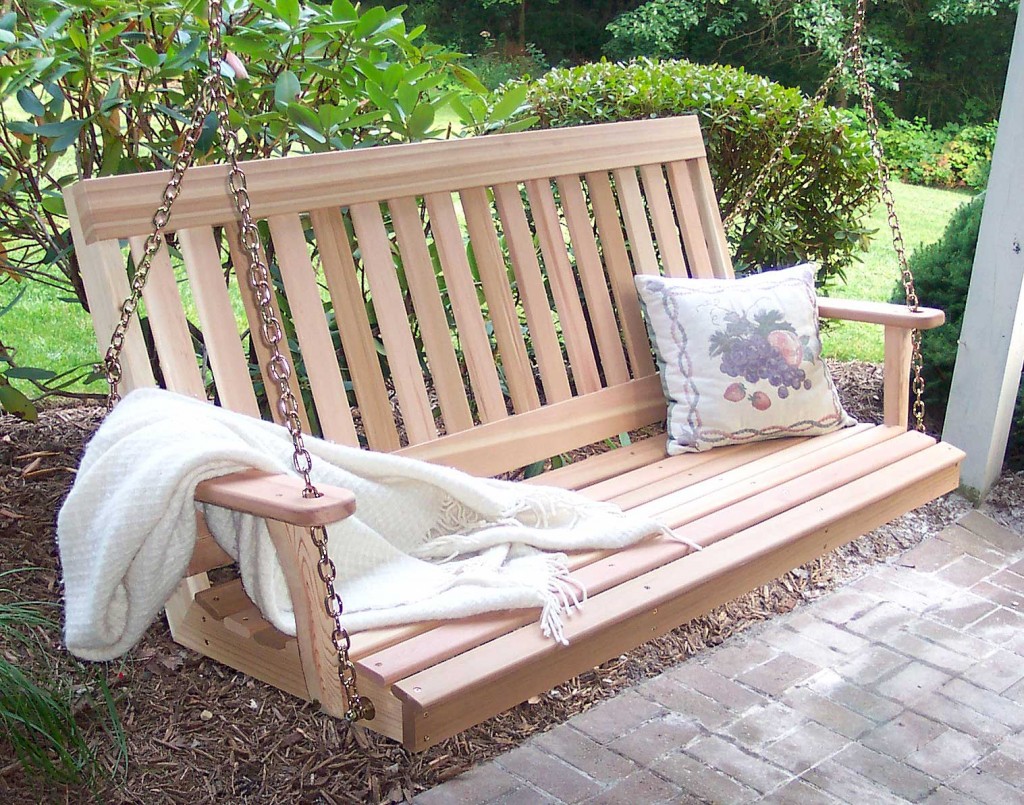 Another morning. I headed to the kitchen to turn on the Keurig machine and waited for the water to heat up, my tired eyes on the display, watching for the wonderful words: Ready to Brew. When it was ready, I put my cup underneath the machine and hit start, watching the hot brew fill the cup. I pulled the half and half from the fridge and poured it into the cup to make it the perfect caramel color, as its delicious aroma wafted around me.
I took the fresh cup of coffee and my devotional materials to one of my very favorite places in the whole world–a boring swing complete with metal foot stool and faded pillow on our front porch. Nothing fancy but a great place to think. I settled down, cup in hand, devotional materials ready. I took a moment to thank the Lord for His many blessings in my life as I looked around me and sighed with contentment in the quietness.
Just at that moment, the noises of our landscaping business, situated next to our house, became more noticeable. The quiet was broken and the sounds I hear almost every morning began. Back-up beeping lights of the trucks as their drivers prepare to start their day. Noisy Skid-loaders loading mulch and topsoil and sand. Voices in earnest conversation. Laughter ringing out, as the guys joke around with one another. Most noticeably is the voice of my husband, telling one guy where to go and another guy what to do, sharing anecdotes about life and  projects and customers as he does so. Loud pick-up trucks, spiffed up sport cars, and modest sedans turn in our parking lot, holding men and women who are ready to begin a new day. Every now and again, a radio is blared at its loudest, as a truck waits for a trailer to be hooked or unhooked, breaking the peaceful silence I treasure so dearly.
I am not one who can easily ignore sounds and so I found myself growing very frustrated as I tried to concentrate on the Lord, only to be constantly distracted.
And then the Lord spoke to me–
Be Thankful.
Be thankful for what? And then I realized–
This is the music of my life.
This is what enables our family to eat and to be clothed and to enjoy the many blessings we have.
These sounds represent a vibrant, active company.
These sounds represent a husband who is diligent and works hard.
My thoughts turned to other sounds that can be so irritating —
Kids arguing, a child's constant singing, children growing silly and giggling until they can't stop.
But these sounds represent normal, healthy children.
A car pulling in the driveway after midnight.
But this sound represents a child safely home.
A loud dishwasher or other appliance.
But these sounds represent pure luxury–a gift that has been given to only precious few women throughout history.
The ringing phone.
But this sound represents someone that cares (unless it is a telemarketer, which, in that case it is annoying and there is no getting around it!)
How quickly we lose site of the blessings when we view these sounds as irritating. But as I sat there on the front porch, I recognized the sounds for what they were–the gracious hand of God providing blessings in my life. These sounds are the music of my life.