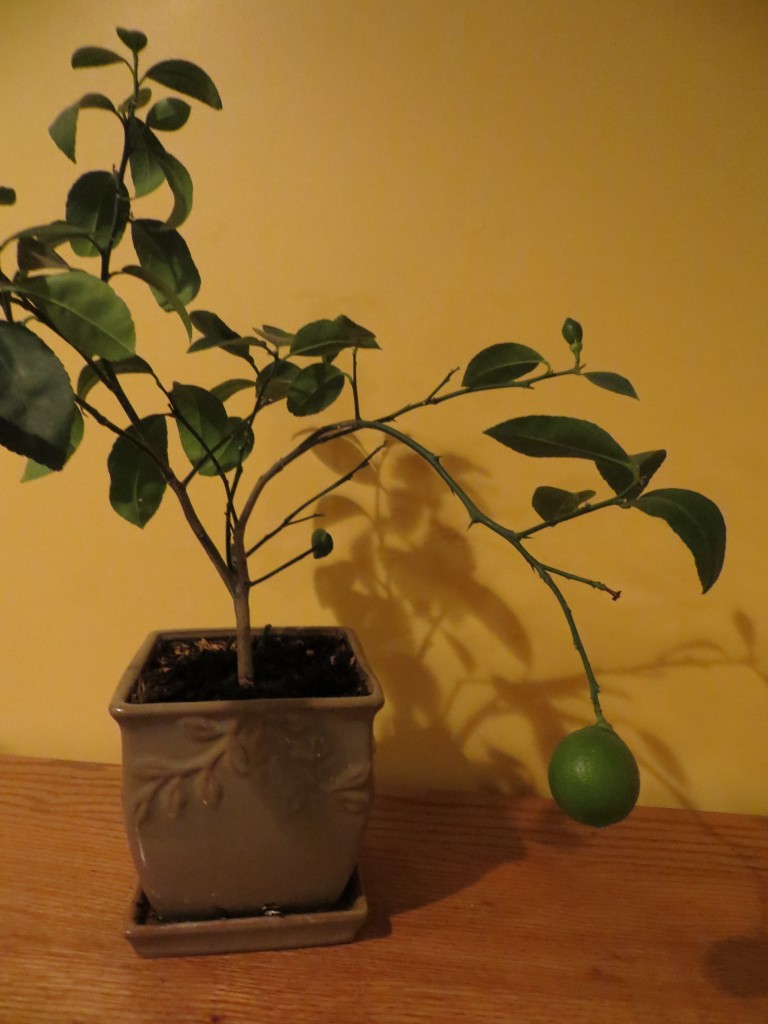 I have this Meyer lemon tree that is actually still living and it's been almost a year. I am not known for my indoor green thumb (it only works outdoors) and so no one is more surprised than me that the tree is still alive.
But here is the strange part: do you see that lemon hanging off the tree that looks a lot like a lime? That thing has been hanging there since last fall. The plant blossomed profusely but only one baby lemon started growing. It kept growing and growing and then one day it just stopped. And it has looked like this –like a lime–for the last six months at least.
I know I have to cut it off. I am sure it is taking valuable nutrients from the plant. But I just hate to do it.
I wonder if there are a bunch of us Christians walking around half-ripe? We never mature. We just hang on to the vine, taking valuable nutrients and energy from the other lemons.
Of course, not growing up is a popular thing to do in this country.  Just watch any sitcom on TV where you will find men portrayed as video-game-playing, crude, joke-cracking boys stuck in their teens. They need their wives to guide and direct them to be responsible. What a bunch of nonsense!
Women, on the other hand, are the focus of the commercials where we are conditioned to believe that growing up — growing mature — is bad. Looking young is the ultimate goal.  Products line the shelves that help keep the wrinkles at bay and the gray hair covered.
And, maybe unknowingly, this has transferred to the Church, where so many of us have no interest in growing up.
Paul compares immature Christians to babies who are still on milk (Hebrews 5:12-14). These Christians should be eating meat, but they are still drinking only milk.  Instead of being the teacher, they still need to be taught.
If we choose to remain half-ripe or immature, a few consequences take place that are worth some consideration:
1) We are never able to glorify God in the way that we should.
2) We set a terrible example for our children.
3) We rob the Church of precious energy that should be poured into new babes in Christ.
So how do we grow up? I really only know of one way: Read and study the Word of God. While this is a simple thing to do, there are some principles to follow in our study.
1) Read it in context, not pulling verses out from everywhere to fit our own personal situation.
2) Find a good, traditional commentary or Bible Study guide to help (I highly recommend the resources at Grace to You).
3) Listen to solid, biblical preachers, not only in church, but also on podcast or mp3.  (Both Grace to You and Truth for Life are filled with mp3s available to listeners at no charge. They are invaluable resources for helping me understand difficult passages. )
4) We need to have the proper heart attitude. We need to approach our study with humility and a willingness to change. If we approach God's Word with pride and arrogance, we will not grow.  If we approach God's Word with a selfish heart, we will not grow.
5) We can't expect to fill our hearts and minds with everything God hates for 12 hours a day (music, books, tv, movies, talk radio) and then expect to grow because we read the Bible for 30 minutes. Discernment is critical.
I wish I could shout to the whole Christian world the importance of studying God's Word. So many of us don't do it. Some of us know we should but we just don't make time. Some of us don't even try–after all, we have our fire insurance. And some of us languish in the world of half-page devotionals with one verse, never venturing into the true study of God's Word. Don't get me wrong–there is nothing wrong with devotionals. They just should never replace actual study of God's Word.
And, so, the choice to grow past the half-ripe stage is up to us. Are we going to hang onto the branch, never ripening, like that lemon of mine or are we going to take ownership of our spiritual health and grow up?
A.W. Tozer puts it better than I ever could: "Why do some persons "find" God in a way that others do not? Why does God manifest His presence to some and let multitudes of others struggle along in the half-light of imperfect Christian experience? Of course, the will of God is the same for all. He has no favorites within His household. All He has ever done for any of His children He will do for all of His children. The difference lies not with God but with us."