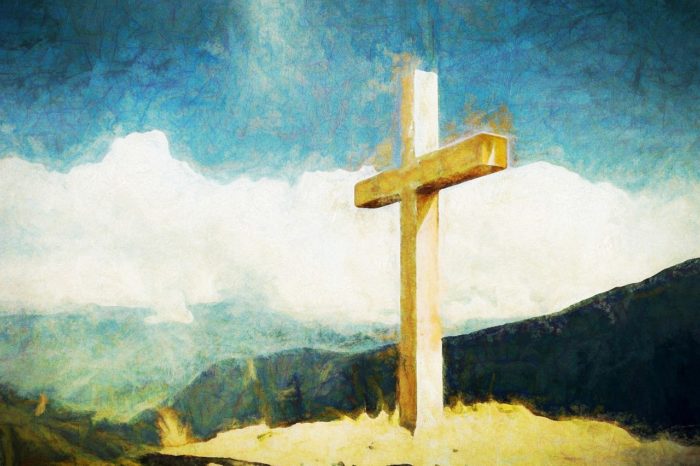 On Sunday we will celebrate the resurrection of Jesus Christ. God's Son who died on a cruel cross on Calvary was raised again to give us victory over sin and death. We are saved by grace alone through faith alone. According to scripture, there is no other way for us to be saved (John 14:6; Ephesians 2:8-9).
Sadly, Satan has warped the message of the cross since….well, probably since Jesus died on it. We can see this in Paul's letters to the churches. Already, Satan was busy warping the Gospel and deceiving believers as well as unbelievers (2 Corinthians 4:4; 2 Corinthians 11:13-14).
A Gospel that is changed even a little bit is not the true Gospel.
While Satan has always been busy eroding, attacking, and distorting the Gospel, I am not sure it's ever been with such a push as now. It's almost as if he knows his rule of this world is coming to a close.
He has always been busy convincing people that they must add works to the cross in order to be saved, such as in Roman Catholicism, Mormonism, Jehovah's Witnesses, and many other branches of "Christianity"–even including legalistic "Christians" who would add rules that need to be followed in order to be saved. This continues to be one of his main distortions but in the last forty years or so he has strengthened his efforts (and he has been by and large successful!) to unify the true church with those who would be following a works-based salvation.
He is convincing people to give lip service to the cross but to bypass it in practices like lectio divina and contemplative prayer, which are mystical practices that lead people to believe that they can be close to God without the cross. He has persuaded so many that it is impossible to be close to God without hearing personally from Him, without experiencing visions, without supernatural events, etc.. All of this removes the focus of our faith from Christ's finished work on the cross to our personal experiences.
He whispers in the ears of others that there is some good in them (Romans 3:12 tells us otherwise) and that Jesus simply died to make them whole and to give them a better life.
He has also convinced many that God would never send anyone to hell. Because men don't like to think of God in this way (in spite of what scripture teaches us in Matthew 10:28 and Mark 9:43), men turn away from it and fall for something called "universalism"–that Christ died for all and all are saved, no matter if they call on Jesus or not. This is clearly denounced in scripture in many places but especially in John 14:6.
And, of course, Satan loves to convince people that their biggest mission is to make this world a better place. Called by the name of the social gospel, it is all about fixing the temporal problems of this world and yet rarely, if ever, includes sharing the Gospel with those to whom they are ministering. Sparing them physical hardship, they fail to given them the opportunity to be spared eternal damnation.
These warped views of the Gospel have invaded almost every nook and cranny of Christianity today. For many, they are in your own churches in the form of seminars, curriculum, books, or special speakers. They come by way of blog posts and emails from friends or family members. And they are promoted by even some of the most trusted, religious leaders of our day.
When anything comes our way, we must ask ourselves–is this taking the focus off of the finished work of Jesus Christ on the cross? Is it adding something I must do in order to be reconciled with God?
The cross has been and will always be the central doctrine of true Christianity. Christ died to satisfy God's wrath against man (Romans 3:23-26). Our only hope to be reconciled to God is to repent of our sins and to place our faith in Christ (Romans 5:1). There are no works we can do or any special program we can follow to skip this step (Ephesians 2:8-9). The pure, unadulterated Gospel is the only Gospel that saves.
As we approach Resurrection Sunday, I want to encourage you to really think about all that is going on around you in the "Christian" world. What "gospel" is being preached? Compare everything to scripture, for it is only there that we find truth. It is our only anchor. And as the world around us grows more and more treacherous, our need for that anchor will increase.
In reading Jude yesterday, I was struck by its final verses–
How that they told you there should be mockers in the last time, who should walk after their own ungodly lusts. 19 These be they who separate themselves, sensual, having not the Spirit.
20 But ye, beloved, building up yourselves on your most holy faith, praying in the Holy Ghost,21 Keep yourselves in the love of God, looking for the mercy of our Lord Jesus Christ unto eternal life.
22 And of some have compassion, making a difference:23 And others save with fear, pulling them out of the fire; hating even the garment spotted by the flesh.
24 Now unto him that is able to keep you from falling, and to present you faultless before the presence of his glory with exceeding joy,25 To the only wise God our Saviour, be glory and majesty, dominion and power, both now and ever. Amen.
By these verses, we can see that in the last days it will continue to get worse and worse. Our instructions are found in verses 20-21– we are to build ourselves up in the holy faith (which can only be done by faithfully being in the Word), prayer, and by keeping ourselves in the love of God, all while looking for the mercy of the Lord Jesus Christ unto eternal life. If we skip down to verse 24, we see that it is God who will keep us from falling during this time. He Who will present us faultless before the presence of His glory has complete power and absolute sovereignty over all that is happening. We must turn to Him in this time.
Jesus Christ died on the cross to save us from our sins. There is no other "interpretation" or any works that must be added to His finished work to save men from their sins. God, who is infinite and omnipotent, has made a way for us to be reconciled to Him and it is only through the death and resurrection of His Son. Praise God!