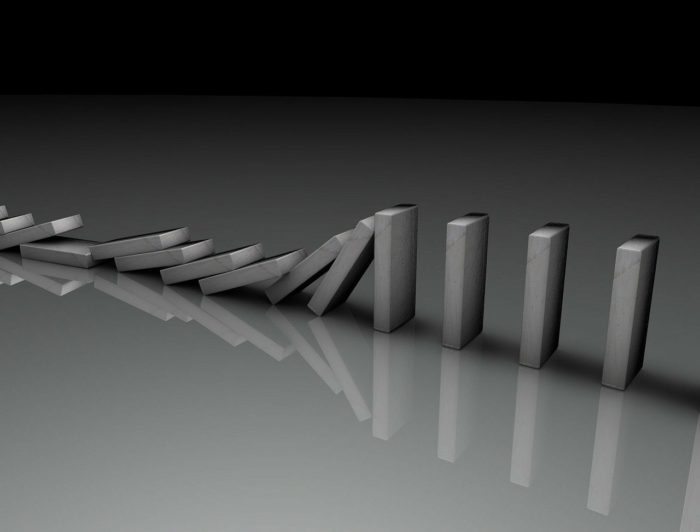 Once upon a time there was a young man. He married his high school sweetheart and together they had a few kids. But one day, after several years of marriage, this man chose not to turn his eyes and his heart away when he looked at a woman who was not his wife. Eventually this choice led to a broken-hearted wife and devastated children who would struggle to heal from his rejection for years to come.
He made a choice for his "personal happiness" and, yet, his happiness wasn't the only thing affected.
Stories like this have happened over and over again throughout history. Replace the pronouns. Sometimes it is wives who do this same thing. For personal happiness and gain, a choice is made that negatively affects the rest of someone's life. Forever.
You may have been on the receiving end of something like this. And it's not always an affair. But it is always sin.
Galatians 5:19-21 is a great list to reference for these "domino effect" sins–
Now the works of the flesh are evident, which are: [d]adultery, [e]fornication, uncleanness, lewdness, 20 idolatry, sorcery, hatred, contentions, jealousies, outbursts of wrath, selfish ambitions, dissensions, heresies, 21 envy, [f]murders, drunkenness, revelries, and the like; of which I tell you beforehand, just as I also told you in time past, that those who practice such things will not inherit the kingdom of God.
Each one of these sins–when chosen–does not affect the sinner alone. It affects all those who surround the sinner.
As sin grows, it spills over on to those we love and on to all those that are in our circle.
We can change their day by an angry outburst or we can change their life by choosing adultery.
Thankfully we know through many examples (David, Peter, etc) in the Bible that we can choose repentance and we can be restored after we make sinful choices. But, after all is said and done, the consequences remain.
Better to not have made the sinful choice at all.
I don't think we often give much thought to how our daily choices are affecting those around us.
The first example I gave was an extreme example, right? Kids from broken homes –especially homes with a parent who disappears or, maybe worse yet, uses them as a pawn in a battle–have some extra challenges to work through in life.
But let's think further how our even our most mundane choices affect our kids, grandkids, and anyone who is watching us.
What are some of the things that have a domino effect on our families and circle of friends?
What about how we handle affliction and trials? Anger and discontentment often snake their way down family trees. Are we setting a godly example in how we respond when things don't go our way?
What about choosing to live in an unhealthy way or being unwise in how we spend money? We set our kids up for failure because they are always watching. And, often, they will choose to live how we chose to live. Think about your life right at this moment. Would you want the children in your life to have your life? I am not talking about the things we can't control–like diseases or unexpected financial setbacks. I am referring to being wise and godly in the choices we can control.
What about how we fill our minds (tv, movies, books, music)? Are these leading those who are watching us towards God and His Word or are they leading them away from Him?
What about choosing to extol a false teacher? Giving credence to a false or heretical teacher puts our friends and family in grave spiritual danger. Deception often starts by a casual comment, such as "have you read the book…?"
You see, these choices aren't ever just about us. And these choices have the potential to lead someone toward the broad way or the narrow way. Very few things are neutral. By our example, we lead those who are watching us towards a godly life or towards a carnal life. We encourage them to walk in the Spirit or to walk in the flesh.
So you think no one is watching you at home when you privately watch that terrible tv show?
Well, that might be true. Maybe only God knows that.
BUT…
You think that show isn't affecting you?
All that goes into our brains–whether we will admit it or not–affects us. And this, in turn, affects others.
Our philosophies; our sensitivity to worldliness; our choice to follow human wisdom or God's wisdom; our love for God–these are all affected by what we fill our minds with. And this mind-filling will, quite naturally, spill out on to others in our conversations and our discussions.
No sin is private.
Unless you are living on an island far far away with no one else on it, there is a domino effect.
We may feel this more acutely as a parent. (Oh, the weight of being a godly example when you are a parent!) But this doesn't disappear as we move into our grandparent years. And it still exists, even if we never have kids or are a single adult living alone.
People watch us.
Choices may be made to abandon Christianity or to embrace it by someone watching how we live.
Interestingly enough….
This domino effect also works the other way around.
When we live lives that please God and we obey His commands, we find that this also affect others. As they watch us, they are emboldened to live for Christ or they are drawn to His Word. We can encourage them to live for Him by our choice to live for Him! We can encourage them to be courageous and stand for Truth by our choice to live courageously and stand for Truth!
We can have a good influence on others or we can have a negative influence.
But we will have an influence.
What kind of influence will you have? When you have left this earth what will have been your domino effect?
May we give this serious consideration before it's too late.