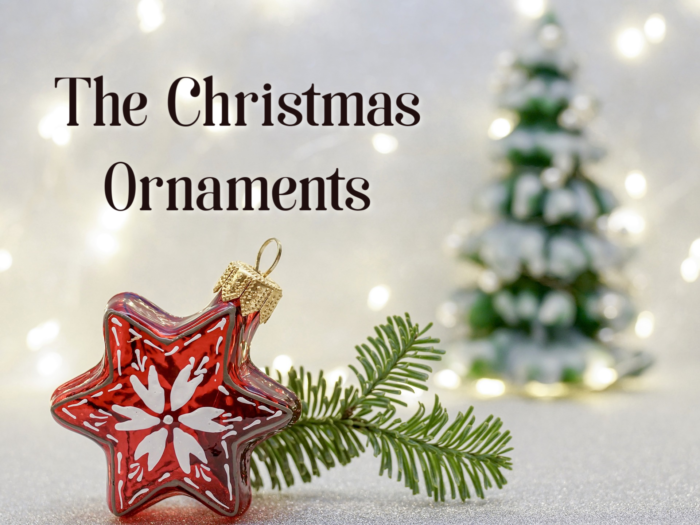 Today is the final installment of this year's Christmas story. If you have enjoyed this short break from my normal type of post, I'd appreciate if you'd let me know. Your response helps me to decide if I should continue the Christmas Story tradition here at Growing4Life. If you'd like to read the rest of the story, you can find it here. I wish you a very Merry Christmas and a Blessed New Year!
The kids were growing. Max was now a sturdy five year old and the triplets were three. Life had settled into a routine, albeit a very busy routine. Julie continued to receive the special ornaments along with the gift of a thousand dollars each December.
Each gift was welcome and needed, as money was always tight. Jack worked hard but with four kids to support, it was tough. There seemed to be an endless amount of things needing fixed in their 1970s suburban home; their minivan, with over 180,000 miles on it, was constantly in need of repair; and the kids were always growing out of their clothing. Jack's paychecks were often spent before they had been received, despite their careful budgeting.
Although the Bible Study had ended upon the birth of the triplets, Julie had stayed in touch with Mrs. Bailey. She didn't go many places with the four kids because it was just so much work, but knowing that Mrs. Bailey didn't have any family to visit her, she's take the kids over to visit the widow almost weekly to bring a little cheer into her life. The kids would create colored pictures to hang on her refrigerator and Julie would make homemade treats for her to munch on. The family brought much comfort and joy to the childless lady who lived all alone in her tiny apartment in the city.
One day, when Julie and the children stopped by to see her, a neighbor told her that Mrs. Bailey was gravely ill.
Julie dropped the kids off at Maggie's and then headed to the hospital. When she arrived, she found her sleeping peacefully.
She slid the room chair over by her bedside and sat down. Funny how God brought people into your life that you never expected. The Baileys had been a tremendous blessing in her life. Not only had they been so warm and friendly and opened up their small home to a lonely young girl, but since Mrs. Bailey became a believer, their relationship had grown deeper and more meaningful. They had become family.
All of this came back to Julie, as she watched Mrs. Bailey's labored breathing. She thanked the Lord for her and reached out to hold her cold hand. She stirred and her eyes fluttered open.
"Julie? Is that you, dear?"
"It is, Mrs. Bailey."
"Thank you for coming to see me. It won't be long now until I see Harold."
"Oh, don't say that quite yet." Julie squeezed the old woman's hand.
"It's okay, my dear. I am ready to go, thanks to you. Harold knew the Lord and now we will be together in heaven because of Jesus. Only because of Him." She stopped to take a few labored breaths and then continued, "thank you, my dear Julie, for sharing the truth of God's Word with me. God was so good to bring you into my life. You are a dear girl."
Julie gave a wry smile at her use of the word "girl". She didn't feel much like a girl anymore but she supposed in Mrs. Bailey's eyes she would always be a girl.
Within a few minutes, Mrs. Bailey was sleeping peacefully again. A nurse told Julie that they didn't expect her to live much longer and so Julie called Jack to let him know that she'd be staying with Mrs. Bailey for awhile.
She didn't want her to die without someone who loved her by her side. It just seemed important.
A few hours later, Mrs. Bailey had breathed her last and Julie had lovingly squeezed her hand one last time, as the tears freely flowed.
_______________________
      The weeks passed by and soon it was time to take down the Christmas tree. Jack was keeping the triplets busy with a craft and Max was playing with trucks by the fireplace, giving Julie some time to reflect as she lovingly held each mysterious ornament for a moment before carefully wrapping it for next year. There was the mini-globe, the wooden cross, and a "Baby's First Christmas". There was the miniature woodland couple, a tiny manger scene, the porcelain triplets, a glass cottage, and a beautifully crafted miniature bell that actually rang. Each one was special in its own way.
There had been no ornament this year and, to be honest, this had filled Julie with more sadness than even not getting the expected gift of money. The ornaments were so special and not getting one had made her Christmas feel incomplete.
She always hated taking down the tree. It seemed especially hard this year, with Mrs. Bailey's recent passing. Jack sensed her mood and brought her a cup of steaming coffee and told her to sit down for a few minutes. He rubbed her shoulders while she closed her eyes.
Suddenly, the doorbell rang. Max ran to the door and opened it to find the postman.
"I have a registered letter for your mama, young man. Is she here to sign it?"
Julie had soon signed for the letter and was sitting back on the sofa, looking at the mysterious letter.
Inside the envelope was a short note from a solicitor:
I have been instructed to send this letter to you upon the death of Mrs. Martha Bailey. I will be in touch with future instructions at a later date.
It was signed by a Mr. Brown, of Brown and Slade, a law firm from the city. She pulled out the short handwritten letter that accompanied the note.
Julie looked at the signature and saw that it was from Mrs. Bailey. She sat down on the nearby sofa to read it. Sensing that it was important, Jack took Max with him to check on the triplets so that she would have a few minutes alone to read it.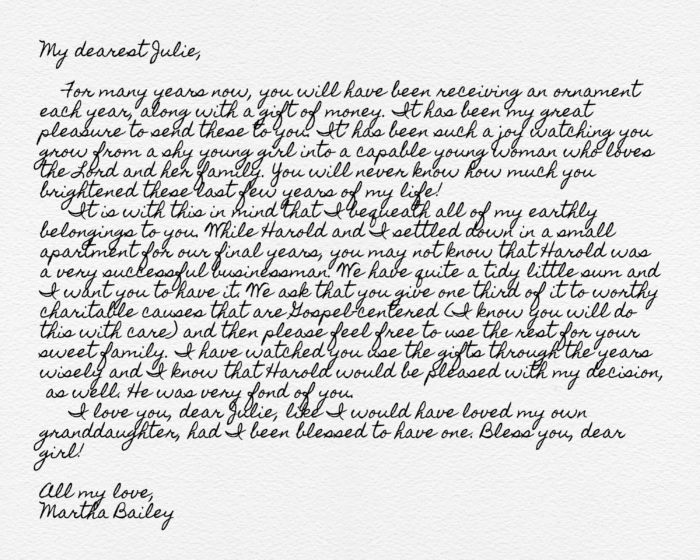 Julie smiled as she thought of dear Mrs. Bailey. So she was her secret Santa all of these years. She should have figured it out. But she was glad she hadn't. It had made it all the more special. So no more anonymous gifts or special ornaments. Her eyes brightened with unshed tears as she remembered how their gifts had blessed her.
_______________________
      A few months later, the estate had been settled and Julie had given a third of it, about a million dollars, away to charities that she knew had the Gospel at the heart of their ministry. And then she put some of the money into savings for her children's college education and for whatever other needs came along. She and Jack loved their home and made the decision to stay there, despite having the means to move somewhere else. They did purchase a used SUV with less miles.
But Julie kept a good portion of it to start her own secret Santa fund. And each year she'd carefully pick a special Christmas ornament and send it on its way to its owner, along with a gift of a thousand dollars.
It was in this way that Julie kept the spirit of Mrs. Bailey's generosity alive.