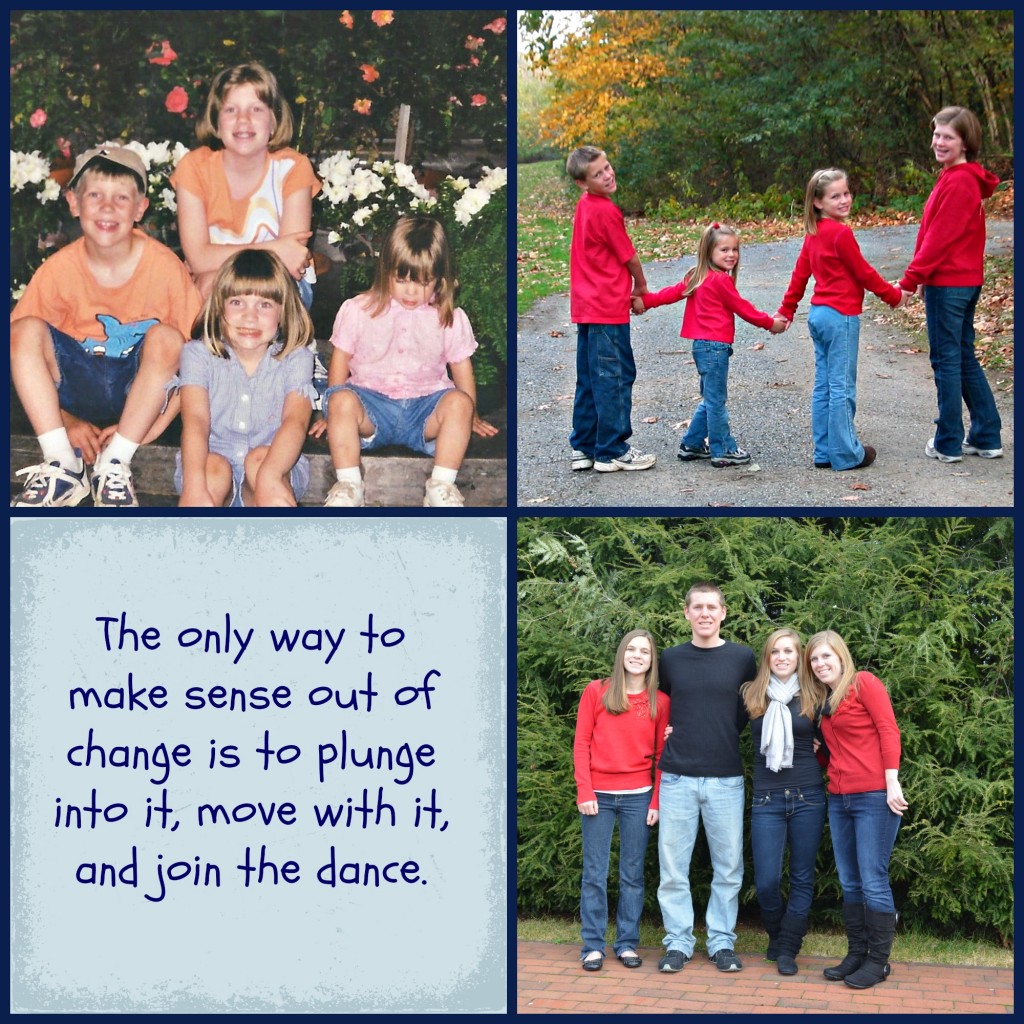 Yesterday was the first day of school. It wasn't just any first day of school around here. It was the first year that A) only one of my four children is actually going to school and B) The child in school started high school.
The funny thing is that I remember calculating the years of school when my kids were little, counting on my fingers and figuring out the year each child would graduate from high school and realizing that our baby would be in high school for four years by herself. But, at that time, this time seemed miles away, like a distant mountain far off on the horizon. But even the furthest mountain is reached by walking one step at a time.
And those steps have been walked, the days have been lived, and the time is here. I am having a hard time wrapping my brain around this–as most moms do, I guess. As I was thinking about this yesterday, I started wondering–
When did I stop keeping wet wipes in the car?
When did I stop asking for a kids' menu?
When did I stop arranging life around naps?
When did I stop tucking my kids in bed?
As is often the case, I don't remember the last times I did any of these things. It was just a gradual shift until one day it wasn't a part of my life anymore.
Sometimes life changes suddenly and we feel overwhelmed and shipwrecked, but more often life changes subtly and imperceptibly–until one day you realize that you no longer have to buy diapers or get up at night. You don't have to pack lunches or kiss boo-boos anymore. You no longer have to carpool or spend a fortune at the grocery store or wait up at night for the last child to be in for the night (Actually I am still doing all of the things in the last sentence for now and I find myself quite thankful for them as I write this post! So much is in our perspective, isn't it??)
My youngest daughter is a little sad that she is so far behind our other three kids, who are now out of high school and pursuing their futures. But me? Well, I'm not sad at all. The funny thing is that we had actually planned to have a smaller gap between those last two, but God thought His timing was better and she ended up coming a year later than we planned. How thankful I am that God saw fit to give her to us and to wisely time it so that this time of life would be just a little easier on me.
Life is changing…always changing. Sometimes we can't wait for the change and then it changes and we realize just how much we didn't really want it to change. My husband assures me that I will even miss this stage after it is over. I am sure he is right. As frustrating and full of adjustments as it is, I will probably miss it when it's gone.
I'd like to say that I have been able to appreciate every moment of motherhood but I haven't. And, being human, I can't. But I have enjoyed and continue to enjoy precious moments with my children full of fun and laughter and good conversations. We have had lots of good times.
Perhaps one of the keys to contentment is to enjoy the good times that we are in right now and not to take the hard times too seriously. After all, when it is all over, we mostly remember the good times, don't we?
I don't have any serious spiritual lesson for today. Today I am just a mother, aching just a bit over the loss of her life as she has known it and seeing much more change up ahead, trying to figure what it all will mean for my life and how to deal with it.
Of course, it is not helping that my other "baby" is headed to college next week. *sigh* While I do find great joy in watching my kids discover God's will for their lives, it is bittersweet. How well I remember those exciting days of growing up and finding my own life but I guess I never did realize what it must have meant for my own mother.
Who knew there would be so much emotion attached to this time of life?