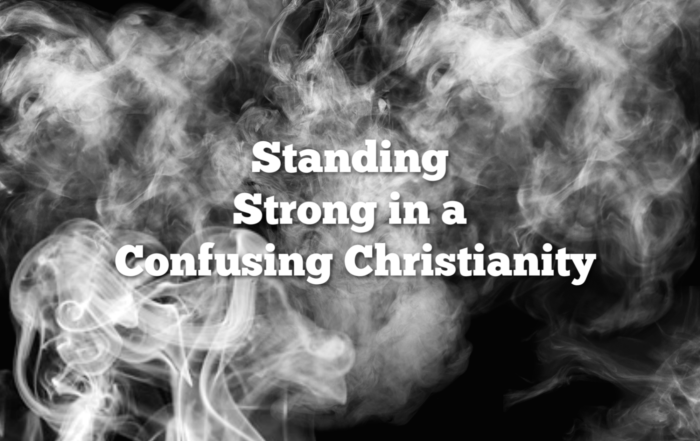 In the recent years, some really puzzling things have happened. From trusted celebrity Christians promoting an anti-biblical agenda to churches ignoring their very solid doctrinal statements. From well-known Christian men and women turning away from biblical truth or even renouncing their faith to trusted preachers and authors partnering with false teachers. It is a CONFUSING Christianity and, in many ways, feels like a real spiritual mine field.
So how do we stand strong and stay sound in this kind of Christian culture? (I use the term "Christian" loosely because we must understand from the Word of God that most of what is called "Christianity" today just isn't.)
But how do we reconcile in our minds the strange fusions of the true with the false? How do we work through the many who speak biblical words and yet have actions that don't match what they preach? How do we handle all of the inconsistencies, the confusion, the chaos that falls under the umbrella that is called "Christianity"??
We should feel baffled, disturbed, and unsettled as we watch all of this play out in front of us. At best, it's simply bizarre. At worst, it's a giant funnel that's sucking thousands–maybe even millions–of deceived "Christians" into the coming one-world religion.
So how do we stand strong in such a strange and unprecedented Christian culture? What do we do to make sure we are not deceived?
I hope these six things encourage you, and me, too, to stand strong in the tsunami of turbulence that makes up Christianity today–
First, and most important by far, we must be in the Word of God on a daily basis. We must be dedicated to not only reading a few verses each day but to really understand what we are reading and to study it diligently.
Second, and also very important, we must pray faithfully for spiritual protection. God is faithful and He will keep our eyes open and our minds spiritually alert, if we but ask Him. I also pray often for the spiritual protection of those I love.
Third, recognize there is a problem. So many Christians just wander through life living from day to day, only concerned about their own lives. They rarely, if ever, look at the Big Picture or are curious about what is going on. When something is labeled Christian, they take it at face value. When someone mentions God or prayer, they assume they are a Christian. But those days are long gone. We can no longer make assumptions like this (and, quite honestly, probably never should have). While we shouldn't be obsessed or overly concerned about what is happening in Christian culture, we must recognize that there is a big problem which will then lead us to test, examine, check, and re-check all things that have entrance into our hearts and minds and the hearts and minds of those for whom we are responsible.
Fourth, don't hitch your wagon to any celebrity "Christian". Oh, the strange loyalty people develop towards their favorite authors, preachers, and musicians. I believe Satan knows this and we've watched thousands and thousands of people follow celebrities right off a cliff. I noticed this phenomenon with young Disney stars, too. They'd be in these fun, "innocent" shows as pre-teens and teens, but then as they got older, their choices would take them to darker and more sinister places. We'd watch their fans go right with them. Taylor Swift is another example. She garnered a huge fan base and took them with her to the dark side. It's a scary phenomenon and one we need to be oh, so careful to avoid. We can do this by keeping our loyalty to God alone. We can never, never, never be so committed to a person that we ignore false teaching, ungodly associations, or unbiblical direction.
Fifth, be willing to generally be viewed as strange. If you are going to stand strong in all of this craziness, many Christians will keep a bit of a distance. Some will be frustrated or annoyed. Any time someone doesn't go with the flow they tend to be singled out and ignored or ridiculed.  Of course, many people are very nice but, even in their niceness, they still view you as strange and definitely as a little too over-the-top in the way you live out your Christianity. Thankfully, God brings kindred spirits and people along the way. We are not alone. There are others that are sober and watchful, just like you and me. But there aren't really that many, so we must be prepared and learn to be content with not being the most popular person around.
Sixth, remember that God is your strength. We are held in His hand and He will hold, protect, and care for us–even in the most confusing of times. Maybe especially in those times. If we are yielded to His will and willing to obey His commands, no matter how much pain and persecution may come our way, then we will prevail. Nothing will be able to shake us because God is on our side!
________________________________________
I hope these six things will help you stand strong in this chaotic, bewildering Christian culture and that they will help you overcome in a world where right is called wrong and wrong is called right–in a world where confusion reigns and rationality doesn't matter.
God is with us. Fellow Christian believers are with us. We are not alone. Stand strong, my friend, stand strong!