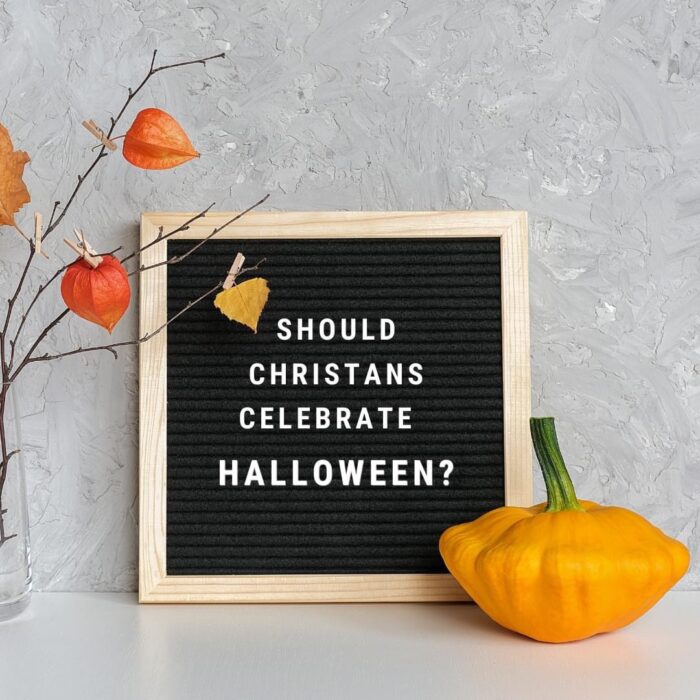 For many years, I waffled back and forth. The question of Halloween was more difficult when I had young kids, demanding an answer. I never did really come to a conclusion. However, as the celebration of this holiday has taken a very gruesome turn, discerning what to do has become much clearer.
My daughter, Jess, did some research and wrote about this over on her Anchor for the Soul Facebook page and I wanted to share what she discovered here—
Should christians celebrate Halloween? If you'd ask around, you'd be sure to get many different answers to that question. I'm not here to tell you that it's an outright sin to let your kids go trick-or-treating or suggest you turn your lights off and refuse to hand out candy. I'm simply going to offer a few things to consider before you make a decision about how (and if) your family will celebrate Halloween.
𝐓𝐡𝐞 𝐡𝐢𝐬𝐭𝐨𝐫𝐲 𝐨𝐟 𝐇𝐚𝐥𝐥𝐨𝐰𝐞𝐞𝐧. Samhain was a pagan religious festival that originated in ancient Celtic tradition. It is believed that the barriers between the spiritual and physical world are broken down during this time, allowing for interaction with the dead. People would leave sacrifices for their ancestors, have seances, and dress up in animal skins to scare away unwanted spirits.
As Catholicism gained a foothold in these pagan communities, church leaders tried to reframe Samhain as a "Christian" holiday. In the 9th century, Pope Gregory declared All Saints Day as an alternative celebration on November 1. This new holiday failed to do away with the pagan aspects of the celebration. October 31 became known as "All Hallows Eve" and later "Halloween." It still contained many of the traditional pagan practices and was brought to America through Irish Immigrants in the 19th century. Most of the demonic, pagan rituals were eventually abandoned by the general public. Yet Halloween continued to be a celebration of what Samhain was all about- darkness, death, and evil.
𝐇𝐚𝐥𝐥𝐨𝐰𝐞𝐞𝐧 𝐢𝐧 𝐨𝐮𝐫 𝐜𝐮𝐫𝐫𝐞𝐧𝐭 𝐜𝐮𝐥𝐭𝐮𝐫𝐞. So no, people aren't generally dressing up to ward off evil spirits nor do they believe they can communicate with the dead on Halloween night. Now it's just a fun holiday with parties, candy, and costumes. Some Christmas traditions are rooted in pagan practices, too, aren't they? These are common arguments. But what we can't argue about is that Halloween continues to be rooted in darkness and death. It's not as spiritually innocent as we'd like the believe. Just look around at your local Home Depot or take a drive through your town. Decorations are all themed around the idea of death- zombies, gore, goblins, ghosts, horror, nooses, witches, and demons.
𝐇𝐚𝐥𝐥𝐨𝐰𝐞𝐞𝐧 𝐚𝐬 𝐚 𝐒𝐚𝐭𝐚𝐧𝐢𝐜 𝐡𝐨𝐥𝐢𝐝𝐚𝐲. The founder of the church of Satan, Anton LaVey, once said that Halloween is the most important day of the year for Devil worshippers. It is a sacred holiday in the Wiccan world and I refuse to even mention the kinds of rituals I read are performed on Halloween. LaVey said that he's "glad Christian parents allow their children to worship the devil at least one night out of the year". A prominent occultist stated that "this night, we smile at the amateur explorers of their own inner darkness, for we know that they enjoy their brief dip into the pool of the 'shadow world''. So Halloween clearly did not leave all its demonic, evil rituals and meaning back in the 19th century.
So now that we've established those three facts about Halloween, what do you think? Is it something we should take part in? If Satanists don't think it's an innocent holiday for our children, should we? Do we want to take part in something endorsed by those who literally hate God? Satan is strategic. He knows that Halloween is, at the very least, making our children comfortable with evil. The Bible is clear. We need to stay away from witchcraft, sorcery, the occult, Satan, every form of evil, and darkness. We are to pursue what is true, pure, lovely, praiseworthy, and of the light. Which side does Halloween fall on?
𝐄𝐩𝐡𝐞𝐬𝐢𝐚𝐧𝐬 𝟓:𝟖-𝟏𝟏: "𝐅𝐨𝐫 𝐚𝐭 𝐨𝐧𝐞 𝐭𝐢𝐦𝐞 𝐲𝐨𝐮 𝐰𝐞𝐫𝐞 𝐝𝐚𝐫𝐤𝐧𝐞𝐬𝐬, 𝐛𝐮𝐭 𝐧𝐨𝐰 𝐲𝐨𝐮 𝐚𝐫𝐞 𝐥𝐢𝐠𝐡𝐭 𝐢𝐧 𝐭𝐡𝐞 𝐋𝐨𝐫𝐝. 𝐖𝐚𝐥𝐤 𝐚𝐬 𝐜𝐡𝐢𝐥𝐝𝐫𝐞𝐧 𝐨𝐟 𝐥𝐢𝐠𝐡𝐭 (𝐟𝐨𝐫 𝐭𝐡𝐞 𝐟𝐫𝐮𝐢𝐭 𝐨𝐟 𝐥𝐢𝐠𝐡𝐭 𝐢𝐬 𝐟𝐨𝐮𝐧𝐝 𝐢𝐧 𝐚𝐥𝐥 𝐭𝐡𝐚𝐭 𝐢𝐬 𝐠𝐨𝐨𝐝 𝐚𝐧𝐝 𝐫𝐢𝐠𝐡𝐭 𝐚𝐧𝐝 𝐭𝐫𝐮𝐞), 𝐚𝐧𝐝 𝐭𝐫𝐲 𝐭𝐨 𝐝𝐢𝐬𝐜𝐞𝐫𝐧 𝐰𝐡𝐚𝐭 𝐢𝐬 𝐩𝐥𝐞𝐚𝐬𝐢𝐧𝐠 𝐭𝐨 𝐭𝐡𝐞 𝐋𝐨𝐫𝐝. 𝐓𝐚𝐤𝐞 𝐧𝐨 𝐩𝐚𝐫𝐭 𝐢𝐧 𝐭𝐡𝐞 𝐮𝐧𝐟𝐫𝐮𝐢𝐭𝐟𝐮𝐥 𝐰𝐨𝐫𝐤𝐬 𝐨𝐟 𝐝𝐚𝐫𝐤𝐧𝐞𝐬𝐬, 𝐛𝐮𝐭 𝐢𝐧𝐬𝐭𝐞𝐚𝐝 𝐞𝐱𝐩𝐨𝐬𝐞 𝐭𝐡𝐞𝐦."
𝟏 𝐓𝐡𝐞𝐬𝐬𝐚𝐥𝐨𝐧𝐢𝐚𝐧𝐬 𝟓:𝟐𝟎-𝟐𝟏: " 𝐓𝐞𝐬𝐭 𝐚𝐥𝐥 𝐭𝐡𝐢𝐧𝐠𝐬; 𝐡𝐨𝐥𝐝 𝐟𝐚𝐬𝐭 𝐰𝐡𝐚𝐭 𝐢𝐬 𝐠𝐨𝐨𝐝. 𝐀𝐛𝐬𝐭𝐚𝐢𝐧 𝐟𝐫𝐨𝐦 𝐞𝐯𝐞𝐫𝐲 𝐟𝐨𝐫𝐦 𝐨𝐟 𝐞𝐯𝐢𝐥."
𝐏𝐡𝐢𝐥𝐢𝐩𝐩𝐢𝐚𝐧𝐬 𝟒:𝟖 – "𝐅𝐢𝐧𝐚𝐥𝐥𝐲, 𝐛𝐫𝐨𝐭𝐡𝐞𝐫𝐬, 𝐰𝐡𝐚𝐭𝐞𝐯𝐞𝐫 𝐢𝐬 𝐭𝐫𝐮𝐞, 𝐰𝐡𝐚𝐭𝐞𝐯𝐞𝐫 𝐢𝐬 𝐡𝐨𝐧𝐨𝐫𝐚𝐛𝐥𝐞, 𝐰𝐡𝐚𝐭𝐞𝐯𝐞𝐫 𝐢𝐬 𝐣𝐮𝐬𝐭, 𝐰𝐡𝐚𝐭𝐞𝐯𝐞𝐫 𝐢𝐬 𝐩𝐮𝐫𝐞, 𝐰𝐡𝐚𝐭𝐞𝐯𝐞𝐫 𝐢𝐬 𝐥𝐨𝐯𝐞𝐥𝐲, 𝐰𝐡𝐚𝐭𝐞𝐯𝐞𝐫 𝐢𝐬 𝐜𝐨𝐦𝐦𝐞𝐧𝐝𝐚𝐛𝐥𝐞, 𝐢𝐟 𝐭𝐡𝐞𝐫𝐞 𝐢𝐬 𝐚𝐧𝐲 𝐞𝐱𝐜𝐞𝐥𝐥𝐞𝐧𝐜𝐞, 𝐢𝐟 𝐭𝐡𝐞𝐫𝐞 𝐢𝐬 𝐚𝐧𝐲𝐭𝐡𝐢𝐧𝐠 𝐰𝐨𝐫𝐭𝐡𝐲 𝐨𝐟 𝐩𝐫𝐚𝐢𝐬𝐞, 𝐭𝐡𝐢𝐧𝐤 𝐚𝐛𝐨𝐮𝐭 𝐭𝐡𝐞𝐬𝐞 𝐭𝐡𝐢𝐧𝐠𝐬."
𝟏 𝐏𝐞𝐭𝐞𝐫 𝟓:𝟖 – "𝐁𝐞 𝐬𝐨𝐛𝐞𝐫-𝐦𝐢𝐧𝐝𝐞𝐝; 𝐛𝐞 𝐰𝐚𝐭𝐜𝐡𝐟𝐮𝐥. 𝐘𝐨𝐮𝐫 𝐚𝐝𝐯𝐞𝐫𝐬𝐚𝐫𝐲 𝐭𝐡𝐞 𝐝𝐞𝐯𝐢𝐥 𝐩𝐫𝐨𝐰𝐥𝐬 𝐚𝐫𝐨𝐮𝐧𝐝 𝐥𝐢𝐤𝐞 𝐚 𝐫𝐨𝐚𝐫𝐢𝐧𝐠 𝐥𝐢𝐨𝐧, 𝐬𝐞𝐞𝐤𝐢𝐧𝐠 𝐬𝐨𝐦𝐞𝐨𝐧𝐞 𝐭𝐨 𝐝𝐞𝐯𝐨𝐮𝐫."
We are celebrating things God hates. We are celebrating what Christ came to destroy. Darkness and death and evil. Halloween is a blatant celebration of wickedness. So now what do we do? Should your kids trick-or-treat? Should you hand out candy? Should your church do a trunk-or-treat? You need to prayerfully make that decision. But I will urge you to consider a few things before you do. First, you need to guard your children's minds and hearts above all else. What will they come into contact with if they go trick-or-treating? What kinds of things will they see at that Halloween parade? Evil and grotesque displays and costumes? I've driven around my town and am absolutely disturbed at the type of Halloween "decorations" I've seen. I will not allow my children to come into contact with that kind of evil if I can help it. What are you allowing your children to dress up as? Are you allowing them to participate in evil by dressing up as a witch, goblin, ghost, wizard, or zombie? It's simply not harmless fun. (also keep this in mind when you decide what they can watch, read, or play with)
We've decided, as a family, to have nothing to do with the holiday. Our street doesn't get trick-or-treaters so we haven't had to make a decision about that. Prayerfully make your own decision. Not the decision you want to make, the decision your kids want you to make, or the decision that's the most popular or will allow the least amount of ridicule from your friends and family. The decision that would most honor the Lord. After all, if we're Christians, that should always be our ultimate goal in every single decision we make.