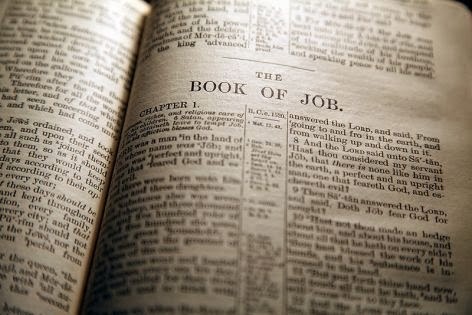 If you are still reading the Bible Challenge, you are now in the book of Job. We are reading together as a family and if I may be honest, we had a conversation yesterday about the difficulty of reading this book. It is not really a narrative (aside from the first couple of chapters) and the style makes it hard to read. So I wanted to encourage you to keep going. And I was thinking about some lessons we can learn from this book, despite its flowery, hard-to-understand language–
1. God may allow trials in our lives to prove (or test) our faithfulness. At first, it's tempting to wonder why God would let Satan torture Job is such a manner, isn't it? And, yet, God had confidence in Job's response to his trials and, through it all, Job's understanding of God was deepened considerably.
2. There is a whole drama playing out which we cannot see or hear. Satan hasn't stopped torturing and tempting believers and there is a spiritual battle that we are always fighting! Paul even talks about it in Ephesians 6, encouraging us to keep all pieces of armor firmly in place so we can stand and fight effectively!
3. God may use the trials in our lives to encourage others.  I was thinking about the fact that here we are — in the year 2015– reading the true story of Job. Many Christians are comforted and gain great insight into their own difficult trials through this book. Job's experience was not in vain.
4. Trials show us our true friends. Job's friends certainly seemed judgmental and unkind. They did come to sit with him for seven days (Job 2:13) which I am sure was a cultural (but pretty cool) thing to do. So that's good. But when they open their mouths, instead of comforting him, they accuse Job of great sin and tell him he needs to repent. His friends were short-sighted and arrogant, weren't they? They had no idea the drama that was playing out above their heads. But if Job had sinned (which he didn't) true friends don't respond this way in a trial, do they? And, honestly, many of our trials are a direct result of a sinful choice or action. And it does need to be addressed. But it's so much about timing and the great love with which we would choose to share such information that shows if we are a true friend. Job's friends just didn't seem all that loving to me. Like Job didn't have enough problems without having to defend himself to his "friends".
5. The book of Job shows us how not to respond to someone going through a trial. This piggy-backs off of number 3, so I won't say anything else about his friends. But we also have his unsupportive wife (Job 2:9) who gives a great example of what not to do. For she tells Job to "curse God and die." Doesn't seem to be a great thing to say to someone who has lost everything.
6. Don't judge too quickly. I can tend to judge Job's wife pretty harshly for her words and wonder how a wife could be so unsupportive–until I remember that she had suffered terrible, terrible losses as well. She lost all of her children and her total way of life. In a day. There isn't mention of grandchildren here but if all of the children were adults, there is even that possibility. Her pain must have been unbearable. And then her husband gets deathly sick on top of it all. I don't know about you, but trials and tribulations and stressful times cause me to say things I don't mean. I hope that these lone recorded words of Job's wife just indicate a bad day. I think, given her situation, we should give her the benefit of the doubt and not be too hard on her. I think this is a good lesson to think about in our own here and now. People always do things or say thing for a reason. I have said many a foolish thing before thinking and hope for great grace in those situations. I desire to extend that same grace to those around me.
7. We need to keep reading, even when we don't get it. Some of you by now are probably contemplating giving up reading through the Bible. You just didn't realize it would be this hard. You may even be thinking it's rather uninteresting. Please don't give up. Remember the Bible Study Trap I wrote about? Go re-read this post if you don't remember what it says. It's important. We are reading to know more about God, not to entertain ourselves. And don't underestimate the power of prayer. Pray for insight and keep going. I promise you that you will be glad you did!
This is certainly not an exhaustive list of things to be learned from the book of Job but just a few things I thought of as I have been reading. Have a great day and keep reading!